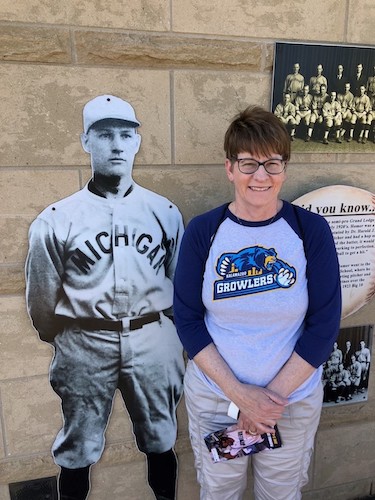 A connection between the medical school's namesake and Kalamazoo's summer collegiate baseball team fostered a community partnership this summer, but it's just the beginning of community involvement the public should expect to see from WMed within the next few years.
This summer, the Western Michigan University Homer Stryker M.D. School of Medicine banner is hanging in the outfield of Homer Stryker Field, home of the Kalamazoo Growlers, the Northwoods League team that started in Kalamazoo in 2014. Though it was intentional to bring the medical school's presence into the ballpark, WMed also is a supporter of what the Growlers does for the Kalamazoo community, said Paula Termuhlen MD, the dean of the medical school.
While saving money to go to medical school, Homer Stryker taught in Grand Ledge, Michigan, coached football, basketball and baseball, and pitched for the local semi-pro baseball team. As a medical student, he played as a starting pitcher on the University of Michigan baseball team and led them to a Big 10 title in 1923. Later known as an orthopaedic surgeon, inventor, and businessman, Dr. Stryker revolutionized orthopaedic care and brought comfort to patients and convenience for doctors and hospital staff. He formed the Orthopaedic Frame Company, Inc. in 1946 and later changed the company's name to Stryker Corp. In 2014, Dr. Stryker became WMed's namesake, honoring the wishes of donors of the $100 million gift, Dr. Stryker's granddaughter, Ronda Stryker, and her husband, William Johnston, a Western Michigan University trustee. The Stryker family honored Dr. Stryker in 2002 by naming the baseball field in memory of him. 
As a baseball fan herself, Dr. Termuhlen played on recreational softball teams through college and medical school. She has hauled her baseball card collection with her in moves across the country, and she cheers on local teams wherever she lives. This partnership, however, is about more than just baseball.
"If you pause to think about what they foster within the Kalamazoo community, you've got an organization that touches families and brings together people who are celebrating some of the fun things we have available in Kalamazoo," Dr. Termuhlen said. "It's great for our faculty, residents, students, and staff. In addition to that, they welcome collegiate baseball players into the community, and we want them to know that WMed is here if they'd like to explore a career in medicine."
As a community-based medical school, WMed has an obligation and an interest in being deeply engaged with its community, Dr. Termuhlen said. WMed's board of directors includes local community leaders and our incorporation as a medical institution is founded on partnerships with Ascension Borgess Hospital, Bronson Healthcare, and Western Michigan University. 
Community is the heart of WMed, and it extends through the medical school's missions of education, patient care, research, and community service. The medical school has an interest in supporting health-related events that promote advocacy for patients, Dr. Termuhlen said, but WMed also partners with several community organizations that aren't directly related to healthcare. WMed's partnership with Southwest Michigan First, for example, keeps our leaders engaged with the business community and supports the economy in Southwest Michigan. 
"The most obvious thing we do is create physicians, but we also are a business that provides healthcare through our WMed Health outpatient practices," Dr. Termuhlen said. "Our employees serve on non-profit boards of several causes in our community. We forward science with our research labs. We are leaders in education with pathway programs within Kalamazoo Public Schools and we have partnerships with WMU, Kalamazoo College, and Albion College."
In WMU's Business Technology and Research Park, the WMed Innovation Center serves as a business incubator to guide local entrepreneurs. Researchers at WMed partner with community organizations such as Cradle Kalamazoo to examine infant mortality and understand whether specific interventions have been effective. WMed's researchers marry community-based participatory research with the foundational science behind health problems in a bench-to-bedside way that can help solve important health problems in the community, Dr. Termuhlen said.
In the public health sector, the medical school supports public health departments in Kalamazoo and Calhoun counties. William Nettleton, MD, MPH, an assistant professor in the medical school's Department of Family and Community Medicine, serves as medical director for Kalamazoo County Health and Community Services and the Calhoun County Health Department. 
Developing relationships with communities isn't new for Dr. Termuhlen. As the regional dean for the Duluth Campus at the University of Minnesota Medical School, she recruited a team of researchers that focused on health disparities in local Native American communities. This year, that team obtained $17 million in funding from the National Institutes of Health to support a five-year study of the interplay between dementia and diabetes in the Native American communities of Northern Minnesota. WMed can achieve similar success by understanding what the community wants to focus on, she said.
"It's about trust," Dr. Termuhlen said. "It's about understanding what's important to the community and then involving members of the community directly in the research."
At 10 years old, WMed is entering a new era focused on health equity in Southwest Michigan in education, patient care, research, and community service.
"I think the community is going to see us be even more visible in our next decade," Dr. Termuhlen said. "The timing is right for us to take on this work."