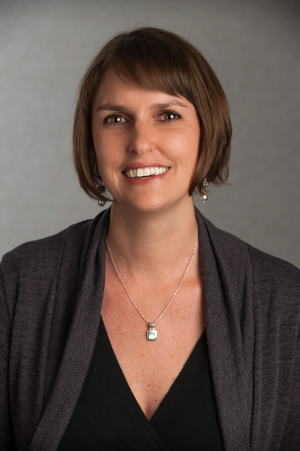 During a career in academic medicine that has spanned nearly two decades, Maria Sheakley, PhD, has continually sought out ways to develop and hone her skills as an educator and leader.
Dr. Sheakley came to the medical school in 2013 as a founding faculty member and associate professor of physiology in the Department of Biomedical Sciences. In 2018 she was promoted to full professor and in 2020 she was named assistant dean for Academic Success, overseeing the creation of a multi-faceted academic advising team, learning support, and student advancement through the four-year medical degree curriculum.
More recently, in April, Dr. Sheakley was named the new associate dean for Student Affairs at WMed.
Now, as she takes on that new senior role, Dr. Sheakley learned she will get the opportunity to grow her leadership skills even more as she has been accepted into the prestigious Hedwig van Ameringen Executive Leadership in Academic Medicine® (ELAM) fellowship program.
The ELAM® program, which was established in 1995 at Drexel University College of Medicine, offers an intensive one-year fellowship of leadership training with extensive coaching, networking and mentoring opportunities aimed at expanding the national pool of qualified women candidates for leadership in academic medicine, dentistry, public health and pharmacy, according to the Drexel University College of Medicine website.
Dr. Sheakley, who was one of 72 women selected this year for the fellowship, is the first WMed faculty member to be accepted into the ELAM program.
"I have been in medical education for 18 years and it is definitely my home, and I am always looking for opportunities to develop my leadership skills," Dr. Sheakley said. "Something ELAM does really well is help create a far-reaching network of colleagues and mentors. I think one of the big strengths of the program – and why I really wanted to participate – is the chance it offers to develop that network of colleagues and mentors with whom I can collaborate in the future."
Dr. Sheakley learned in April via email that she had been accepted into the one-year fellowship. That email was the result of a process that she began in August 2021 with the help of WMed Dean Dr. Paula M. Termuhlen, an alumna of the ELAM program who completed her fellowship in 2009 while a member of the faculty at Wright State University Boonshoft School of Medicine.
"I was so excited, I read the email three times to make sure I was really accepted," Dr. Sheakley said. "I was also equally nervous about what was to come because the program is intense and requires a serious commitment."
Dr. Sheakley's ELAM fellowship officially got underway on June 6 and will conclude in April 2023. During that time, she will work on an institutional action project that will focus on – and examine – the career advising processes at WMed. She will also get the chance to meet with her cohort of ELAM fellows during gatherings at Drexel University in September, in Sacramento in January, and again at Drexel in April 2023.
"I'll get the chance to know the fellows in my smaller learning community group and we also will have opportunities for some cross group work," Dr. Sheakley said. "The women who are accepted into this program are already so incredibly accomplished and I'm excited to learn from them."
Dr. Sheakley said she is excited for what's to come as she moves further into the fellowship over the next year. She said none of it would have been possible without the help and guidance of Dr. Termuhlen.
"Dr. Termuhlen's support has been invaluable," Dr. Sheakley said. "We worked together on my fellowship application over several months and she was really excited about the prosect of having a WMed faculty member be a part of ELAM. She was a great adviser and coach throughout the entire process."
Dr. Sheakley said she is looking forward to taking on her project for ELAM over the next year that will take a closer look at the career advising process at the medical school and determine avenues for potential improvement.
"I think it will provide an opportunity to evaluate what we do at WMed, to dig into  the literature and find what other schools are doing, and incorporate those best practices into our career advising program at WMed," she said.