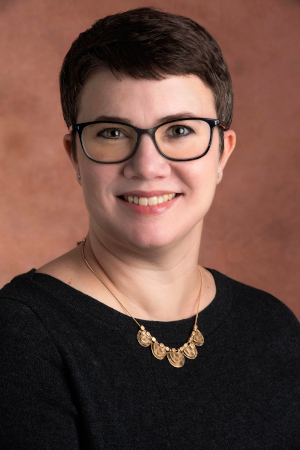 The medical school has launched a new postdoctoral fellowship for forensic anthropologists, making WMed one of just a few institutions in the U.S. to offer the specialized training.
Christine Pink, PhD, D-ABFA, assistant professor in the Department of Pathology, is leading the new two-year fellowship, which officially launched earlier this summer. Recruitment for the program's first postdoc has already begun.
"We're one of the first institutions in the country to offer this training," Dr. Pink said. "We have a lot of resources here at WMed and our forensic anthropologists – myself and Jered Cornelison, PhD – are really integrated with other faculty from the Department of Pathology in our everyday operations so there are lots of opportunities to really push forensic anthropology as a science forward."
Dr. Pink said she is one of approximately 100 practicing forensic anthropologists in the U.S. who are board certified with the American Board of Forensic Anthropology (ABFA). With that in mind, she said the new fellowship will provide postdocs with excellent training and a focus on professionalism, mastery of core competencies, and research, with the end goal of earning board certification from the ABFA.
"We want to be a part of standardizing training for the specialty and provide quality training so that our postdocs leave here after two years equipped to handle all of the very unique situations that we as forensic anthropologists find ourselves in," Dr. Pink said.
Even more, Dr. Pink said that she, along with Dr. Cornelison and Joyce deJong, DO, chair of the Department of Pathology, hope that the new fellowship can serve as a vessel to promote and increase diversity by championing and welcoming trainees who come from populations that are underrepresented in the field of forensic anthropology.
"It is critically important that our specialty reflect the communities that we serve," Dr. Pink said.
Dr. Pink said the launch of the new fellowship is the result of a two-year effort that she undertook after arriving at WMed in 2020 and she credited Dr. deJong's support with making the new position a reality.
"One of the great things about having talented and innovative individuals in our department is that they come to me with ideas that not only serve to improve the quality of care we provide to our local community but also to enrich and improve the forensic science community," Dr. DeJong said. "When Dr. Pink presented the idea of not only a forensic anthropology fellowship, the first of its kind in the country, but a fellowship to improve the diversity of forensic anthropologists worldwide, all I could do was work to support this initiative. There were many great reasons to pursue her idea, and I could identify no downsides."
Dr. Pink said that postdocs who come to WMed will get the opportunity to "dive right in" and be a part of a training program that will offer total immersion and the opportunity to tackle an array of different medicolegal death investigations as a team member in the Office of the Medical Examiner, which is housed at the medical school's W.E. Upjohn M.D. Campus and serves 13 counties in western Michigan.
The Department of Pathology and the medical examiner's office work closely with Drs. Pink and Cornelison, as well as the Toxicology Laboratory, the Division of Neuropathology, the Histology research lab, and the Biomedical Engineering lab, which are all housed at the medical school, as well as a local forensic odontologist and cardiovascular pathologist.
"We have a lot to offer in that respect along with the chance for one-on-one support for our fellows," Dr. Pink said. "All of the resources are right here and everything is so collaborative and that teamwork provides an environment and momentum for great ideas."