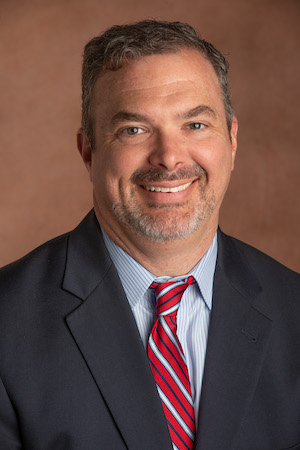 The medical school recently helped lead a survey polling undergraduate medical education leaders across the nation about the top priorities and concerns at their medical schools and identified a network of collaborative teams with content experts who are ready to begin work in targeted areas for the broader community of schools.
The Association of American Medical Colleges established the Medical Education Senior Leaders in 2019 to focus on continuous improvement in the nation's medical schools. MESL participants represent 169 allopathic medical schools in the nation and are senior members of their organizations with oversight of medical education. They come together to identify issues affecting the educational mission and develop strategies to support excellence. The group met for the first time in January 2020 and used the group's structure to support each other while medical schools pivoted their curriculum during the COVID-19 pandemic. As the group evolved, peer groups and committees formed to work on different aspects of medical education.
Michael Busha, MD, MBA, the medical school's senior associate dean for Academic Affairs, chief academic officer and chair of the department of Medical Education, was asked to co-chair the survey committee, and in 2021 that committee conducted a needs analysis of all the medical schools represented in MESL.
"We were able to create a needs analysis that broadly assessed the community's highest priorities and ascertained where commonality of both the vision for undergraduate medical education's future and current concerns existed," Dr. Busha said. "We developed the process, the needs analysis and a template for ultimately launching an annual survey to promote medical education research within the community of undergraduate medical education."
Dr. Busha, along with a team at WMed, utilized an online RedCap survey hosted by WMed to deliver the survey in December 2021. Tim Fuller, IT systems administrator, contributed by designing and distributing the survey; Consuelo Obaid, an executive assistant in the medical school's Office of the Dean, contributed to data management and reporting; and Jeff Greene, PhD, an assistant professor in the medical school's department of Medical Education, contributed to statistical considerations. The survey touched on 125 different needs areas, divided into four categories.
"We asked leaders to prioritize items across the categories of curriculum, student assessment and transitions between UME and GME, diversity, equity and inclusion and the clinical learning environment and faculty development and operations," Dr. Busha said. "Each item within each section created an opportunity for schools to identify a desire to participate in collaborative work on the topic and share whether their school has content expertise on best practice."
Dr. Busha said the survey was designed with the understanding that all medical schools function with different resources and needs, and it asked leaders to identify their top emergencies as well as priorities for moving the broader community forward. Top needs identified by leaders included areas within diversity, equity and inclusion, student mistreatment, how to manage struggling learners and wellness. The survey results show that the concerns of WMed's leaders reflect those of medical school leaders across the nation.
"We've created a library of schools and individuals who have identified priorities and we have leaders who are ready to collaborate with each other on work to share back with the broader medical school community," Dr. Busha said. "Our goal was to not only identify the needs, but also to connect schools together to address those needs, and that's what we are transitioning to now."
WMed's lead role in the survey demonstrates its continued evolution toward a more mature medical school with increasing engagement in transformative work on the national level within undergraduate medical education, Dr. Busha said.