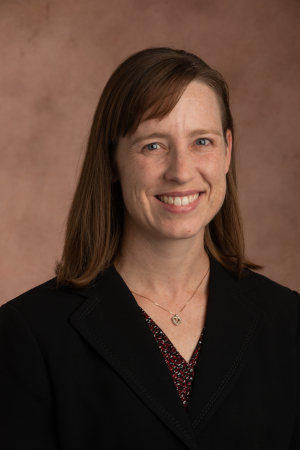 Karen M. Bovid, MD, a longtime faculty member and physician at WMed, has been named the new program director for the medical school's Orthopaedic Surgery residency program.
Dr. Bovid, who began her new duties on September 1, said she is excited about the opportunity to step into a leadership role that is "a natural evolution" of her long-term interest in – and passion for – teaching resident physicians and medical students.
"One of the things I've always enjoyed about working with our residents is building those relationships with them and that's going be a really cool opportunity and benefit of being in this role," she said. "It's sort of a different place to build those mentoring relationships while getting to know our residents and students, and supporting them in their personal and professional life. I'm really excited about that. We've got good people and it makes the job fun."
In addition to her new role as residency program director, Dr. Bovid is an associate professor in the departments of Orthopaedic Surgery and Pediatric and Adolescent Medicine. She has also served as the director of Medical Student Education in the Department of Orthopaedic Surgery since 2016 and developed a programmatic learning experience for students as it relates the musculoskeletal system. She also serves as advisor for the Orthopaedic Surgery student interest group.
"I've enjoyed being the medical student director up to this point and it has been an opportunity for me to serve as an example of someone who's female in orthopaedic surgery, a specialty that historically has had a poor record in terms of diversity," Dr. Bovid said. "I think having someone who doesn't look like the stereotypical orthopaedic surgeon and being able to interface with students early in their careers is a unique opportunity to plant that seed and highlight those opportunities."
As a physician at the medical school, Dr. Bovid's clinical practice has focused on the care of the pediatric patient with musculoskeletal problems – from uncomplicated fracture care to complex scoliosis.
"I think it's really hard to teach medicine without taking care of patients," Dr. Bovid said. You learn so much from every patient you care for and it's really impactful learning."
A native of Midland, Michigan, Dr. Bovid earned a bachelor's in biochemistry from Hope College in 2003 and her MD degree from University of Michigan Medical School in 2007. She stayed at U-M for residency training and then moved on to Atlanta where she completed a one-year fellowship in pediatric orthopaedic surgery at Children's Orthopaedics of Atlanta at Scottish Rite.
As she looks ahead, Dr. Bovid said she is proud to be leading a residency program that she called "a hidden gem" with a strong focus on education and patient care and a reputation for "always changing, always striving to be better, and improving things."
"That's not going to change," she said. "We'll keep all of the good things we have going and look for ways we can continue to grow."
Moving forward, Dr. Bovid said she has plans to more fully integrate and formalize the residency program's bioskills curriculum and maximize residents' exposure to the bioskills lab at WMed. She also wants to ensure that she and other leaders within the Department of Orthopaedic Surgery are using a holistic application process to evaluate prospective residents and attract strong candidates, particularly those from diverse backgrounds while also making sure that each resident has the supports they need to be successful and happy throughout their training.
"The question is how can we do a better job of casting a wider net and ultimately become a stronger program and profession because of it?" she said.