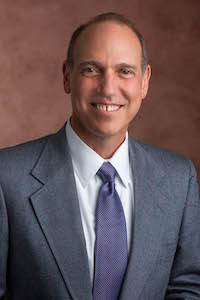 Following a career in medicine and academia that has spanned three decades in five states, a Michigan native has returned to the Mitten State to share his passions for education, patient care, and quality improvement with learners and community members in Kalamazoo.  
Daniel Stulberg, MD, FAAFP, began his role as chair of the medical school's Department of Family and Community Medicine (DFCM) on October 1. The Southfield native said he was interested in the opportunity to join a growing program at WMed.  
"I was intrigued by the opportunity here to take my leadership skills to the next phase and to work with WMed and the DFCM that seem to be receptive to innovations in family medicine," Dr. Stulberg said. "There are so many things that make this a wonderful opportunity – the opportunity to serve, the opportunity to teach, the opportunity to work with colleagues and the dynamic program that wants to have a little fun and reach out and do more."  
Dr. Stulberg earned his medical degree in 1987, having graduated from the University of Michigan's combined six-year integrated premedical-medical program, Inteflex. He completed a residency in family medicine at the University of Michigan in 1990. In 2001, he completed an advanced training program in healthcare delivery improvement at Intermountain Healthcare in Salt Lake City.  
Dr. Stulberg spent eight years in private practice in rural Arizona. After part-time teaching during his practice, he went on to teach full-time in academic medicine for 24 years in Utah, Colorado, and New Mexico, spending the last 15 years at the University of New Mexico (UNM). Most recently, he served as the Vice Chair of Education at UNM's Department of Family and Community Medicine, a professor of Family and Community Medicine and a professor of Dermatology. At UNM, Dr. Stulberg has served as a director of preceptorship programs and has led more than 90 hands-on workshops on biopsy techniques and other procedures. He has co-authored two textbooks, numerous book chapters, and more than 125 case presentations with medical students, residents, and faculty members. He has held numerous roles at his previous institutions, including course director, director of preceptorship programs, residency director, and chair.  
Dr. Stulberg takes over the department from interim Chair Dr. Lisa Graves, in a time of transition. The Department of Family and Community Medicine's Kalamazoo residency program recently relocated to an expanded space at 555 W. Crosstown Parkway in Kalamazoo. In all, 45 residents are training as residents in the department's program, including 27 in Kalamazoo and 18 in Battle Creek, which just graduated its first class of residents this past summer.  
"We have a wide range of individuals in our department that I look forward to working with and helping to succeed – our medical students, residents, staff, and faculty," Dr. Stulberg said. "We're serving an underserved population and a community that has a variety of payer mix, and in Battle Creek, we're serving the community through a federally-qualified health care center. I've worked across all of these domains, so it's really exciting for me to be able to work in a department that encompasses all of these areas and also focus on WMed's university academic structure."  
Dr. Stulberg, a practicing clinician with an emphasis on skin care and procedural family medicine, plans to see WMed Health patients in Kalamazoo and Battle Creek. He has a passion for teaching and mentoring residents and faculty, and also is known for his focus on practice efficiency, improving outcomes and providing cost-effective care. As a clinician, Dr. Stulberg said he likes to teach and explain the science of medicine to his patients so they understand their medical needs and how that correlates with their care.  
"We find that common sense and understanding really help go a long way in terms of getting people engaged and making good decisions that take into account what their needs are, what their abilities are, and what their desires and their goals are for themselves," Dr. Stulberg said.  
Looking ahead, Dr. Stulberg has plans to work with faculty members in WMed's internal medicine and other departments to collaborate on patient care. He plans to develop new fellowships in the Department of Family and Community Medicine, including a fellowship with a skin care focus and a fellowship with a substance use focus. Dr. Stulberg said he also looks forward to focusing on faculty development in his department, recruiting new faculty, working on scholarly projects and helping faculty members work toward their academic promotions, similarly to his work in this capacity as Vice Chair of Education at UNM's Department of Family and Community Medicine.  
"I'm looking forward to continuing the work that Dr. Lisa Graves has done with faculty development and to help our faculty develop their skills and progress with their promotions so that we can build out the faculty, grow the programs and grow our clinical practice," Dr. Stulberg said.  
He also plans to dive into quality improvement to advance patient care in his department.  
"I've found that there are people who are doing wonderful things here at WMed, and I'll be looking to add my observations to that, so we can combine the skill sets that are here with my experience to continue to move our programs forward most effectively, take care of our patients and continue to improve," Dr. Stulberg said.  Dr. Stulberg is married, and he and his wife Sandy have two grown children. They are looking forward to enjoying their favorite outdoor activities in Michigan, including boating and enjoying water sports on the Kalamazoo area's many lakes.