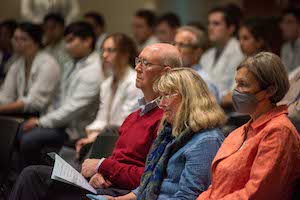 Dozens of community members and members of the medical school community celebrated the selfless gift of WMed Body Donation Program members at the first remembrance ceremony since 2019.
More than 60 family members of 46 people who donated their bodies to WMed between 2019 and 2020 gathered to memorialize their loved ones at the ceremony on October 9, 2022 at the medical school's W.E. Upjohn M.D. Campus. They were welcomed by several medical students, who showed their appreciation for the family members' gifts by playing music and showcasing art and dance.
The body donors' gifts to the medical school allows medical students to transfer the knowledge they have learned into something they can see, M2 Sydney Les told the crowd. The body donors become the students' guides and their gifts are immeasurable, she said.
"As you may imagine, it is common for new medical students to feel clumsy and out of place at first, maybe even unqualified for the rigorous path ahead, "Les said. "The magnitude of donor generosity is felt from our very first days in anatomy lab. It is an emotionally charged experience, one that encourages a great deal of reflection. In choosing to donate their bodies, our donors believe in us before we believe in ourselves. Their gift is a profound expression of trust. Their selfless generosity serves as a catalyst for our growth into capable learners, budding physicians, and compassionate people."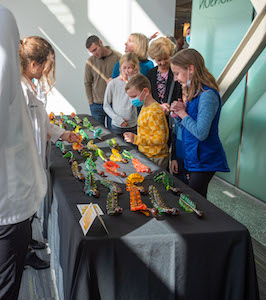 Sara Allison, PhD, an assistant professor in the medical school's Department of Biomedical Sciences who teaches medical students the anatomy they will need to know as physicians, said WMed's students have learned the true meaning of sacrifice from their donors' priceless gift, and they have exhibited the respect and compassion required of such a gift.  
"Through their encounters with your loved ones, their learning has extended so far beyond just anatomy," Dr. Allison said. "For some students, this is the first time they've been touched by mortality. Through this experience, students have begun to understand and cope with the challenges of their chosen profession, a profession that is so full of life, but also touched by loss. They've also come to know the many aspects of each person that are unique. They have noted the distinct variations that make up a person, while also noting the similarities that connect us all."
Each donor will be represented by a glass leaf that will be added to the Body Donor Memorial Tree. Each unique piece of glass is engraved with the name of the donor and serves as a constant reminder of the individual's selfless gift to advance medical education. The Body Donor Memorial Tree commemorates all who have made donations to the Body Donation Program at WMed since the program's inception in 2014.
The leaves of the tree are different colors, sizes and shapes. Each leaf is one of a kind, much like the people they represent, said Christine Pink, PhD, director of the medical school's Body Donation Program.  
"They each had their own stories of love and loss, and they each walked a unique path through love and life, but what I know for sure is that your loved ones all shared a remarkable sense of selflessness, courage and a belief in a bright future for you and for this community," Dr. Pink said. "Every day I remain inspired by them, so please, please know that your loved one has touched my life and the lives of these students."