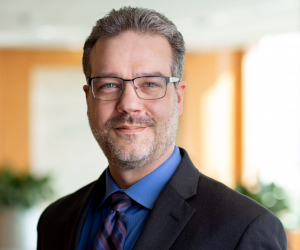 On Thursday, November 3, the Department of Pathology will welcome Reade Quinton, MD, to WMed as a visiting professor.
Dr. Quinton is scheduled to present "Quicker than the Eye: The intersection of Magic, Medicine and Neuroscience" at 4:00 p.m. in TBL 2 at the W.E. Upjohn M.D. Campus. During the presentation, Dr. Quinton will share the connection between two of his passions – medicine and magic – and how magic has much in common with medicine, and how he has used his talents with magic to connect with patients.
Dr. Quinton is an associate professor of Laboratory Medicine and Pathology at the Mayo Clinic in Rochester, Minnesota, where he also serves as co-director of the autopsy service, director of the resident autopsy rotation, and associate director of the Pathology residency program.
In addition to his presentation in TBL 2, Dr. Quinton will also serve as the featured speaker during the Michigan Associate of Medical Examiners Annual Conference that will be held November 4-5 in Mount Pleasant.
Dr. Quinton attended medical school at Louisiana State University Medical School and then completed his combined anatomic and clinical pathology residency training at UT Southwestern Medical Center in Dallas. He followed that with a fellowship in forensic pathology at the Southwestern Institute of Forensic Sciences. He remained in Dallas after his fellowship training and served as the deputy chief medical examiner and director of the Forensic Pathology fellowship program. In 2019, he joined the Mayo Clinic and the Southern Minnesota Regional Medical Examiner's Office in Rochester.