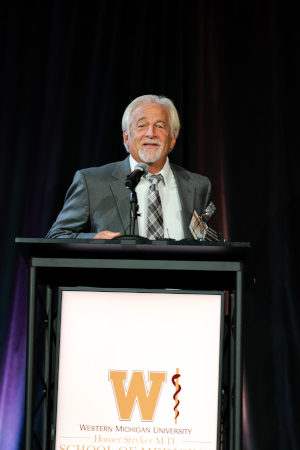 As nearly 300 people gathered for the medical school's annual Donor Appreciation Luncheon at the Radisson Plaza Hotel in downtown Kalamazoo, the event marked a moment for the WMed community to recognize and honor the generous support of donors and numerous philanthropic partners.
The event, held on Thursday November 10, featured a Thanksgiving-themed meal with all of the trimmings, and attendees got the chance to hear from WMed faculty and students about how donor support is making a tangible and lasting impact on their lives and pushing the mission and vision of WMed forward.
"It is exciting to see how donor support for the medical school is transforming and enriching the lives of both our students and our donors," said Jack Mosser, the medical school's associate dean for Development and Alumni Affairs. "You – as part of our donor community – are making such a profound difference in the lives of all our students and medical residents. Your donations transform their lives and empower their success in medical school and beyond."
During the luncheon, the Office of Development and Alumni Affairs gave special recognition with four awards for White Coat Donor of the Year, Philanthropic Volunteer of the Year, Business Donor of the Year, and Foundation Donor of the Year. This year's award winners were:
White Coat Donor of the Year: The James R. Ryan Family Foundation
Philanthropic Volunteer of the Year: Steve McKiddy
Business Donor of the Year: Stryker Corporation
Foundation Donor of the Year: Tyler Little Family Foundation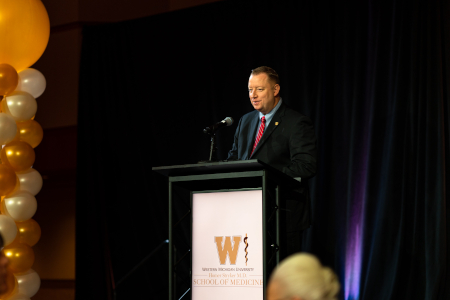 Prior to the handing out of each award, the crowd at the luncheon heard from WMed students and faculty about how community philanthropy and generosity has had a personal impact on their lives.
Before the White Coat Donor of the Year Award was presented, M2 Tierra Jolly shared her story about her journey to WMed. She spoke about how her white coat helped her feel like she belonged at the medical school and how her relationship with her white coat sponsors – Steve and Amy McKiddy – has changed her life.
"I believe that's the beauty of the white coat program," Jolly said. "The McKiddys didn't just give me a coat. They gave my whole family, a thousand miles away from home, a community. If you're in the audience and you've never considered becoming a white coat sponsor, I hope you will. Because having this link to community, and knowing that someone is cheering for me, has had a tremendous impact on my self-esteem.
"Every medical student deserves that."
Later in the program, Mosser got the opportunity to present Steve McKiddy with the medical school's Philanthropic Volunteer of the Year Award.
"Steve is a very busy man as the CFO of Greenleaf Trust but he finds the time to support the medical school as our White Coat fundraising co-chair with his wife Amy," Mosser said. "And for the past two years he has served as the chairman of the Dean's Circle Leadership Giving Society. Thank you, Steve, for your leadership in our fundraising efforts."
As part of honoring the Stryker Corporation as the Business Donor of the Year, Madison Roland, a sophomore at Kalamazoo College, along with Sravani Alluri, MD, an assistant professor in the Department of Family and Community Medicine, and M2 Niko Nickson, shared stories of how Stryker's support has had an impact on them and the community.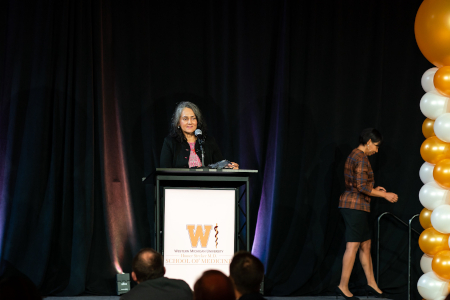 Roland, a Kalamazoo native and sophomore at Kalamazoo College who has dreams of becoming a pediatrician, said Stryker's support led to her having the chance recently to complete a six-week paid internship at WMed, where she worked alongside WMed faculty and other medical professionals.
"My dream to become a pediatrician can become a reality when those in the village are parents, family, role models, mentors, and donors such as the Stryker Corporation," Roland said. "My summer internship was an opportunity for me and others to have a hands-on experience more amazing than we could have imagined. This program is so important because it has helped to cultivate the minds of young leaders in the community who have some big goals. It has given us a boost of confidence and excitement for what is to come. Thank you for investing in the journey, the hopes, and the dreams of the future Dr. Madison Roland."
Dr. Alluri, who is the director of Street Medicine Kalamazoo, said the philanthropic support from Stryker has allowed Street Medicine Kalamazoo to expand its clinical operations and have a larger impact on the community as it seeks to make primary care more accessible to the unhoused.
"Our clinical operations are what they are today because of the passion of the students and physicians that have been involved, as well as all the support that we've gotten from the Kalamazoo community," she said. "And I would like to take a moment to recognize Stryker for their support which is helping us expand our services with the addition of a mobile clinic. The mobile clinic will give us the ability to carry more specialized equipment, examine patients in a private area, and generate revenue from the clinical services that we're providing."
Nickson said his work with the Street Medicine Kalamazoo team has enhanced his education at WMed.
"Perhaps more important, though, than the close-knit team we have as an organization is the fact that Street Medicine looks after a population that is often forgot about and disregarded," Nickson said. "In many ways, I feel fulfilled to be a part of an organization like Street Medicine when I reflect back on my experiences growing up. Patients who are unhoused have seen and experienced a great deal and it's critical to be able to function as an unbiased, non-judgmental support when working with a population that deserves nothing less."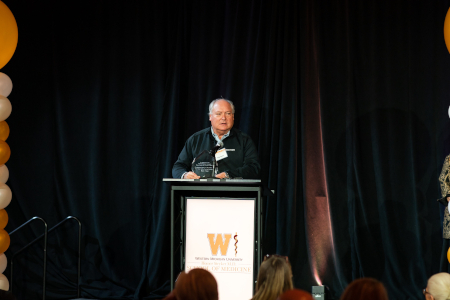 The presenting of the Foundation Donor of the Year Award to the Tyler Little Family Foundation stemmed from the foundation's support of the medical school's new Catalyst Scholarship program, which was launched in January 2022 with an inaugural contribution of $100,000 from Zhang Financial. Since that time, Catalyst scholarship donor contributions of $1,000 or more have been awarded to WMed students in need on a rolling basis, with 71 scholarships awarded so far.
"Medical school is an expensive endeavor and that is why scholarship support is so important and impactful to our students," said Michele Serbenski, the medical school's senior associate dean for Institutional Advancement and Chief Strategy Officer. "We have a number of different scholarship programs and endowments, but we can never have too many scholarships."
During her remarks at this year's luncheon, M1 Alejandra Solis talked about the journey her family took 10 years ago when they left El Salvador for California and the struggles that ensued as Solis had to transition to a new life in the U.S. while also helping her parents – who could not speak English – with things such as rental contracts, government forms, and student financial aid. She completed her undergraduate studies at Chapman University in Orange, California, and dreamed of being a physician.
She arrived to WMed in 2021 and completed the medical school's one-year Master of Science in Biomedical Sciences degree program. MBS students are automatically accepted to the MD program for the following year contingent upon successful completion of the MBS program. Additionally, a unique feature of the program is the generous gift from The Jon Stryker and Slobodan Ranjelovic scholarship fund, which provides a full-tuition scholarship to each student who is accepted and matriculates into the MBS program.
"I am thankful for the Stryker/Slobadan scholarship, for my white coat sponsor Dr. Cheryl Dickson, and to all the donors here today who have helped those like me follow our dreams to become physicians," Solis said. "I will never have enough words to express my gratitude for being a part of my journey to becoming the Latina, Spanish-speaking physician a shy 16-year-old immigrant dreamed of just 10 years ago. Thank you."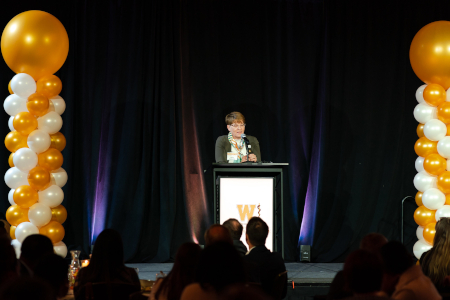 After Solis's remarks, her classmate, M1 Marah Ranger, a Kalamazoo Public Schools graduate, talked about how the support of the Kalamazoo community on a personal level after the tragic loss of her father in sixth grade and as a learner with The Kalamazoo Promise has helped her succeed on her path to medical school.
"All of this has led me back here, home." Ranger said. "Surrounded by a community that gave my family a remarkable gift when we lost everything. Being at WMed has given me the opportunity to serve and give back to the community for everything they did and continue to do for my family.
"In addition to the Promise, scholarships including the Havermill Foundation Endowed Scholarship and the WMed Merit Scholarship have supported my journey thus far in medicine," she added. "Therefore, without the support of all of you in this room, including my family, I would not be standing in front of you today, as a first-year medical student at WMed. Your support not only allows me to pursue medicine but motivates me to keep living out my father's greatest lesson: Don't waste time. Thank you."
Minutes after Ranger spoke, as this year's Donor Appreciation Luncheon wrapped up, WMed Dean Paula Termuhlen, MD, had the pleasure of addressing the crowd and topping off the event with an announcement that the medical school will begin raising funds for a new WMed Promise Scholarship.
The scholarship will be available to medical students enrolled at WMed who – like Ranger – are graduates of KPS and recipients of the Promise. The WMed Promise Scholarship is a medical school initiative that is separate and distinct from The Promise and KPS and fundraising for it is being led by the medical school's Office of Development and Alumni Affairs.