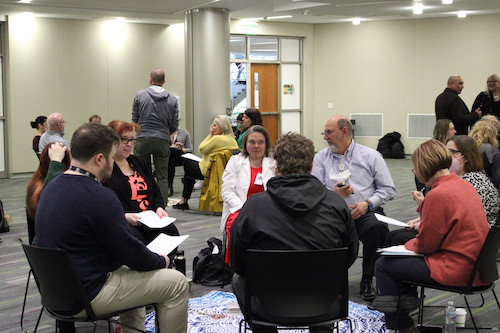 After presenting a series of foundational trainings focused on biases, inequities and discrimination in 2022, the Ally program at WMed will expand to provide more impact in 2023.  
About 80 WMed employees participated in the Ally program this year, representing nearly every department, with the encouragement of WMed Dean Paula M. Termuhlen.  
"That kind of high-level ask went a long way for us to have the participation that we have," said Cheryl Dickson, MD, MPH, associate dean for Health Equity and Community Affairs and Chief Diversity Officer, who facilitated the program alongside Karen Horneffer-Ginter, PhD, associate dean for Culture and Wellness and Chief Wellness Officer.
The ultimate goal of the program is to foster and grow a culture of inclusion and belonging for everyone at WMed, Dr. Dickson said. Faculty and staff who take part in the Ally Training Program serve as representatives for their department or administrative unit for DEI strategic initiatives and as DEI Champions for WMed's vision and goals around DEI.    
Participants attended a foundational series of workshop presentations between March and November on topics including implicit bias, systemic racism, mental health inequities, LGBTQ+ inequities, gender bias, and ableism. Leaders and experts from organizations such as ERACCE, Michigan Disabilities Resource Center, OutFront Kalamazoo, Integrated Mental Health Services/NAMI, and the Association of American Medical Colleges (AAMC) led the trainings. The foundational trainings, which were open to everyone in the WMed community, included opportunities for continued dialogue in small group discussions and the Courageous Conversations series presented by the Office of Health Equity and Community Affairs.  
"I feel like I learned so much from these experts in the community," Dr. Horneffer-Ginter said. "It was such a privilege to have that brought to us at WMed, to hear about these varied experiences."    
Julia Young, program specialist for Culture & Belonging, said she had been involved in an LGBTQIA+ ally program at a different employer, and wanted to be involved as soon as she heard about the medical school's program.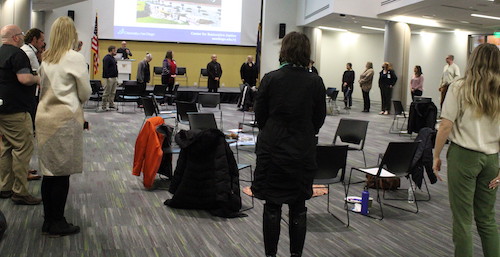 "I was really happy that they started something at WMed, especially since this is not just to support people of different sexual orientations and gender identities, but also race, women and disabilities," Young said. "This is a step in the right direction to making everybody more aware. I've never had formal education on these topics and they aren't anything any of my classes addressed in college."  
Young said her experience in the Ally program has helped her explain inequities when her child has questions about race and society. The trainings on gender bias and LGBTQ+ inequities particularly resonated with her.  
Theresa McGoff, data manager in the medical school's Department of Biomedical Informatics, said the trainings brought to her attention all the aspects of allyship she didn't know.  
"I really liked how they divided it up into the different forms of discrimination and implicit biases we may have and not know," McGoff said. "You don't always realize the terms you're using are outdated, and the best thing is to attempt to use the right terms as much as we can and be aware of it."  
McGoff said she realized in one training that she had been using incorrect terminology in one of her research projects on disparities.  
"The trainings make me think as opposed to before when I thought I knew what I was talking about," McGoff said. "They brought in speakers that had experienced these issues firsthand."  
Participants especially benefitted from an in-person, half-day training Nov. 30 around restorative justice facilitated by experts Pedro Flores, PhD, a member of the training team at the Center for Restorative Justice (RJ) at the University of San Diego, Toni McMurphy, MA, founder of Infinite Impact, a consulting group dedicated to using restorative practices to transform communities, conflicts, and culture, and Anthony Palatta, DDS, EdD, a healthcare education consultant and coach.  
"When I was looking at the description and it said to be willing to be open and talk about tough topics, I was like oh no, that's not something I like to do," McGoff said. "It was so well run and the folks they brought in to train us were really enthusiastic. The way they approached it made it very comfortable and I left it having a totally different view than when I was coming into it. It was so genuine and gave me different appreciation for my coworkers."  
Looking ahead, McGoff said she would like to offer a shorter training on restorative justice to her small department.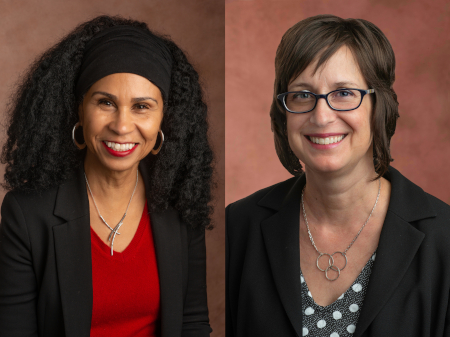 "It would give us a better appreciation of where everyone's coming from and have a very transparent and open space," she said. "It's easier to have difficult conversations in a respectful way when you have that."
The launch of the new Ally Training Program coincides with the implementation of a new strategic plan focused on health equity in medical education. In June 2021, the medical school received a $300 million philanthropic commitment to fund initiatives to support student success, diversity, equity, and inclusion in medical education, expand access and opportunity through scholarships, and foster innovation, collaboration, and discovery. In the coming year, Dr. Dickson said the Ally program will expand from introductory trainings to more in-depth trainings and more trainings on topics including gender equity, racism and microaggressions. Dr. Dickson said she wants to expand the training on restorative justice to more people in the WMed community. Moving forward, Dr. Dickson said with the assistance from the Manager of DEI and Culture, Emily Kozal, and DEI Committee members Brooke Kolodzieczyk and Chris Haymaker, PhD, she and Dr. Horneffer-Ginter will be reconfiguring the small groups to have fewer, larger groups with facilitated discussion topics.  
"We want to build skills for the allies to be champions within the offices and departments they represent," Dr. Dickson said. "We want to integrate the principles of justice, equity, diversity and inclusion in the organization so that we get to the culture we're trying to achieve for everyone."  
Though it can be hard to measure, Dr. Dickson said she and Dr. Horneffer-Ginter will make note of any changes they see, whether members of the WMed community are coming to the allies for issues regarding diversity, equity and inclusion and whether attitudes and behaviors change to reflect the understanding of diversity, equity and inclusion.  
"It's a model of continuous quality improvement," Dr. Dickson said. "You do something, you assess it, and you make the needed change to improve." 
The DEI program is a central pillar at WMed, and several complementary initiatives support it, including a new focus on psychological safety in 2022 that will continue into 2023, Dr. Horneffer-Ginter said. In addition, her team will continue to engage WMed's culture champions and develop more opportunities for people in the WMed community to connect in person.  
"If we're going to have an inclusive culture where people feel safe and feel belonging, we need to have people deeply understand what psychological safety means and understanding their role in it, so that people are allowed to lift up concerns, to question and to be vulnerable in their spaces," Dr. Horneffer-Ginter said. "When you have a fabric of community built, it's easier to have the brave, courageous conversations that are needed."  
Turnover at the medical school this year brought in employees who may have wanted to participate but weren't here when the program started, Dr. Horneffer-Ginter said.  
"In the new year, it'll be good to reach out to those who didn't have a chance to have an opportunity to be involved last year," Dr. Horneffer-Ginter said. "I'd love to see us have a wider reach and keep expanding this without losing the potency where we're asking allies to commit to certain expectations."