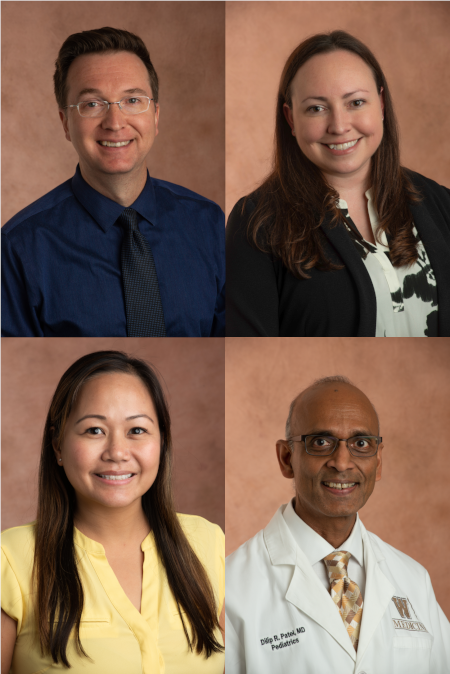 The Department of Pediatric and Adolescent Medicine at WMed has been awarded a five-year, $2.48 million grant by the U.S. Department of Health and Human Services Health Resources and Services Administration (HRSA).
The funding, which is the largest federal grant ever awarded to WMed, was the result of a collaborative effort between the medical school's pediatric residency program and the divisions of General Pediatrics and Pediatric Psychology.
The grant was one of only 24 awarded by HRSA in what was a highly competitive process, said Dilip R. Patel, MD, MBA, MPH, chair of the Department of Pediatric and Adolescent Medicine.
"For us to land this, it's a big deal," Dr. Patel said. "It's important to acknowledge everyone who participated and collaborated in the process with us. Our success in landing this award is really a true reflection of the strength of efforts of pediatric psychology and general pediatrics faculty, as well as the existing training infrastructure of our residency program and WMed as a whole."
The funding from HRSA is part of the Primary Care Training and Enhancement – Residency Training in Mental and Behavioral Health (PCTE-RTMB) program. The federal project seeks to enhance training for primary care residents in the prevention, identification, diagnosis, treatment, and referral of services for mental and behavioral health conditions for pediatrics, adolescent, young adult, and other patient populations who are at-risk or have experienced abuse, trauma, or mental health and/or substance use disorders, including those related to gun violence.
The five-year grant runs from December 31, 2022 through September 29, 2027. With the funding now in place, the divisions of General Pediatrics and Pediatric Psychology will collaboratively develop and implement the project, said Kelly Brown, MD, program director for the Pediatrics Residency Program and chief of the Division of General Pediatrics. Additionally, the Department of Pediatric and Adolescent Medicine will partner with various community-based organizations with experience in resiliency, trauma-informed care, treatment, assessment, and psychiatry services.
"We so are excited to incorporate enhanced training in pediatric psychology and mental health and be leaders of educational innovation in our residency program," Dr. Brown said. "Over the past several years, there has been national recognition and emphasis on efforts to enhance understanding of the magnitude and urgency of the behavioral and mental health crisis in the pediatric population. Incorporating robust experiences in mental health and psychology training into our pediatric program enables our future pediatricians to provide the highest quality, evidence-based care to youths and families struggling with mental health challenges."
Implementation of the project at WMed that is being funded by the five-year HRSA grant is being led by Jocelyn Deleon, MD, and Roger W. Apple, PhD. Dr. Deleon is an assistant professor in the Department of Pediatric and Adolescent Medicine and an alumna of the medical school's pediatric residency program. Dr. Deleon is also the co-medical director of the general pediatric clinical service and the advanced clerkship director.
Dr. Apple is an associate professor in the Department of Pediatric and Adolescent Medicine and also serves as chief of the Division of Pediatric Psychology, which offers a variety of clinical services including comprehensive psychological evaluations, integrated behavioral health services, autism evaluations, and pediatric psychology. Additionally, Dr. Apple serves as the director of the WMed Pediatric Autism Center, the only Approved Autism Evaluation Center (AAEC) in Southwest Michigan.
Drs. Deleon and Apple said the grant awarded to WMed comes at a critical time when the number of mental health and behavioral health providers available to see children and families is not enough to keep up with the demand across the state of Michigan. In 2018, HRSA reported several areas in Southwest Michigan as medically underserved and Kalamazoo and several surrounding areas are designated health professional shortage areas (HPSA) in mental health providers, according to HRSA databases reported by the federal government.
"With the scarcity of behavioral health specialists across the United States, it is of utmost importance to train our pediatric residents to be knowledgeable and able to comfortably and confidently screen, evaluate, and manage common pediatric mental health conditions and behavioral health problems in pediatric practice," Dr. Deleon said. "This includes, but it is not limited to, some of the most common problems such as ADHD, depression, and anxiety."
Dr. Apple said the funding from HRSA will help leaders achieve what has been a long-term goal at WMed to develop longitudinal and comprehensive training for pediatric residents to bolster their competency in mental and behavioral health. The grant will allow for the training of at least 65 pediatric residents at WMed over the next five years.
"This came along at the perfect time," Dr. Apple said. "This funding gives us the resources to really do this important training the right way. We're hiring two additional psychologists to help implement the program and we're creating a mental and behavioral health educational experience for our residents to provide that important educational element.
"Most families seeking mental health services first start with their primary care provider," Dr. Apple added. "This grant helps train new physicians to be better prepared to respond to these families by helping increase their knowledge of common psychological concerns, provide treatment, and/or refer to the appropriate mental health resources when needed."
As the HRSA-funded project gets underway, Drs. Deleon and Apple said they are excited about the impact the work will have locally and nationally as pediatric residents from WMed gain a new set of skills during their time in Kalamazoo and then move into practice. They will be assisted along the way by Rebecca Rausch, PhD, Katie Beenen, PhD, and Kathryn White, MA, who are assistant professors in the Department of Pediatric and Adolescent Medicine and pediatric psychology faculty members, as well as pediatric psychology coordinator Cheyenne Haddix.
"We would like to acknowledge the wholehearted support from all the collaborative sites in greater Kalamazoo, as well as WMed faculty, including Drs. Cheryl Dickson, associate dean for Health Equity; Michael Redinger, interim chair of the Department of Psychiatry; Madhavi Nagalla, Psychiatry Residency Program director, and Jeffrey Greene, assistant professor in the Department of Medical Education," Dr. Deleon said. "We also would like to especially thank Chris Schneider and Angela Morris from Sponsored Programs Administration for their hard work and expertise in helping us write this grant. We look forward to our collaborative work going forward as we implement this project."
Dr. Patel said he also would like to thank WMed Dean Paula Termuhlen, MD, "for her leadership of the medical school and fostering an environment within which we are able to function so successfully and effectively."
This program is supported by the Health Resources and Services Administration (HRSA) of the U.S. Department of Health and Human Services (HHS) as part of an award totaling $2.48 million with 0% financed with non-governmental sources. The contents are those of the author(s) and do not necessarily represent the official views of, nor an endorsement, by HRSA, HHS, or the U.S. Government. For more information, please visit HRSA.gov.