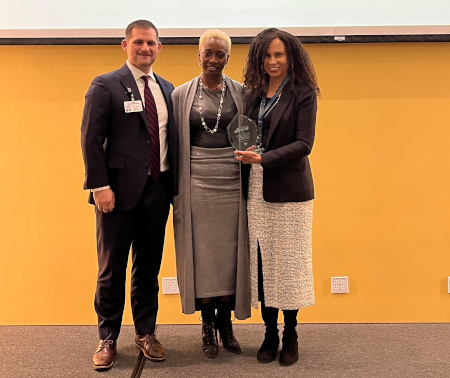 In January, to honor Martin Luther King Jr. Day, the Office of Diversity, Equity, and Inclusiveness at WMed partnered with Bronson Healthcare to host a special event celebrating two local organizations – the Synergy Health Center and Men of Purpose – that are continuing the good works of Dr. King through their service and community outreach.
The MLK Day Celebration was held at the medical school's W.E. Upjohn M.D. Campus on Friday, January 13.
The event kicked off with a poetry reading by Western Michigan University student Sierra Ward, who recited a poem she wrote titled "To Dream Like Martin."
"The sounds of freedom, oh sweet, sweet freedom, will we ever truly hear its song?" Ward said. "See, if I was told to dream like Martin, what phrase would I be destined to say? … I have a dream, said MLK. That message still remains the same, to see children of all colors standing together evokes an everlasting change."
After the poetry reading by Ward, the crowd of attendees got the chance to hear from Valarie Cunningham, MSW, LMSW, CEO and founder of the Synergy Health Center, a healthcare organization in Kalamazoo dedicated to transforming lives for generations and empowering people for a lifetime.
Cunningham said Synergy Health's work in Kalamazoo is centered on combating mental health stigma in the black community while also providing save places and safe spaces for youth.
"The heartbeat of the Synergy Health Center is to transform lives through mental health, substance abuse, and support services with a specific emphasis on African Americans," Cunningham said. "We are focusing on the people that need us and they need to know that we're available."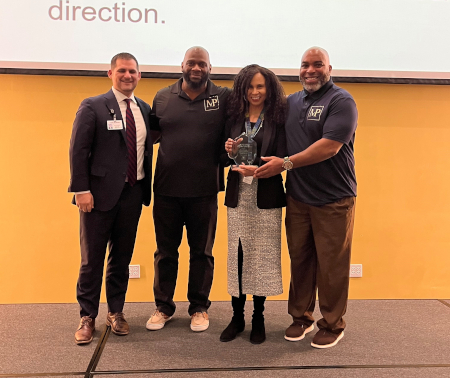 Men of Purpose, which is led by co-founders Will Atkinson and Anthony Spencer, is an organization focused on the mentorship of youth and a commitment to their mentees' future success. At the event on January 13, Atkinson and Spencer told the crowd that their organization was founded in 2018 and formed from their experiences in overcoming generational struggles and consistently prevailing against overwhelming odds.
"We always believed in being part of the solution and not part of the problem," Atkinson said. "We empower youth to be self-determining adults … and equip youth with tools they need to solve life's daily challenges.
After the presentations at the event, Cheryl Dickson, MD, MPH, the medical school's associate dean for Health Equity and chief diversity officer, presented Cunningham with an award for "demonstrating service and outstanding contributions for mental health awareness and service to the black community." She also presented Atkinson and Spencer with an award "for demonstrating service and outstanding contributions to providing mentoring services to youth in the community."
If you weren't able to attend the MLK Day Celebration on January 13, a full video of the event can be viewed on the medical school's YouTube channel.