WMed Health Surgery provides consultations, diagnosis, and treatment for adults and children requiring surgical procedures. Appointments may require a physician referral.
Services and procedures we provide include:
Amputation surgery
Breast surgery

Benign and malignant tumors
Sentinel lymph node biopsy

Endocrine surgery

Thyroid
Parathyroid
Adrenal glands

Endoscopy including EGD (esophagogastroduodenoscopy) and colonoscopy
Gastrointestinal procedures:

Appendectomy
Bowel obstruction and tube feeding
Colon surgery for benign and malignant tumors
Esophagus and stomach surgery for benign and malignant tumors
Gallbladder surgery as laparoscopic cholecystectomy and biliary ducts surgery
Pancreatic surgery
Small bowel surgery for tumors

Hernias using both open and laparoscopic techniques:
Laparoscopic surgery for most traditional abdominal surgeries:

Heller Myotomy for achalasia
Laparoscopic hiatal hernia repair
Laparoscopic Nissan fundoplication or stomach wrap for gastroesophageal reflux disease
Laparoscopic splenectomy and adrenalectomy
Laparoscopic surgery of stomach for ulcer and tumors

Minimally invasive and foregut surgery and endoscopy
Osteomyoplastic amputation reconstruction surgery for revisions and primary amputations (above and below knee)
Skin and soft tissue surgery

Excision of tumors and biopsies

Ultrasound evaluation of the thyroid, parathyroid, and neck masses
Our Location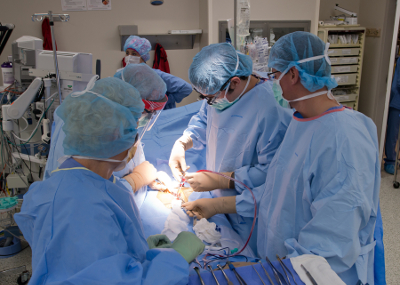 WMed Health Surgery is located at 1000 Oakland Drive on the 1st floor in Kalamazoo, Michigan. Parking is available adjacent to the building. Our practice is a non-smoking environment. We strive to provide a clean environment for our patients.
Fees and Insurance
WMed Health Surgery participates with many insurance providers, including Medicaid and Medicaid Health Plans. Before you first visit, check with your insurance company to understand what services will be paid for by your insurance plan. For every appointment, you will need to bring your insurance card(s). Co-pays are due at the time of service and accepted forms of payment are cash, check, MasterCard, Visa, and Discover. If you have questions, our patient financial counselors we are ready to help you. Please call our Billing Department at 269.337.4460.
Our Providers