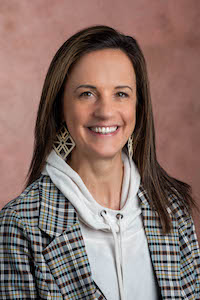 The medical school is pleased to welcome two new faculty members to its departments of Biomedical Sciences and Medicine-Pediatrics.
Amy Gyorkos, PhD, FACSM, CEP, joined the Department of Biomedical Sciences. Prior to joining the medical school, Dr. Gyorkos worked as an assistant professor of gross anatomy, gross anatomy cadaver lab and systems anatomy at Albion College. Dr Gyorkos has held faculty positions throughout the last 20 years at Albion, Western Michigan University, and Grand Valley State University, teaching courses in Biological Sciences and Exercise Sciences.
Dr. Gyorkos is an alumna of Central Michigan University, where she earned a bachelor's degree in secondary education in 2002. She went on to obtain her master's degree in exercise physiology from WMU in 2005 and completed her doctorate degree in neurobiology in 2014 at WMU. Dr. Gyorkos also completed a phlebotomy certificate in 2015.
Dr. Gyorkos has been involved in several professional organizations and is past president of the Midwest Chapter of the American College of Sports Medicine. She also serves on several committees for the Human Anatomy & Physiology Society.
Bryce Meck, MD, joined the Department of Medicine-Pediatrics as an assistant professor in January.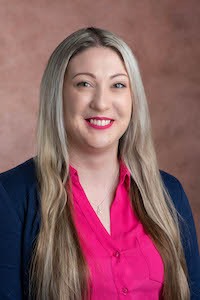 Prior to joining the medical school, Dr. Meck was a core faculty member at Indiana University SW Internal Medicine Residency. She worked as director of inpatient pediatrics at Good Samaritan Hospital since December 2021. Dr. Meck also has experience as an assistant adjunct instructor of Internal Medicine at Indiana University Health and as a gender-affirming care physician at MU MedZou Gender Affirming Care.
Dr. Meck is an alumna of Ferris State University, where she earned a bachelor's degree in Biology in 2012. She earned her MD degree from Wayne State University School of Medicine in June 2016 and completed her residency training in Internal Medicine and Pediatrics at the University of Missouri – Columbia in 2021.
Dr. Meck has conducted research and grant-funded projects in the areas of infant mortality and physician wellness.