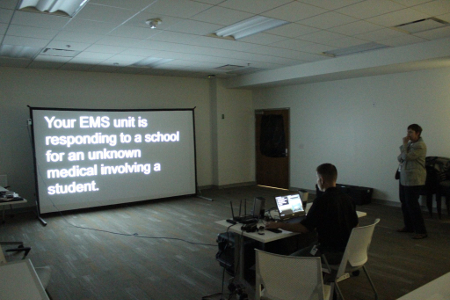 As he tackles the task before him, Todd Christensen's endgame is this – to put in place at the medical school what will be a national model for comprehensive mental health education for police officers, EMS and other first responders.
"A big part of educating folks on mental illness is stigma reduction," said Christensen, who is the program coordinator for the Michigan Crisis Intervention System, a program that is the result of a two-year, $500,000 grant awarded to WMed in November 2016 by the Michigan Health Endowment Fund. "That's why stigma reduction of mental illness is our first topic in everything with MI-CIS. We have to get rid of the stigma before we can talk about the illness, get rid of the fake and talk about the real."
In the months since the grant was awarded to the medical school, Christensen and others at WMed have been hard at work reviewing mental health education best practices from across the country, as well as Australia and the United Kingdom as part of creating a curriculum for MI-CIS that will be a "total package."
For first responders, the program will offer several training options and components, including an online training platform and reality-based training that will rely on the use of MILO Response and MILO Range, two immersive simulation systems that can replicate use-of-force scenarios and behavioral health emergencies requiring verbal de-escalation. The program, Christensen said, moves beyond basic classroom training and lecture to hands-on training that is more beneficial to first responders when they're ever faced with a volatile situation on the job.
"It brings the classroom to life," Christensen said of the MILO systems. "It bridges the gap from complacency to readiness, it reinforces the dangers and the realities of the job and it provides situational awareness."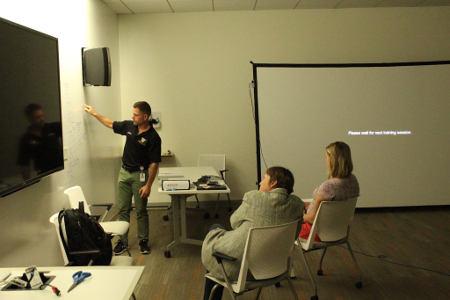 A third part of the MI-CIS program is an advanced training that will include a "train the trainer" component that will be vital in implementing the program across the state and in communities outside of Michigan by arming first responders with the tools they will need to coordinate and run their own local trainings.
"We want to a national model where agencies from across the country see what we created and utilize the program or replicate it to enhance their own training systems," Christensen said.
The creation of MI-CIS in 2016 stemmed from what the Michigan Health Endowment Fund identified as a need for improved training for first responders who deal regularly with people and patients in the field with acute behavioral conditions. With the implementation of the grant, Christensen and others hope to improve the safety of first responders and citizens, and diverting those in need of mental health treatment from incarceration.
The grant is part of a collaborative effort by WMed, the Michigan Department of Health and Human Services and Kalamazoo County Mental Health and Substance Abuse Services.
Christensen said collaboration with the county's Mental Health and Substance Abuse Services has been critical to the implementation of MI-CIS and the agency is providing funding to reimburse police and EMS personnel who are set to take part in MI-CIS reality-based training this fall.
MI-CIS training for police and EMS personnel, including the web-based component and reality-based training, is set to begin in September and October, Christensen said. Training for emergency dispatchers, correctional officers, hospital employees and school personnel will be implemented next year, he said.
Additionally, Christensen said cadets at the Kalamazoo Valley Community College police academy will take part in the web-based training and reality-based MI-CIS training in December and officials from the Chicago police and fire departments plan to visit Kalamazoo in November to learn more about the web-based training module and reality-based training component for possible use within their agencies.