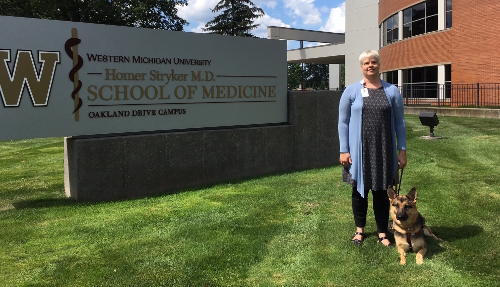 When her work day begins at WMed, Heidi Joshi, PsyD, enters the office with a four-legged companion by her side.
Dr. Joshi says she is the brains of their operation, but Lake, her 4-year-old German shepherd and guide dog, is her eyes and a helpful navigator, always there to keep her safe.
"She's a pro," said Dr. Joshi, 41, who has been blind since birth. "Her job is to make sure that I'm safe and I tell people I'm the brains of our operation but she's the one who has veto power if I give her a command that puts us in jeopardy."
Dr. Joshi and Lake came to WMed at the end of July when Dr. Joshi joined the faculty in the medical school's Department of Medical Education as an assistant professor and behavioral health educator. Her arrival came after a six-year stint as a primary care behavioral health psychologist for Providence Medical Group in Portland, Oregon.
Her new role at WMed was a return home for Dr. Joshi. She grew up in Traverse City and graduated from Niles High School. After high school, she earned a bachelor's degree in music and voice performance from Hope College.
Dr. Joshi said she is excited about being able to pursue her passion of teaching as a member of the faculty at the medical school. At the same time, she said she and her husband, and their two daughters, ages 9 and 4, are able to be closer to relatives here in Michigan.
"I really missed teaching and I felt like that was a huge gap in my work-life quality so when this position opened at WMed it was going to get me back into teaching and this medical school is really innovative," Dr. Joshi said. "We loved being on the west coast but life changes and you have kids, and you settle down."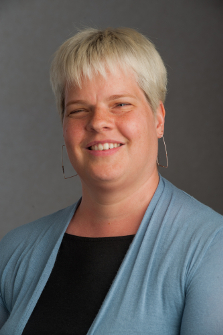 Dr. Joshi works closely with physicians in the WMed's primary care residencies to teach residents about behavioral health and psychosocial issues that may come up while providing care for their patients. Additionally, she is teaching residents how to develop and maintain appropriate relationships with their patients and how to properly address and manage patients' mental health needs.
It is a role for which Dr. Joshi is well-suited. She pursued music as a major at Hope College but she jokes that her professional path eventually diverted because she "decided I probably needed to make a living."
After completing her undergraduate studies, she earned a master's degree in 1999 in Marital and Family Therapy from Northwestern University. Her interest in teaching resident physicians took root at Northwestern, Dr. Joshi said, and in 2006 she earned her Doctor of Psychology in Clinical Psychology from the California School of Professional Psychology. In 2007, she completed an internship and a postdoctoral fellowship at UC-Davis. More recently, in 2011, she earned a certificate in Primary Care Behavioral Health from the University of Massachusetts.
"I've always had an interest in what makes people tick, how relationships can promote healing and health," Dr. Joshi said. "I've always been really curious about people … There was a part of me that wanted to go to medical school too and be a physician but I can still be in that realm and work with physicians and I really like teaching."
Dr. Joshi and Lake have been together since 2014 and Dr. Joshi said she is thankful to have Lake by her side.
"Generally, what I tell people, when it comes to service dogs, you don't want to pet a dog that's working," Dr. Joshi said. "When she's wearing her harness, she's working and I really tell people it's best to ignore her. Even if she is laying next to me, she knows she's working when she's in her harness.
"She's very friendly, but she's also very business-like when she's working," Dr. Joshi added. "It doesn't preclude you from coming up and talking to me. Introduce yourself, tell me your name. I love to talk and chat and learn about what folks are doing."
Dr. Joshi said she has used a guide dog since her sophomore year at Hope College. The move was a lifestyle change for her as she pursued her studies and became used to the new responsibilities that came with having a guide dog.
"I really wanted a guide dog and I didn't care what kind," Dr. Joshi said. "I knew people at the time who had a dog and could move more easily and quickly, and I wanted that."
Now that she's at WMed, Dr. Joshi said she is looking forward to her new role and the chance to work with residents and medical students. She said she will also see patients at the WMed Clinics at the Oakland Drive Campus.
She said she is very appreciative of being welcomed to WMed and the institution's willingness to embrace and value the diversity that she brings as an employee and educator.
"People with disabilities can do whatever they want to do but we have to provide accommodations and think outside the box," Dr. Joshi said. "I've appreciated that about the folks that have hired me … At WMed, I felt that my perspective is valued and not just that the accommodations are necessary and important, but that they are a vehicle for making sure we get everything we can from what I have to offer and I appreciate that."
Dr. Joshi said she has experienced obstacles during her time as a student and professional, but that those obstacles – and overcoming them – have made her stronger and equipped her with a tenaciousness that serves her well.
"I would say there have been obstacles and there have been really amazing people," Dr. Joshi said. "I don't do this alone; it has taken a lot of folks along the way who have believed in me."
With that in mind, Dr. Joshi said she values the belief WMed has placed in her.
"I feel like, in a lot of ways, as a blind professional in medical settings, I'm pioneering something," she said. "I'm embracing that but I can't do that alone and it takes an entity like WMed to be willing to innovate and pioneer with me.
"It's kind of a cool and a neat thing to be a part of."