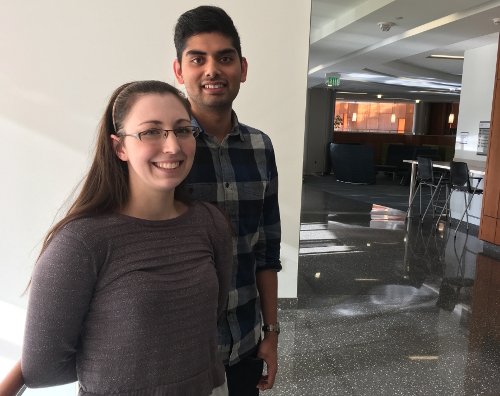 As a chemistry teacher for Teach America in Newark, New Jersey, Gina Bravata saw firsthand how health and educational inequities were so closely connected and intertwined.
When Bravata, now a second-year student at WMed, made the move from teaching to medicine in 2016, she said the decision to do so was driven by her overwhelming desire to fix the health inequities she saw, to make that her mission and a key part of her future as a physician.
"There's a solution, we can fix it as long as we identify where the system is broken," Bravata said. "I feel like everyone deserves to have an equal starting point. When I was looking at my students, it was unfair to see that they had unequal health outcomes for no other reason than the neighborhood they lived in and the resources they lacked."
Now, Bravata and her classmate, fellow M2 Ryan D'Mello, have teamed up on a project – "Addressing Race-based Health Inequity through Anti-Racism and Implicit Bias Training for Future Healthcare Providers" – through a regional fellowship with the Arcus Center for Social Justice Leadership at Kalamazoo College (K).
The 10-month project began November 1 and aims to put in place a framework at WMed and elsewhere for ensuring healthcare providers – especially MD students – are educated on the social determinants of health, implicit bias and structural racism, all of which are significant contributors to health inequity.
"It starts here (in medical school)," D'Mello said. "If students are having these conversations during their formative years … it just becomes what practicing medicine means."
Bravata and D'Mello were both born and raised in Kalamazoo and graduated from Portage Central High School in 2008 and 2010, respectively. They each graduated from Kalamazoo College, where Bravata earned a degree in chemistry and music and D'Mello earned a degree in biology.
Despite their similar paths in high school and college, the two didn't meet until they arrived at WMed in the summer of 2016. They helped form the medical school's social justice student interest group in January 2017 and say that their passion for social justice issues was fed by their time and experiences at K. In fact, D'Mello, during his senior year at K, helped bring to the institution a training session hosted by ERACCE (Eliminating Racism & Creating/Celebrating Equity), a Kalamazoo organization that seeks to eliminate structural racism and create a network of institutions and communities that are equitable and anti-racist.
D'Mello said he hopes to bring ERACCE training to WMed in the future and the Arcus Center fellowship will go a long way in making that a reality.
D'Mello said that he came to WMed with what what he described as "an understanding of social justice in a more general sense." However, he said the classes he took during his first year of medical school with Dr. Cheryl Dickson, WMed's associate dean for Health Equity and Community Affairs, opened his eyes to the social determinants of health "and that there's more than just the science of medicine that's important to the health of our patients."
D'Mello said he also took to heart the oath he and his classmates wrote and read at the Class of 2020 White Coat Ceremony in which they pledged a responsibility to advocate for all patients.
"That really struck a chord with me," D'Mello said. "My role is more than just helping the patient at the clinic in the room. It's also helping the patient who can't get to the clinic."
Bravata and D'Mello's project has five objectives: the incorporation of more education and engagement at WMed about the social determinants of health, race and implicit bias; the hosting of at least two community events at the medical school as a way of growing WMed's role as a resource for health equity; collaboration with medical students at the state and national level to improve policies about implicit bias and the importance of including training on racism and implicit bias in medical school education; the creation of a network of medical schools from across the country with a shared interest in pushing initiatives to address implicit bias and structural racism, and the hosting of a one-day summit at WMed that would serve as a gathering point for WMed students, residents and faculty, as well as members of the Kalamazoo community and others from across the country to share their ideas on how to promote health equity and address health inequity in their communities.
While they are not yet one month into their project with the Arcus Center, Bravata and D'Mello have already made significant headway in accomplishing the five objectives.
They've already developed, with the help of Dr. Dickson, a new longitudinal elective at the medical school for first- and second-year students – Systemic Evaluation of Health Inequity – that will be offered beginning in January. D'Mello said that education around implicit bias and structural racism is already built into the curriculum at WMed and is handled well for students. However, he said the new elective will allow for "more active engagement with students where they get to discuss and reflect on these topics."
This month, Bravata was also part of a contingent of WMed students who attended the American Medical Association Interim Meeting in Honolulu Hawaii. During the meeting, she was part of a group of medical students who presented a resolution addressing implicit bias and the importance of recognizing its influence on health outcomes and the importance of it being a part of medical school education. The resolution, along with a separate resolution regarding structural racism was passed and adopted as policy by the AMA-Medical Student Section during the meeting.
Additionally, she said the AMA Physicians Section also now has a policy that instruction on implicit bias should be a part of medical education and members are now researching how it should be taught to students and residents. Bravata said her group also is now working with the students who introduced the resolution on structural racism to ensure that the AMA Physicians Section also makes that portion passed by the AMA Student Section part of their policies, as well.
Bravata said her time in Hawaii was also beneficial in helping her and D'Mello begin the formation of a network of medical schools and students interested in pushing forward initiatives to address implicit bias and structural racism in medicine. During the AMA Interim Meeting, Bravata was able to tell other medical students about the project she and D'Mello are conducting as part of their fellowship with the Arcus Center.
She and D'Mello said the network will serve as an avenue to connect and "share success stories and ideas." So far, since the AMA meeting, Bravata said about 50 students have signed up from medical schools across the country.
While they've already accomplished several of their objectives and have much work ahead of them, Bravata said she believes the 10-month project she and D'Mello are undertaking will serve as "the launching of something bigger that will hopefully continue beyond June."
"I think our hope … is that future doctors leaving medical school will view these topics and making the system more equitable as integral to practicing medicine," she said.