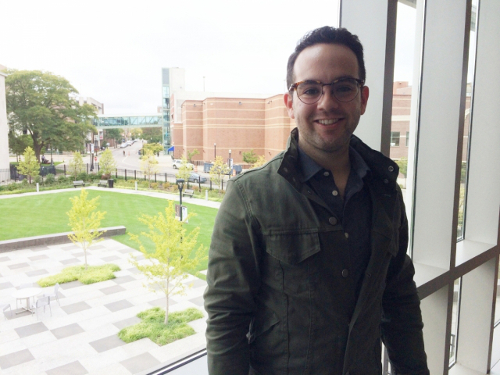 For Michael Chavarria, food has always served as a great way to bring people together.
Growing up, he says food was "a big deal," a strong and unique point around which to gather.
"Everyone gets hungry and everyone likes good food," Chavarria, a second-year student at Western Michigan University Homer Stryker M.D. School of Medicine, said recently. "It's a great entry point into a different culture, I think."
That's what Chavarria hopes to do later this month with a potluck dinner he has organized for his fellow students, medical school faculty and staff, to celebrate National Hispanic Heritage Month.
The dinner, which is scheduled for 6 p.m. Monday, Oct. 17, at WMed's W.E. Upjohn M.D. Campus, will feature tacos from a local Mexican restaurant and attendees are being asked to contribute a side dish to share.
National Hispanic Heritage Month occurs from September 15 to October 15 and recognizes the contributions of Hispanic and Latino Americans, and celebrates their heritage and culture.
For the dinner, Chavarria said he is working to recruit local Latino physicians to speak about their experiences in the medical profession and the contributions of other Latinos to the medical field.
Chavarria said he will also use the time to discuss the history of Dr. Hector P. Garcia, a Mexican-American doctor and World War II veteran who founded the American G.I. Forum and was a staunch advocate for civil rights.
Chavarria said he hopes the dinner will help bring about an awareness and a familiarity with Hispanic and Latino culture. He said events like the potluck dinner are important because they serve as a reminder that the United States is an "all inclusive" country and we're all made richer by each other's contributions.
"I think it's important for people in the (medical) profession to be aware of some of the contributions and to also be aware of the culture and the heritage that a lot of their patients are going to have," Chavarria said.
Chavarria said he chose to feature tacos as the main course for the dinner because he believes they are a great metaphor for Latino culture, and delicious. He also said their ubiquity in the U.S. and the way tacos have traveled around the world is a "representation of how Latino culture has done the same."
The dinner to celebrate Latino Heritage Month is the second event to be held at the medical school as part of the WMed Student Diversity Series. In June, Sarah Khalil, a second-year student at WMed like Chavarria, organized Ramadan Day of Fasting and Dinner, a potluck that was held at the Upjohn Campus and drew more than 40 students, faculty and staff.
Chavarria, 27, grew up in Victorville, California, and graduated in 2015 from Brigham Young University where he majored in history with a minor in Spanish.
While attending BYU, Chavarria said he organized an event for Hispanic Heritage Month that featured lectures, a dance and a representative from PBS who showed a documentary about Latinos in the U.S.
Chavarria said he drew inspiration from the success of the event Khalil organized for Ramadan in coming up with the idea to hold an event at WMed to celebrate Hispanic Heritage Month.
He said the dinner will serve as "a small and brief opportunity to highlight one of the many cultures" that he and his fellow classmates at WMed will encounter as aspiring physicians.