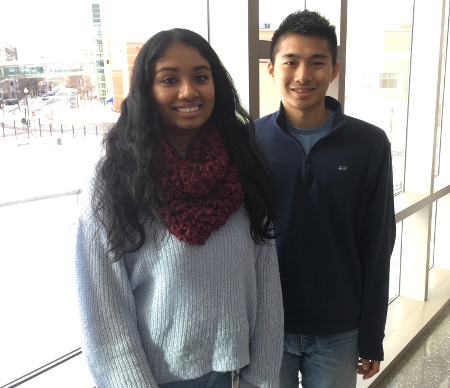 Rashini Jayaratne and Kevin Ching got out of their car during a recent Saturday with a task before them that was simple enough – purchasing a birthday cake for a fellow classmate at the medical school.
Quickly, though, things changed for the first-year MD students.
That day, December 8, 2017, as they made their way toward the Coldstone Creamery on West Main Street in Kalamazoo, their attention was drawn to a man on the ground in the parking lot. A crowd had gathered around him.
Within seconds, Jayaratne and Ching said the medical first responder training they received at WMed last year during their first weeks of medical school kicked in.
"We didn't even have to think about it," said Jayaratne, who worked in the same squad as Ching during their MFR course. "Kevin did a stroke assessment and checked his airway."
Ching said the man was conscious when they first approached him, but was having trouble walking and speaking. Eventually, the owner of the restaurant where the man had been before collapsing, was able to take the man back inside where Jayaratne and Ching continued their assessment.
Jayaratne said that once the man had sat down in the restaurant, he seemed a bit dazed but knew his name, where he was and where he had been before falling. Ching said he and Jayaratne wanted to call an ambulance out of concern the man might have had a stroke or seizure, but the man declined their offers.
While Jayaratne stayed with the man, Ching spoke to other people at the scene, including the owner of the restaurant. During that time, they learned the man had recently been diagnosed with atrial fibrillation, suffered previous attacks of acute pancreatitis and had muscle atrophy in his right leg. Ching also spoke to the man's wife who came to the scene and recommended that the man be taken to his family physician or to a local emergency room for additional observation and, possibly, treatment.
"Having the two of us there worked out well to ensure he was stable," Jayaratne said. "I think that allowed us to provide better care … Even though the scenario felt very hectic I still felt very secure and comfortable because we had been through multiple scenarios in our MFR training."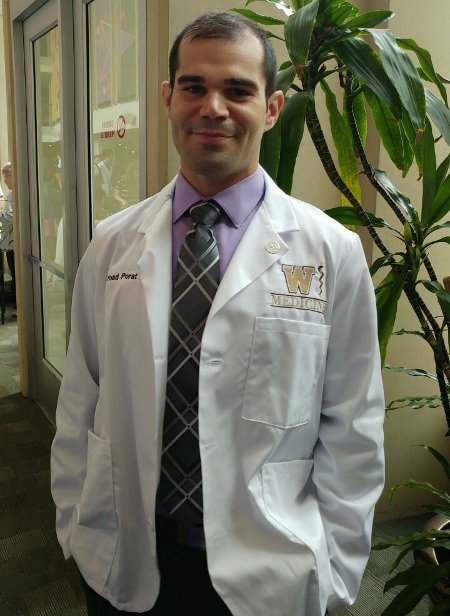 At WMed, students receive training and are certified as medical first responders during their first year at the medical school. The seven-week course qualifies students for state and national certification as medical first responders. MFR training is part of the medical school's curriculum, which provides early exposure to the clinical setting, and the course equips students to respond when someone is ill or injured and provides instruction on basic procedures, including taking vital signs, performing CPR, bandaging and wound care, among other things.
The training continues for students after their first year with an advanced cardiac life support course along with field trainings and training in the medical school's Simulation Center.
Ching said he is appreciative of the early exposure WMed students get to the clinical setting and he was glad that the training he received during the MFR course equipped him to lend a helping hand during the incident on December 8
"You don't feel useless as a medical student," Ching said. "Most course work is learning basic sciences. For us, we have some clinical training already as first-year students."
Jayaratne and Ching, both members of the medical school's Class of 2021, are not the first students who have used the skills from their MFR training during a real-life emergency.
In the fall of 2016, M2 Yoad Porat was driving from Kalamazoo to Bloomington, Indiana, to visit a friend at Indiana University when he came across a serious vehicle crash near Plymouth, Indiana. 
Using the skills he learned in MFR during his first weeks of medical school in the summer of 2016, Porat went to work to help a man and a woman who were hurt in the collision when their car was struck by an oncoming truck.
Porat worked with other people who stopped at the scene to ensure the man and woman were out of the car and laying with their necks stabilized. When ambulances arrived at the scene, he retrieved a neck collar for the man, as well as a splint for his arm. He briefed the EMTs on what had happened before the man and woman were taken to the hospital.
"It seemed like a blur," Porat said of the experience. "It was really cool because it was exactly like we practiced (in MFR). It felt like a continuation of practice, basically, because we practiced so often and so realistically that it felt exactly like a simulation, just with real people.
"I appreciated that we practiced not until we got it right but until we couldn't get it wrong so it felt like second nature," Porat added.
In the months before Porat's experience, M4 Gus Zervoudakis had to call on his MFR training when he helped an unconscious man on an airplane that was bound for Phoenix.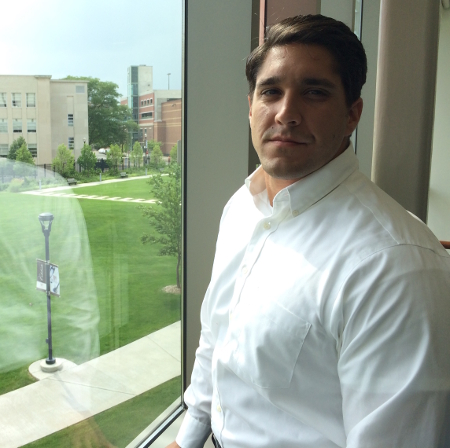 Zervoudakis, who at the time was a third-year student at WMed, said the training he received during MFR kicked in immediately when he realized flight attendants on the plane were asking if there were any physicians on the aircraft to assist with a medical emergency involving an elderly man who had collapsed.
When no one raised their hand, Zervoudakis offered to help. Within moments, he checked the man's breathing and pulse, called for a defibrillator, cut off the man's shirt and put a flight attendant in charge of the man's airway as Zervoudakis began CPR.
"I just remember feeling calm and the steps and everything just came without thinking about it," Zervoudakis said. "It was muscle memory."
Recently, as they reflected on their experience with the man who collapsed in the parking lot, Jayaratne and Ching said they questioned how much they were actually able to help during the incident.
Still, they both said they took away positive lessons from the experience and were thankful that their training allowed them to evaluate the man and ensure that he was stable before he left with his wife.
"It's definitely a pro," Ching said of the MFR training first-year students receive at WMed. "It's just another way in which we can get more clinical training and potentially more patient exposure. It adds another facet to our training that we would not have been able to get at another institution."