In life, Martha Parfet was a pillar of the Kalamazoo community, a stalwart supporter of her hometown, and a champion for its growth and continued prosperity.
"She really devoted herself to this community," William U. Parfet, the eldest of Martha Parfet's four children, said recently of his mother, who passed away in February 2017. "She really cared, and not so much about herself or her own well-being, but about others. Her energy, her family's energy was really directed toward this city."
Parfet's devotion to Kalamazoo – her philanthropic spirit – is well-known and well documented. 
She served as chairwoman of Gilmore Bros. Department Store, at one time an anchor of the Kalamazoo Mall, and served as president of the Kalamazoo Foundation, known today as the Kalamazoo Community Foundation. She was a strong driver behind the Kalamazoo Nature Center and served on the board, and she and her husband, Ray T. "Ted" Parfet, for many years owned the Kalamazoo Wings, a hockey team they founded in 1974.  
Today, Martha Parfet's legacy and generosity endure and in late December the medical school received a $2 million bequest from her estate to establish the Martha G. Parfet Discovery Fund at WMed.
The donation will be used to fund research efforts, which have grown exponentially at WMed since the medical school's inception in 2012.
"I think she felt that a big part of a strong medical education is exposure to – and engagement in – medical research," her son, Donald Parfet, said. "She felt that medical students who are exposed to research and have the opportunity to do research really are all the stronger for it."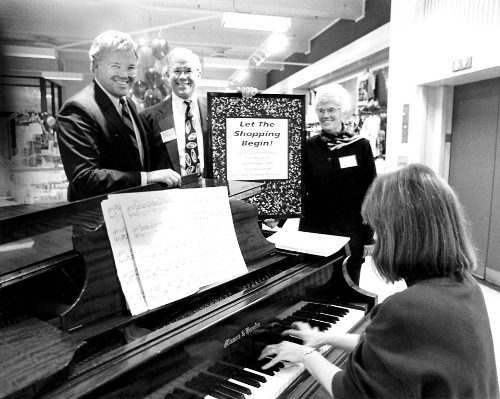 William Parfet said it was also important to his mother to be a part of ensuring that WMed – as an institution and a driver of medical discovery and innovation – continues to flourish. The medical school's W.E. Upjohn M.D. Campus in downtown Kalamazoo is named for Martha Parfet's grandfather, the founder of the Upjohn Company, and medicine was an integral part of her life as her father and her husband, Ray T. "Ted" Parfet, each later served as chairman of Upjohn.
The histories of the Upjohn Company and the medical school are forever intertwined as the Upjohn Campus sits on the plot of land acquired by W.E. Upjohn that became the growth center for the Upjohn Company or, as Martha Parfet often called it, "the sacred ground of Upjohn." The campus, at one time, housed the very research facility where Motrin, Xanax, Halcion, Rogaine, and Zyvox were discovered.
"We're a Kalamazoo family, this is home," William Parfet said. "We were fortunate that one of our ancestors was W.E. Upjohn. The rest is kind of history in terms of how the company grew but this was the ground that was the original growth place … We're excited about it being able to continue in medicine."
Parfet himself played an integral role in creating what would become WMed's Upjohn Campus. In 2011, when he was the chairman and CEO of MPI Research, Parfet donated the 330,000 square-foot building that has been home to the medical school since the institution welcomed its inaugural class of MD students in 2014.
The donation of the building came on the heels of a $100 million gift from Ronda Stryker and William Johnston that served as the foundational funding for WMed. William Parfet said his mother was filled with excitement at the news of the $100 million donation and, later, his donation of the building. Donald Parfet agreed.
"I know firsthand that mom was so moved by the generosity of Bill and Ronda in creating the medical school and funding the formation of it, and she was just so pleased that the final placement was on former Upjohn Company land and it came into fruition and existence," Donald Parfet said.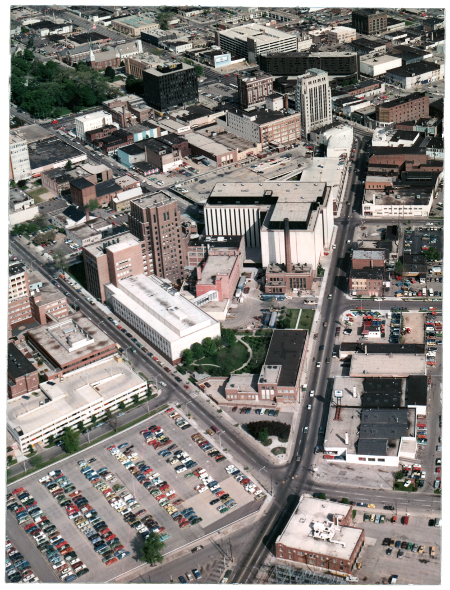 After the announcement of the building donation in 2011, William Parfet said he and his mother visited the site and took time to envision what would become of the property.
"She just came to life because, once again, she could see where she could make a difference," he said. "She liked what Ronda and Bill were doing. To think that we could have a medical school here in Kalamazoo was exciting to her. I remember when we came home from that first visit, it was on her mind what she could do.
"It was important to her that the medical school would flourish."
Martha Parfet saw the medical school as an important addition to Kalamazoo and its history of medical and life science exploration. William Parfet said her decision to give $2 million to research efforts at WMed was part of a lifelong goal to help people live longer and healthier lives.
"My brother and my two sisters joined me with a lot of warmth in our heart in making this gift to Western and our hometown," he said. "Any community that has as a component of it a university and a medical school are usually robust, growing, dynamic communities. The medical school, this is where discoveries are made … and academia plays an increasingly important role in advancing science and medicine. 
"To be a part of all of that was exciting for her. She saw the big picture."
Dr. Hal B. Jenson, the medical school's founding dean, said he, as well as WMed leadership and the Board of Directors were extremely grateful to Martha Parfet and her family for the recent gift. He said the $2 million will ensure that the Upjohn Campus becomes a beacon of medical education and research in Southwest Michigan.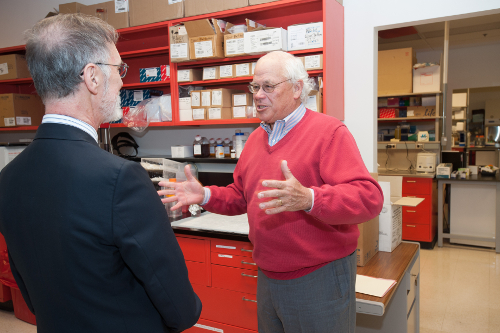 "The importance and impact of this gift can't be overstated," Dr. Jenson said. "The generosity of Martha Parfet and her family is an inspiration to all of us at the medical school to continue our work of advancing knowledge through innovation and discovery."
Donald Parfet, in reflecting on his mother's legacy and the importance of the gift she left for the medical school, noted that the donation to WMed was the single largest bequest she made as part of her estate planning.
"She was always a big fan of downtown, all things downtown, and I think the fact that the property for the medical school was so generously given by my brother just moved her because all of this support was being given to a whole other use, a whole other life if you will, for that property," he said. "She wanted to be a part of it and lend her support to the good efforts that had been launched by so many.
"So much has already been accomplished with the medical school," he added. "What a testimony to the quality of programming that's being undertaken. In recognizing that research is still emerging there, I think it would be great if this gift served as some sort of catalyst to further along the strong research program that can develop at the school of medicine."
More information about how to give the Martha G. Parfet Discovery Fund can be found here: http://MyWMU.com/parfetfund