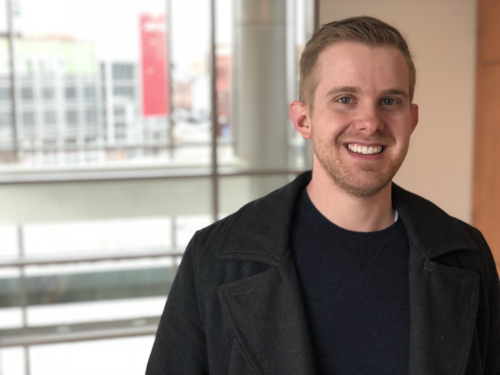 There's no doubt that his hard work and determination have gotten Cody Overmyer to where he is today – just months from graduating as a member of the inaugural MD Class of 2018 at WMed.
But Overmyer, 28, a Kalamazoo native, is also quick to acknowledge the impact of The Kalamazoo Promise, how the scholarship program helped turn his dream of becoming a doctor into a dream pursued and, now, a dream realized.
"It really did make the decision easier to go to medical school," he said. "I was able to say, financially, I can do this."
The Promise was announced in 2005 and is funded by anonymous donors. With it, Kalamazoo Public Schools students – following graduation – are able to attend any public college or university in Michigan tuition-free. 
Overmyer, who graduated from Loy Norrix High School in 2007, is a living example of the impact of The Promise. Prior to graduating from high school, Overmyer said his parents were not in a position to help him pay for college. If he planned to continue his education, he said they told him he would have to shoulder the cost of his tuition and living expenses.
With that, he made plans to live at home after high school and save as much money as he could while attending Kalamazoo Valley Community College.
Then, news of The Promise came and a different future for Overmyer began taking shape.
"When the Promise was announced, that was huge," said Overmyer, who grew up in Kalamazoo's Westnedge Hill neighborhood. "I knew then that I wanted to go to a four-year university, get outside of the city and live on my own, and have some independence."
After high school, Overmyer enrolled at Grand Valley State University in Allendale, Michigan, where he earned a bachelor's degree in psychology in 2012. Two years into his studies at GVSU, Overmyer said he began thinking seriously about the prospect of becoming a doctor.
The medical field in many ways is in Overmyer's genes. His parents both work in the healthcare field, specifically in mental healthcare. As he awaits Match Day and graduation, Overmyer hopes to complete his training in residency in psychiatry.
"I always thought it would be appealing to be a psychiatrist, to deal with fascinating disorders and get a chance to spend a lot of time with your patients," Overmyer said.
After he graduated from GVSU, Overmyer worked and continued his education, completing several pre-requisites to ready himself for medical school. When it came time to apply, he said the chance to come back to Kalamazoo, to be a part of the inaugural MD class at WMed was too good of an opportunity to pass up.
"To go back to my hometown with a brand new medical school, to be a part of the legacy and help shape the medical school, you don't really get that opportunity anywhere else," he said. "I just felt like I could make a lasting impact and it would be really cool to be a part of that."
Now, four years after coming to WMed as a member of the inaugural class, Overmyer is preparing himself for Match Day on Friday, March 16, 2018. The event will be held at the Bernhard Center at Western Michigan University.
Then, on Sunday, May 13, 2018, Overmyer and his classmates will graduate from WMed during a ceremony at Miller Auditorium that will be open to the public.
After Match Day and graduation, beginning on July 1, 2018, WMed students will begin practicing medicine in the specialty of their choice as residents in a clinical setting under the supervision of fully licensed physicians.
The Main Residency Match is an annual process that begins in the fall for applicants, usually in the final year of medical school, when they apply to residency programs at which they would like to train. Program directors review applications and conduct candidate interviews in the fall and early winter. From mid-January to late February, applicants submit to the National Residency Match Program (NRMP) their rank order lists of preferred programs, and program directors rank applicants in order of preference for training. The NRMP uses a computerized mathematical algorithm to match applicants with programs using the preferences expressed on their ranked lists.
Overmyer said he is hopeful he will match into psychiatry later this month. In all, he applied to 40 residency programs and took part in 13 interviews, he said.
"I think the field of psychiatry has a bright future in terms of research, new treatments and opportunities for physicians to learn and gain a better understanding to benefit patients," Overmyer said.
As Match Day and graduation draw closer, Overmyer said he finds himself reflecting on his time at WMed. As he does that, he said he is filled with excitement for the next step that awaits him and his wife. He is also grateful for the faculty and staff who have helped prepare him to become a caring and compassionate physician.
"There have been amazing faculty and clinical faculty, and I've made some amazing friends," he said. "We've had these physicians who really care about teaching, who are patient with us when we're learning, but who also know when to push us to get out of our comfort zone."
Overmyer said he has also been buoyed throughout his time at WMed by the support of the Kalamazoo community and its investment and embrace of the medical school. Even more, he said he is thankful for the anonymous donors behind the Promise and the philanthropy of Ronda Stryker and William D. Johnston, whose $100 million gift in 2011 served as the foundational funding for the medical school.
"You have these families that have done very well for themselves, but they're not just sitting on that," Overmyer said. "They're saying we can give back to the community, the community we love and we can help everyone here by giving the Kalamazoo Promise, by giving the gift that (Ronda Stryker and William D. Johnston) did for the medical school. I think it's great that there's this culture here in Kalamazoo and you can see it with everyone here, everyone has a philanthropic spirit to a degree. 
"I'm a kid who came up with the Promise and then came back to be a part of the first class of the medical school," he added. "It shows what that kind of investment can do."