WMed honors individuals, families, and companies who show their support through their fundraising and volunteer efforts.
2019 Honorees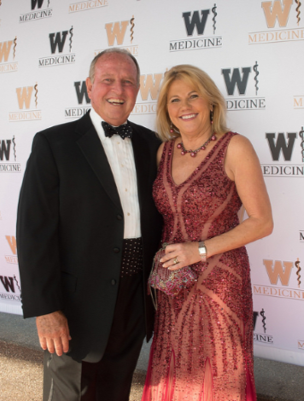 Ken and Julie Miller
Healthcare and academic innovators, with funding from community leaders who are committed to the future success of southwestern Michigan, have developed a state-of-the-art private medical school in downtown Kalamazoo. One such academic innovator, who has always been one of the most passionate advocates and supporters for Western Michigan University Homer Stryker M.D. School of Medicine (WMed), has been Mr. Kenneth V. Miller. 
An emeritus member of the Western Michigan University Board of Trustees, a WMU alumnus, and CEO of the Millennium Restaurant Group, Ken, and his wife Julie, have been stalwart supporters of the medical school from the time the vision of what would become WMed more than a decade ago to now. In many ways, Ken Miller played a direct role in bringing the medical school to life.  

Past Honorees
2018 - Ronda Stryker and William Johnston

Ronda Stryker and William Johnston

In May 2018, the inaugural class of Western Michigan University's Homer Stryker, M.D., School of Medicine graduated. This proud achievement, a long time in the making, was led by numerous civic leaders and visionaries, including Ronda Stryker (after whose grandfather the medical school was named) and Bill Johnston. From the earliest conversations about the merit of the medical school (WMed) to the present day's graduating class, they have remained actively involved, stepping up at key times to keep WMed's growth and development on track. For the most part, they have done so quietly beyond the spotlight. WMed has been joined by many friends and supporters who feel the time has come to acknowledge Ronda's and Bill's efforts.

2017 - John M. and Linda Dunn

John and Linda Dunn

WMed is a monument to the vision of Western Michigan University President Emeritus John M. Dunn. In October of 2007, Dr. Dunn proposed to build a medical school that would serve the people of southwestern Michigan. The consequent outpouring of support and enthusiasm at the University and throughout the region affirmed his idea and work began in earnest to transform his idea into a bricks-and-mortar reality. To shepherd the process, Dr. Dunn served as the Founding Chair of WMed's Board of Directors.

Because of his vision and leadership, the generous philanthropy of key community leaders and the support of the entire Kalamazoo community, 10 years later WMed is preparing to graduate its first class of medical students. The curriculum, built upon self-directed, peer-supported, and experiential inquiry, is both innovative and learner-centered. Not only does it promote excellence in medical education, clinical care, and research, it supports the desire of our students to serve humanity.