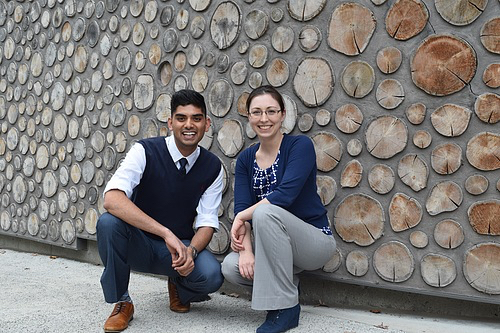 After they arrived at WMed in the summer of 2016 as new students in the Class of 2020, Gina Bravata and Ryan D'Mello quickly realized they had a shared idea, a similar dream – to increase the amount of time that they and other students studied and discussed the social determinants of health.
Now, less than two years later, their dream has become real and later this month, on Saturday, June 30, 2018, a health equity summit they were pivotal in organizing will be held at the medical school's W.E. Upjohn M.D. Campus in downtown Kalamazoo.
The event is scheduled for 8:30 a.m. to 3:30 p.m. and will serve as a gathering point for members of the WMed community, as well as the Kalamazoo community and others from across the state of Michigan to share ideas on how to promote health equity and address health inequity. A light breakfast and lunch will be served during the event.
"This summit is a very real and very physical representation of a dream that Gina and I have worked on for the past two years," D'Mello said. "The idea has grown to so much more than we could have hoped for. We keep saying it over and over, but this whole project started as a conversation between Gina and I, wanting to dig a little deeper and further explore health equity in our education.
"And here we are, two years later, planning a summit that will host health professional students, including medical students from across the state so that we can build off or each other and inspire each other," D'Mello added.
The health equity summit is part of an ongoing project – "Addressing Race-based Health Inequity through Anti-Racism and Implicit Bias Training for Future Healthcare Providers" – that Bravata and D'Mello are taking part in through a regional fellowship with the Arcus Center for Social Justice Leadership at Kalamazoo College. The third-year medical students have worked with several other students and Dr. Cheryl Dickson, the medical school's associate dean for Health Equity and Community Affairs, to make the event a reality.
The event will feature several presentations, including one by Bravata and D'Mello about their multi-pronged project, which began in November 2017. They will be joined by Dr. Dickson and Arcus Center Executive Director Mia Henry.
There will also be a community panel featuring Grace Lubwama, CEO of YWCA Kalamazoo, and Michael Evans, executive director of the Kalamazoo Literacy Council. The panel discussion will be followed by interprofessional tabletop conversations, a community organization expo fair and TedTalk-style presentations from students and student organizations from across the state of Michigan, and student poster presentations.
"I hope that we learn that there are many different people in the community that are interested in working toward health equity," Bravata said. "When we come together that gives us quite a lot of power to make things happen. When we collectively put all of our resources, influence and expertise together, then we can get something done and we can inspire others to get involved."
Going forward, Bravata and D'Mello said they are hopeful that the health equity summit will serve as a jumping-off point for continued collaboration and become an annual event at the medical school.
If you are interested in submitting an abstract for an oral or poster presentation for the summit, or your organization would like to participate in the community organization expo fair, please contact Bravata at gina.bravata@med.wmich.edu or D'Mello at ryan.dmello@med.wmich.edu. Abstract submissions are being accepted through Thursday, June 14.
To RSVP for the Health Equity Summit, please visit wmedhealthequitysummit.eventbrite.com.