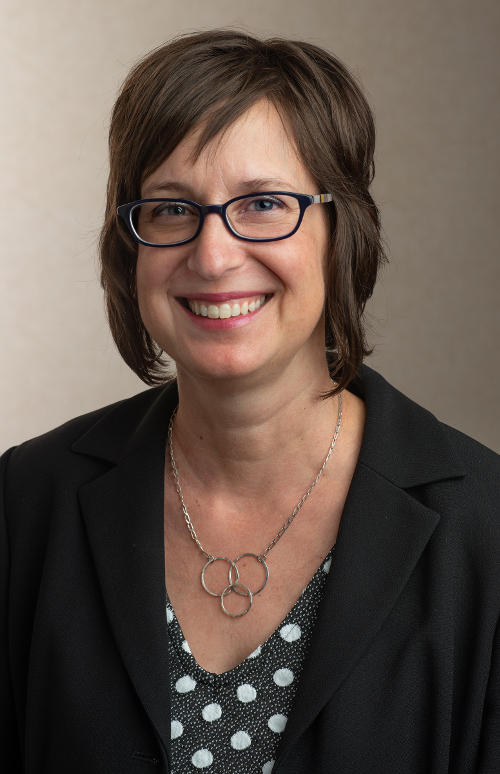 When she was an undergraduate student at the University of Michigan, Karen Horneffer-Ginter, PhD, attended one of the first conferences the Fetzer Institute ever hosted in Kalamazoo on the importance of mind-body-spirit health.
The event, which was held some 30 years ago, changed her life, Dr. Horneffer-Ginter said recently, and it inspired her to pursue a life's work that has led to her becoming an accomplished psychologist and champion for promoting and fostering life wellness.
Now, Dr. Horneffer-Ginter's journey has, in a way, come full circle, as she was recently named assistant dean for Wellness at Western Michigan University Homer Stryker M.D. School of Medicine (WMed), a new role made possible through a partnership between the medical school and the Fetzer Institute.
"I think it's an incredible opportunity to do something that is both timely and progressive," said Dr. Horneffer-Ginter, whose first day at the medical school was Monday, July 9, 2018. "There's more awareness than ever now of health in medicine and the necessity to focus on wellness, self-care and burnout prevention.
"I give a lot of credit to the medical school and its partnership with the Fetzer Institute," she added. "It's unusual to have this level of attention brought to this topic in a medical school community so I'm thrilled and honored to be building on all that has happened here."
"The spiritual dimension of health is an important aspect of wellness, in both patients and those who care for them," said Angela Graham, program director of partnership for the Fetzer Institute. "Our partnership with WMed helps Fetzer share its body of knowledge and years of experience in health research related to whole-person care."
As the newest assistant dean at WMed, Dr. Horneffer-Ginter is charged with developing and implementing programs that improve wellness and provide a healthy environment for all members of the medical school community, which includes facilitating development of lifelong skills for achieving and maintaining optimal physical and mental health. She will also provide guidance and support to identify needs for program development, and serve as a liaison to standing committees, organizations, and affiliates. 
Her role boasts a unique scope of responsibilities, including education, program development, assessment, intervention, scholarship, peer support, stress management, and implementing methodologies to cultivate compassion and resilience across the institution. As she takes on those duties, Dr. Horneffer-Ginter will also serve as a resource to the Fetzer Institute, an organization with a mission to help build the spiritual foundation for a loving world.
"I'm coming in with an open mind," Dr. Horneffer-Ginter said. "What I feel called to do is to support the wellness efforts already happening, develop additional programming, and closely look at what structural changes can be put into place in order to enhance the culture of wellness that already exists and take it to another level that will have an impact on all members of the WMed community."
Dr. Horneffer-Ginter is well-suited for the challenge before her. She has been a licensed psychologist for more than 20 years and brings to bear a reputation as a leader with vast experience around programmatic and educational responsibilities focused on wellness.
She earned her bachelor's degree in psychology from U-M in 1991 and followed that up with a master's degree and PhD in clinical and community psychology from the University of Illinois at Urbana-Champaign in 1993 and 1996, respectively. Most recently she earned a graduate certificate in international relations from the Harvard Extension School in May 2018.
Since 2007, Dr. Horneffer-Ginter has served as the co-founder and co-manager of the Center for Psychotherapy and Wellness in Kalamazoo, which boasts eight independent practitioners and offers counseling, massage, trainings and classes to the community. Additionally, she has been employed by Western Michigan University since 1998 where she was the program director for Integrative Holistic Health and Wellness from 2002 to 2006 and is appointed as an associate professor in the WMU College of Health and Human Services.
As she begins to settle in to her new role at the medical school, Dr. Horneffer-Ginter said she is meeting with leaders and diverse members from across the WMed community to gather important input that will help her shape her vision and ideas. She said she wants to institute programming at WMed that will promote resilience for students, residents, fellows, faculty and staff.
Her work will be vitally important and comes at a time when she said many in the medical profession are grappling with an increase in burnout rates and a decline in professional fulfillment.
"One of my hopes is to really look at wellness and resilience, to really look at how we can genuinely lean into our full humanness and embrace all that we are," she said.