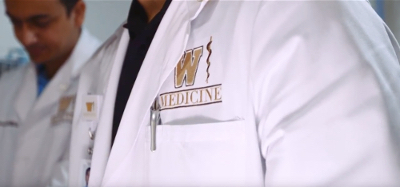 Our student and resident/fellow graduates from WMed, MSU/KCMS, and SMAHEC are all part of the medical school family.
We welcome all MD graduates, MS graduates, and former residents/fellows as medical school alumni.
Kalamazoo has a long and proud history of medical education and producing physicians and graduates who are improving the medical profession and changing health care for the better every day. Prior to the founding of WMed, medical education in Kalamazoo was under the auspices of Michigan State University Kalamazoo Center for Medical Studies (MSU/KCMS), which was formerly known as the Southwestern Michigan Health Education Center (SMAHEC). 
Update Your Information
Our alumni from WMed, MSU/KCMS and SMAHEC are all part of the medical school family and we encourage you to stay connected with us, as well as with our current and past students, residents/fellows, faculty, and others at WMed. We strive to stay connected with you through email and social media communications and sharing your recent news and professional and personal accomplishments with others at the medical school.
Updating your alumni records is quick and provides an easy way for you to keep us up to date on the professional and personal accomplishments you've tallied since your time at the medical school.
Alumni Giving
The generosity of our alumni and friends help WMed meet our mission of preparing our medical students and residents/fellows to become exceptional clinicians, leaders, educators, advocates and researchers of tomorrow. There are many ways you can give back to the WMed that fit your interests and philanthropic goals. For more information, please visit our Giving Page.