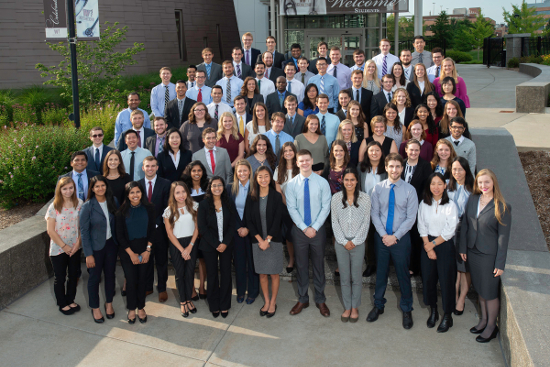 The newest WMed students have officially arrived.
Day One at WMed for the Class of 2022 was Monday, July 30, 2018. The 84 MD degree students, who were chosen from a pool of 3,822 applicants, make up a diverse group that boasts a median MCAT score of 516 with a range of 503 - 524.
"I'm looking forward to welcoming these new students to campus," said Jean Shelton, the medical school's assistant dean for Admissions and Student Life. "Our process is designed to look for students who not only have the academic ability to be successful in medical school, but also bring the pre-medical experiences, and personal attributes that make truly great physicians."
The newest class includes 41 women and 43 men from 20 states and Canada. They range in age from 20 years old to 39 years old with an overall average age of 24.63. Thirty-five students are Michigan residents with California as the second highest represented state with 18 students. 
The group is coming to WMed by way of more than 54 undergraduate institutions where they pursued majors that include biology and chemistry, as well as psychology, economics, philosophy, public health, Spanish and neuroscience, among others. Approximately 19 percent hold advanced degrees.
For the third year in a row, the University of Michigan has the largest contingent of students – 18 – in the Class of 2022, followed by five from University of California-Los Angeles. Locally, two students in the Class of 2022 completed their undergraduate studies at Western Michigan University and four attended Kalamazoo College. WMed has a preferred relationship with both WMU and K-College.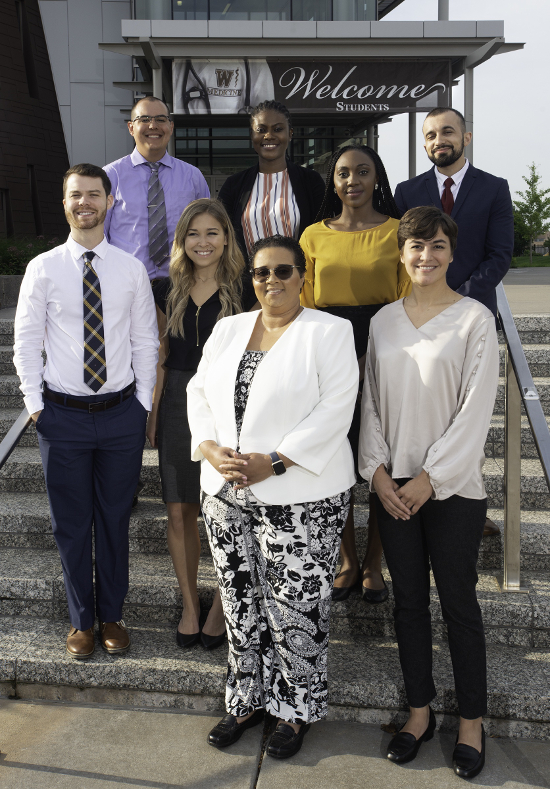 The admissions process at WMed recognizes the importance of diversity. We seek out students who bring strengths in academics, personal attributes, and pre-medical experiences. Institutionally, we seek students who will reflect the diversity of the patients we serve. In the class of 2022, 14 percent come from populations underrepresented in medicine. This adds to the diverse community at WMed.
The Class of 2022 is being joined at the medical school by a cohort of students who are pursuing Master of Science in Biomedical Sciences degrees as part of WMed's Bridge to MD Program. The program, now in its third year, is designed specifically for applicants to the medical school who have strong pre-medical experience and attributes, and would benefit from additional basic science preparation before beginning their quest to become a doctor.
The Bridge the MD Program has grown this year to a cohort of eight students from across the nation bringing a wide breadth of backgrounds and experiences to the learning environment at WMed. The Bridge to MD graduates are automatically admitted to WMed as part of the MD Class of 2023 upon successful completion of each component of the program.
Shelton said she's excited about the journey that awaits WMed's newest students. 
"After working with these applicants for the last year, I couldn't be more excited to welcome them to WMed as students and look forward to the impact they'll have at WMed and beyond."  
The Class of 2022 will receive their white coats on Saturday, September 8, 2018, during a White Coat Ceremony at WMU's Miller Auditorium.