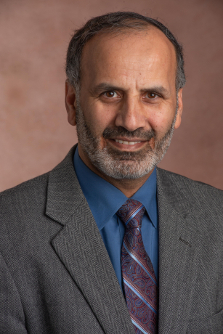 Welcome from the Program Director
As the Program Director of General Surgery, I thank you for your interest in our program and I hope you will consider continuing your training as a surgical resident at WMed.
Located in Southwest Michigan, we are affiliated with two major healthcare systems, Ascension Borgess Hospital and Bronson Methodist Hospital. We believe our program is unique and will provide you with an excellent surgical education rich in medical knowledge and procedural skills.
As seen in the most recent five-year national data, our program's first-time pass rate on the American Board of Surgery Qualifying Exam (ABS-QE) is 100 percent. Our pass rate on the ABS Certifying Exam (ABS-CE) is 90 percent. These scores place us among the top programs in the country. Together, we have developed a strong educational program that includes morbidity and mortality conferences, multidisciplinary conferences, SCORE curriculum lectures, teaching attending rounds, grand rounds, journal club, oral board exam review, and weekly ABSITE-oriented quiz reviews based on both SCORE and M&M cases.
Our program provides excellent hands-on training through simulation (animal, cadaver, and dry labs) and operating room environments, and we equip residents with excellent resources to support their clinical research aspirations.
A majority of our chief residents – 65 percent -- have completed their training at WMed and gone on to subspecialty training fellowships of their choice, including trauma/critical care, vascular, plastics, colorectal, MIS, and cardiothoracic surgery. The remaining 35 percent have chosen to practice as general surgeons immediately following graduation. As a graduate of our program, you will have the confidence and competence to operate independently. Our chief residents graduate with an average of 1,100-1,200 cases each, which exceeds the national average and the operative requirements established by the ABS in all important categories.
Again, thank you and please, if you have specific questions, do not hesitate to contact us.
Click here to view our program brochure.