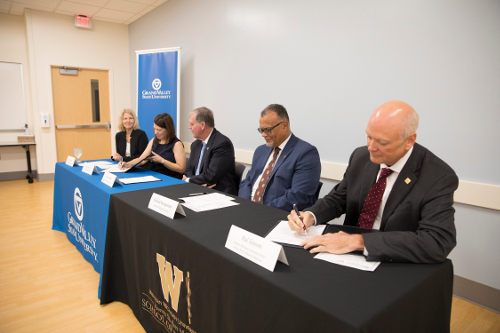 Grand Valley State University students who want to pursue medical careers will benefit from a "preferred relationship," which includes an early decision program, with WMed.
Leaders from both institutions signed the agreement October 3 at Grand Valley's Raleigh J. Finkelstein Hall.
Grand Valley President Thomas J. Haas said the agreement represents the commitment from both institutions to fulfill the talent pipeline and help ease the regional and national shortage of physicians.
"The unique missions of our two institutions overlap to produce the talent needed in the medical profession," Haas said. 
The preferred relationship with WMed means students receive an early look during the medical school's admission process. Students must meet all admission requirements. Under the WMedStart early decision program, Grand Valley students at the beginning of their junior year can apply to WMed for an early decision of admission following completion of their bachelor's degree.
Edward Montgomery, president of Western Michigan University, said the agreement is part of the "ecosystem to provide opportunities for young men and women."
WMed graduated its first class of medical students in 2018. Dr. Hal Jenson, the medical school's founding dean, said WMed had great success in recruiting students to a newer medical school due, in part, to agreements like this.
"The preferred relationship seeks to have outstanding students apply to our medical school and become outstanding students in our classrooms," Jenson said.
Dr. Jenson said GVSU students who apply through the early decision program benefit as they can focus on completing a bachelor's degree without the additional stress and expense of applying to multiple medical schools.