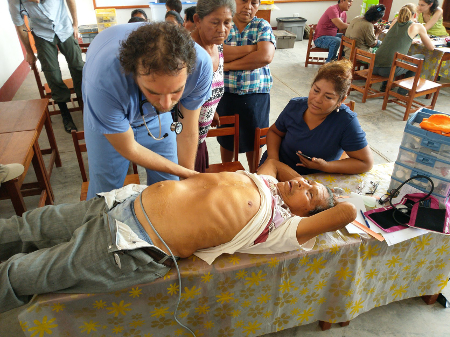 Drawing from his experience as a veteran physician and longtime professor at the medical school, Dr. Tom Melgar doesn't hesitate to opine about what he sees as an overreliance in the U.S. on the use of technology for patient diagnoses.
There's a tendency, Dr. Melgar says, for doctors to be too quick to order an MRI or CT scan rather than seeking first the information they could glean from a thorough physical exam and patient history.
"In many settings, the history helps make the diagnosis 85 percent of the time and the physical exam accounts for another 10 percent," said Dr. Melgar, a professor in WMed's departments of Medicine and Pediatric and Adolescent Medicine.
He said that's why a four-week international health elective he leads in the Amazon rainforest  in northern Peru for resident physicians and fourth-year students at WMed has proven to be a success and extremely valuable in helping the medical school's future physicians and physicians in-training sharpen their skills.
"In the Amazon, you have a patient in front of you and no technology," Dr. Melgar said. "For the most part, our residents and students are dependent on the patient history and physical exams, and they get much more confident with those two things. You have to be good at your physical exam rather than following by MRIs and CT scans all the time."
Dr. Melgar has been leading the rotation in Peru for three years now and he has worked closely with Amazon Promise to make it a reality. Amazon Promise is a U.S.-based non-profit organization that provides medical and dental care in remote areas of the Upper Amazon Basin and Dr. Melgar said the teams that he has led in Peru have been made up of as many as 12 people from WMed, as well as students and physicians from Penn State and the University of Michigan Medical schools. Together with local logistics personnel, navigators, translators and dentists, the team may be as large as 45 people.
For WMed residents and students, the four-week rotation in Peru takes place from mid-February to mid-March. They travel to Iquitos, Peru, where they spend a week and a half in local hospitals working with Peruvian physicians on inpatient and outpatient services. Additionally, the residents and students take part in one-on-one Spanish lessons, spend time in a lab working with technicians on diagnostic testing of tropical diseases, and then at least one day in Iquitos working in outreach clinics for the city's underserved population.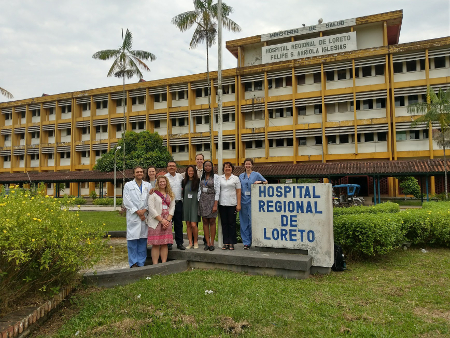 Dr. Melgar said resources in Iquitos are limited, even in the city's main hospital. When the team from WMed traveled there last year, they used an ultrasound machine they brought with them  to conduct ultrasounds on several patients. The hospital had its own ultrasound machine, he said, but no ultrasound technician available to use it on patients.
"We also see lots of cases you may see in the U.S. only occasionally that they see there all the time," Dr. Melgar said. "We see several cases of really complicated tuberculosis, pulmonary TB and TB meningitis, and even undiagnosed congenital heart disease in young children that, in the U.S., would have been picked up in the first day of a person's life.
"The most common diagnoses that we see throughout the trip are intestinal parasites," Dr. Melgar added. "We may also see cases of malaria, dengue fever, zika and yellow fever." 
After the first week in Iquitos, the team takes a three- to four-hour boat ride up the Amazon River to a remote location where a tributary of the Yarapa River serves as their base. They travel with a load of supplies, including 500 pounds of medicine donated by Perrigo Company and Americares, as well as about 1,000 pairs of glasses supplied by different organizations, including WMed Insight, a charity started by a former and current WMed resident.
The team then visits 15 to 20 villages where members provide primary and urgent care to patients of all ages. Students get to work in a mobile lab and work with portable ultrasonography. The team conducts multiple research projects and students can participate in the development and implementation of the projects.
Dr. Melgar said residents and students see an array of different cases during the two weeks they spend in the jungle of the Amazon. They help patients with intestinal parasites and common ailments like colds and respiratory infections. But they also see cases of extreme neglect of diseases, as well as more unusual tropical ailments such as leptospirosis and tropical pyomyositis.
Dr. Melgar said members of the team in Peru take turns working around the clock during their time in the jungle. Villagers in the jungle know when the physicians have arrived and often come at all hours of the night seeking treatment. On their days off, Dr. Melgar said team members spend their time resting, swimming, reading, hiking in the jungle and taking canoes up the Yarapa River.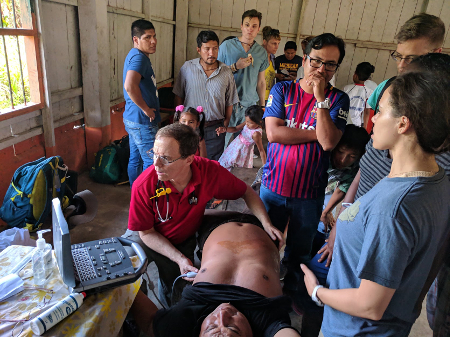 In 2016, Dr. Melgar said the team treated 1,700 villagers. Last year, the figure was about 1,400.
"I think gaining experience practicing in a resource-limited area is very valuable in developing and depending on your skills, and learning to be confident in your skills," Dr. Melgar said. "In Peru, we work in some very resource-poor areas, probably some of the poorest in the world. It's a lot of learning through service."
So far, the team that will travel to Peru in February 2019 includes 12 physicians and students from WMed. They'll be joined by physicians and students from the University of Arizona and Penn State medical schools, Dr. Melgar said.
The four-week rotation in Peru is open to fourth-year medical students and residents who have completed their first year of training. Applications for the international health elective are accepted each year from March to June and team members are selected by late June.
For more information about the international health elective in Peru, visit the WMed website.