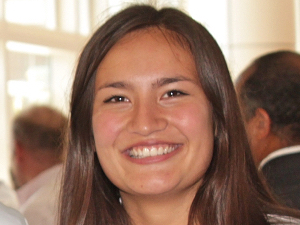 When she was an undergraduate student at Western Michigan University, it didn't take Marine Bolliet long to gain an appreciation for then-WMU President John M. Dunn.
His gentle demeanor and the way he engaged with students was unique, she said. His positive attitude was infectious.
"He's famous at Western," said Bolliet, 21, who majored in biomedical sciences at WMU before graduating in 2017 and is now a second-year medical student at WMed. "He would walk around campus and talk to students, which was incredible, and he was always positive and very genuine."
Having had those experiences with Dr. Dunn, Bolliet said she was honored when she recently learned that she had been named as an inaugural recipient of the medical school's John M. Dunn Endowed Scholarship. 
"I know who Dr. Dunn is and the fact that I've now received a scholarship from a fund named in his honor makes me want to strive to embody his great characteristics and values, and be more like him in that way," said Bolliet, who is a Kalamazoo native and an alumna of Kalamazoo Central High School and the Kalamazoo Area Math and Science Center.
Bolliet was one of 10 WMed students who were recognized as recipients of the Dunn scholarship, an award that helps offset medical school expenses for WMU graduates pursuing their MD degree at WMed. The scholarship fund was established in 2017 to honor Dr. Dunn for his significant contributions to WMed and was announced at the 2nd Annual Imagine Gala. The scholarship fund was made possible through the charitable support of the medical school's healthcare partners – Ascension Borgess and Bronson Healthcare –as well as members of the WMU Board of Trustees, the WMed Board of Directors and community members.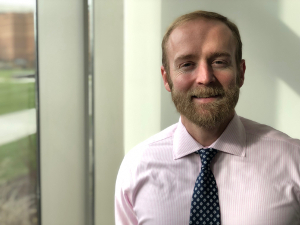 In addition to Bolliet, the other WMed students who were recently awarded the Dunn scholarship were first-year students Keenan Boulnemour and Natalie Finazzo; second-year students Jacob Morton and Dan Waters, third-year students Katie Davis, and Walker Thompson, and fourth-year students Neil Hughes and Audrey Jenson. Third-year student Stephen Breisach also was recognized as a Dunn scholar. Breisach is attending WMed on a full scholarship through the competitive Army Health Professions Scholarship Program (HPSP).
Waters, who graduated from WMU in 2016, said the scholarship serves for him as a reminder of "the great deal of generosity" of numerous people in the community, including Dr. Dunn, who made the medical school a reality and, in turn, fostered his pursuit of a career in medicine.
"It came out of the blue," Waters said of the e-mail he received in October notifying him he had been awarded the Dunn scholarship. "It was humbling and I'm very grateful for the support."
Waters, 36, is one of the older students in WMed's Class of 2021 and his path to medical school was unique. An alumnus of Gull Lake High School in Richland, he initially pursued an economics degree at Clemson University before returning home following some personal health struggles.
Waters said his health struggles sparked an interest for him in how the human body works and he soon found himself back in school, this time at WMU where he majored in biochemistry and set his sights on becoming a physician.
Looking back now on his decision to come home, to attend WMU and to pursue his MD degree at WMed, Waters said he is right where he belongs.
"(WMed) was very welcoming," he said. "From the beginning, it felt like a place where I could do well and contribute. It would have taken a lot for me to go somewhere else. It's been nice in the last 10 years to see the growth of the city and the investment in WMU, the surrounding area and the medical school."
Davis said she was always appreciative of Dr. Dunn, of the excitement and enthusiasm he exuded during his tenure as president and the way "he makes people proud to be a Bronco."
"It really created a community," said Davis, a native of the Detroit area who majored in biomedical sciences at WMU before graduating in 2016. "It was extra special to get a scholarship named in his honor. I've always felt that at Western and in Kalamazoo, there was such a community that pushed to help get me to where I am."
Davis said that sense of community she experienced at WMU has continued at WMed with the strong bond she has formed with her classmates in the Class of 2020.
"If I had it to do over again, I would choose WMed a hundred times," she said. "I've met some of the best people here. It really comes back to that sense of community that I think touches every part of WMed and Kalamazoo."
In addition to the students who were named as Dunn scholarship recipients, additional WMed students who have been honored with scholarships from the medical school for the 2018-2019 academic year include:
James R. Ryan Family Foundation Scholarship
Evan Kohler, Class of 2019
William Petro, Class of 2020

Peter H. Capelli Endowed Scholarship
Jordan Fenlon, Class of 2019

Dean's Endowed Scholarship
Nathan Whelham, Class of 2019
Ola Jandali, Class of 2020