In the Department of Medical Education, we provide ample opportunities for students and residents to participate with faculty in research and scholarly activities. We offer experiences that enable discovery and promote creativity. As a department we are committed to pursuing inquiry, disseminating knowledge, and fostering critical thinking that encourages lifelong learning.
Research and Scholarly Activity, 2016-21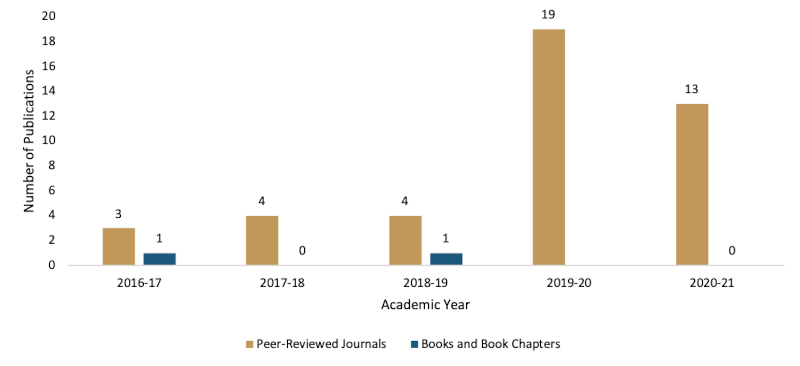 Recent Publications
Gibb T.S., Crutchfield P., Redinger M.J., Minser J. Ethical and Professional Considerations in Integrated Behavioral Health Pediatric Clinics of North America. 2021;68:607-619.

Singleterry L.R., Caulfield S. Continuous Quality Improvement of Writing Assignments: A Process for Faculty Development Nursing education perspectives. 2021;42:122-123.

Singleterry L.R., Caulfield S.L. Holistic Approaches to Support Sleep in the Intensive Care Unit Patient Critical Care Nursing Clinics of North America. 2021;33:131-144.

Arslan-Ari I., Crooks S.M., Ari F. How Much Cueing Is Needed in Instructional Animations? The Role of Prior Knowledge Journal of Science Education and Technology. 2020;29:666-676.

Minser J., Gibb T. "I Know a Guy Who Once Heard…": Contemporary Legends and Narratives in Healthcare Journal of Medical Humanities. 2020;41:323-340.

Singleterry L. Intentional application of nursing theory in simulated practice Nursing Education Perspectives. 2020;41:41-42.

Singleterry L., Vliem S., Gibson K., Gaynor S.T. Interprofessional improvement of interprofessional teaching practices Journal of Interprofessional Education and Practice. 2019;14:43-46.

Singleterry L. Managing online groups with a slice of pie Journal of Nursing Education. 2018;57(2):127.

Cox C., Cheon J., Crooks S., Lee J., Curtis J. Use of entertainment elements in an online video mini-series to train pharmacy preceptors American Journal of Pharmaceutical Education. 2017;81(1)

Haymaker C., Cadick A., Seavey A. Integrating social class and privilege in the community medicine curriculum International Journal of Psychiatry in Medicine. 2017;52(3):228-235.

Crooks S.M., Cheon J., Casanova R., Jenkins M. Instructional design framework for the sex and gender-specific health multimedia case-based learning modules Biology of Sex Differences. 2016;7

Singleterry L., Kalkman B., Chrenka L., Courtright-Nash D. Nursing faculty development: Building a common grading rubric to evaluate writing Nurse Educator. 2016;41(5):222-224.

Inan F., Crooks S., Cheon J., Ari F., Flores R., Kurucay M., Paniukov D. The reverse modality effect: Examining student learning from interactive computer-based instruction British Journal of Educational Technology. 2015;46(1):123-130.

Wang Y., Crooks S. Does combining the embodiment and personalization principles of multimedia learning affect learning the culture of a foreign language? Journal of Educational Multimedia and Hypermedia. 2015;24(2):161-177.