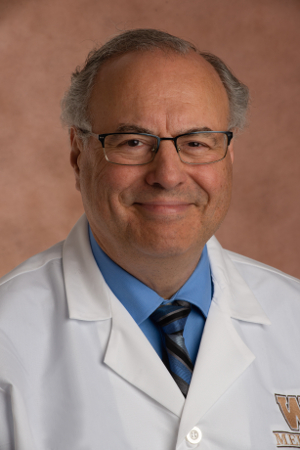 In his 25 years as a physician, educator and leader at WMed, Dr. Robert Strung amassed a list of impressive milestones and accomplishments.
He's credited, along with Drs. David Dunstone and Steve Young, as a founding father of the Psychiatry Residency Program, a four-year curriculum he helped launch after the trio left private practice in 1993 to become a part of the Southwest Michigan Area Health Education Center (SMAHEC), a predecessor to the medical school.
Since that time, Dr. Strung has been witness to the residency program's growth from four residents per year to now six residents per year while also serving as program director from 2000 to 2016. At the same time, he became chair of WMed's Department of Psychiatry in 2012.
Looking back on all of it now as he prepares to retire from WMed on December 31, 2018, Dr. Strung says none of what he's witnessed, none of what he's accomplished would have been possible without his colleagues and the students and residents he has worked with during his career.
"My No. 1 gratification has been teaching residents and students, as well as my work with my patients and being able to participate in the development of the residency program and watching our program grow and become part of the medical school," Dr. Strung said recently. "I will miss the people I work with. It feels like a family here and our residents use that word a lot."
Dr. Strung, 68, is a native of Cleveland, Ohio, and an alumnus of Ohio State University where he completed his undergraduate studies and earned his MD degree in 1975.
After graduating from medical school, he made his way to Kalamazoo where he completed a four-year residency in internal medicine at SMAHEC. When he made the decision to come to Michigan, Dr. Strung said he was torn between whether to complete his training in internal medicine or psychiatry.
He said he enjoyed his role as a diagnostician in internal medicine but was also fascinated by mental health and figuring out how the brain worked. He said he also, during his residency in Kalamazoo, became keenly aware that many of the patients he saw were dealing with ailments or issues directly connected to daily stressors and the fragility of their mental health. During his residency, he took part in an elective with Dr. Dunstone who coached him on how to help his patients through medication management and using a medical approach that focused more on patients' psychological and behavioral well-being.
"It made a huge difference, my patients got better and, in turn, my work became more enjoyable," Dr. Strung said.
That experience prompted Dr. Strung after his residency to pursue a psychiatry fellowship at the University of Rochester. The move turned into a three-year residency where he had the good fortune to work with Drs. George Engel and John Romano, two well-known and influential physicians in the fields of psychiatry and medicine.
"My passion really was for psychiatry," Dr. Strung said. "I really enjoy working with patients in-depth, hearing their full life stories and putting all of that together to figure out and remedy the best we can the difficulties they are having. We are able to spend a lot of time with patients and get to know their stories."
After his time in Rochester, Dr. Strung returned to Kalamazoo where he went into private practice with Drs. Dunstone and Young. He also began serving as the behavioral science director for SMAHEC's Family Medicine practice.
Dr. Strung said he remained in private practice in Kalamazoo for 11 years before he and his colleagues were approached in 1993 about leading SMAHEC's psychiatry clerkship and building the psychiatry residency program.
"We were private practitioners, we didn't come from an academic background so it was a real steep learning curve for us to take that on," Dr. Strung said. "But we were at a point in our careers where we were up for doing something different and thinking about doing more teaching and administrative work in addition to caring for our patients."
The decision to join SMAHEC and take on the challenges of building the new residency program is one he is proud of, Dr. Strung said. The residency program has grown significantly since welcoming its first class in 1997 and Dr. Strung said the evolution of WMed and the opening of the medical school in 2014 brought about the welcomed opportunity to work more closely with medical students.
"I'm proud of our program and proud of having participated in building a good residency program here in Kalamazoo," Dr. Strung said. "When we look at outcomes, our residents pass their boards and our students exceed the national levels for the Shelf exam, and students like our clerkship.
"To me, that means we're doing something right."