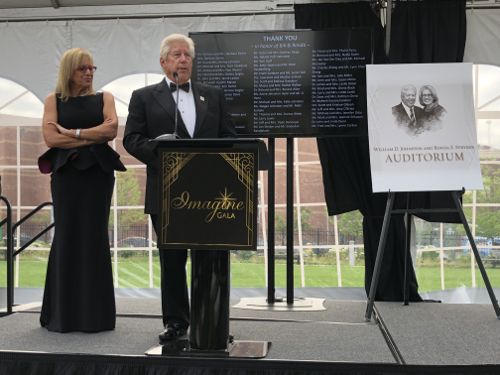 As 2018 comes to a close, it will be remembered as a year of growth for the medical school marked by several milestones of success.
WMed saw students in its inaugural class – the Class of 2018 – graduate and move on to residency training with a 100 percent match rate. The medical school was granted full accreditation from the Liaison Committee on Medical Education (LCME) and initial accreditation from the Higher Learning Commission.
MORE: 2017-18 Engagement & Impact Report
Elsewhere, the medical school's research footprint continues to grow, as does graduate medical education with the additions of a new Obstetrics and Gynecology residency program, as well as a new Family Medicine residency program in Battle Creek. Additionally, the WMed Clinics expanded its reach in the community when Pediatrics, PC, in Portage joined WMed and became the Pediatric and Adolescent Medicine-Mall Drive Portage practice.
The growth of WMed and its list of successes this past year would not have been possible without the community and donors who have given generously to the medical school, said Doug Czajkowski, WMed's associate dean for Development.
Czajkowski said WMed exists today because of the Kalamazoo community and its engagement, commitment and determination to resolve pressing healthcare issues and make the city and region a better, more inclusive, safer and healthier place to live for all. 
"We are where we are as an institution because of the generosity and philanthropy of our community and donors," he said. "They are critical stakeholders in our continued success as we look forward to 2019 and beyond."
 

In 2018, the medical school received several substantial gifts from the community. Among them was:
A $2 million bequest from the estate of Martha G. Parfet to establish the Martha G. Parfet Discovery Fund at WMed.
$3 million to support the medical school's endowment and pipeline programs and the naming of the W.E. Upjohn M.D. Campus Auditorium in honor of William D. Johnston and Ronda Stryker, WMed's founding donors.
A planned gift from Conn and Sheri Macomber to establish the Macomber Family Endowed Scholarship Fund for WMed students.
A generous grant from the Irving S. Gilmore Foundation to fund the renovation of the unfinished portion of the seventh floor of the W.E. Upjohn M.D. Campus.
A $1 million planned gift from a Kalamazoo philanthropist for the ongoing work to develop endowed funds to support palliative care and a palliative care fellowship at the medical school.
Czajkowski and Dr. Hal B. Jenson, WMed's founding dean, said the future for the medical school is bright as it transitions to the next phase of growth, which includes a focus on clinical operations, biomedical research capacity, and a commitment to health equity and access, as well as integration into the network of community service organizations that serve Kalamazoo and southwest Michigan.
Dr. Jenson said that in order for WMed to build on its successes, the institution must continue to grow to meet the healthcare needs of the community while building a robust biomedical research engine to fuel bench-to-bedside translational research. Philanthropic support for these key growth areas is a critical next step for WMed, he said. As a private medical school, WMed must be financially self-sustaining through private gifts, clinical revenue, tuition, and endowment income.
There are many ways to give to give to WMed and donors at every level can have a lasting impact on the medical school. For more information on ways to give, visit our Giving webpage.
If you have questions or would like to learn more about the medical school, please contact Al Shifflett, WMed's Engagement Manager, at 269.337.4483 or al.shifflett@med.wmich.edu.