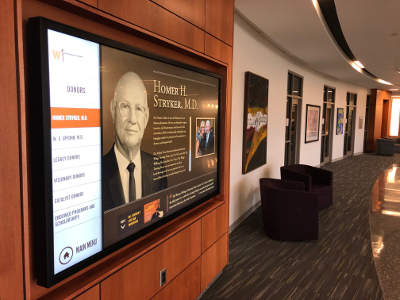 For the WMed community and visitors to the W.E. Upjohn M.D. Campus, a new 86-inch interactive display on the building's first floor is hard to miss.
The high-definition touchscreen, which was installed earlier this year, is filled with bright photos and a plethora of information, including the history of its namesakes – Drs. Homer Stryker and W.E. Upjohn – and its founders.
But the interactive screen is also meant to be a portal for anyone who uses it to learn more about the medical school's donors, as well as the accomplishments of students, faculty and staff who have been honored with awards for the great work they do at the medical school.
"The interactive display is our way of honoring our history and acknowledging our key stakeholders – donors, founders, namesakes, faculty, residents, students and staff – who are all a part of making the medical school the great institution it is today," said Al Shifflett III, the medical school's Engagement Manager. 
The display features information ranging from students who have been awarded scholarships from the medical school to resident physicians who have been recognized by faculty from their respective programs. There are also videos recapping the accomplishments and work of Drs. Stryker and Upjohn, among many other features.
Shifflett said the interactive display provides an easy-to-use and consistent method to share good news of the great work being done at the medical school by its students, residents, faculty and staff.
"We want everyone to interact with it," he said. "It's a simple, touchscreen display, videos can be played in full size, and it's all easily controlled by the hand of the user."