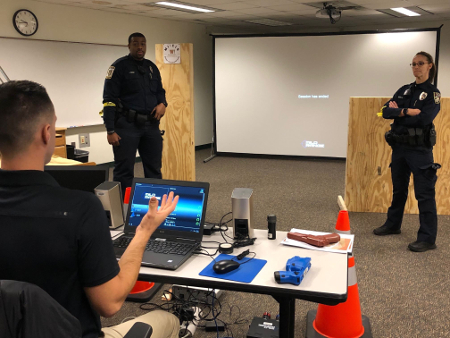 A program that trains first responders how to deal with people with behavioral health conditions will be expanded statewide through a $150,000 grant from the Michigan Veterans Affairs Agency (MVAA). 
The grant will provide nine months of funding and help grow the Michigan Crisis Intervention System (MI-CIS), which provides comprehensive mental health education for police officers, EMS and other emergency personnel. 
Launched in 2016 by Western Michigan University Homer Stryker M.D. School of Medicine (WMed), MI-CIS has a training segment specifically geared toward dealing with veterans in a mental health crisis. 
"MI-CIS training benefits our veterans who come in to contact with first responders, as well as veterans who work as first responders," said program coordinator Todd Christensen, a combat veteran who served more than 20 years in the U.S. Army Reserves and was a combat advisor for the 82nd Airborne Division in Afghanistan from 2009 to 2010. "For the MVAA, MI-CIS is an important addition to its pipeline of services for the men and women who have served in the armed forces."
A key goal of the new partnership between MI-CIS and MVAA is to implement the program throughout the state of Michigan through "train the trainer" courses that will equip first responders to coordinate and run their own local MI-CIS trainings.
"The MVAA is proud to support the MI-CIS program. The modular training approach allows first responders from all areas of the state to participate, which means that small emergency response units will have the same access to training as larger departments and will be able to assist veterans who are in crisis just as effectively," MVAA Strategy Analyst Randy Leffel said.
MI-CIS offers an array of training options and components, including online learning and reality-based simulation training that replicates use-of-force scenarios and behavioral health emergencies requiring verbal conflict resolution. The program trains the spectrum of emergency responders, from 911 dispatchers and police to EMS and hospital personnel.
MI-CIS, created with the help of a two-year, $500,000 grant by the Michigan Health Endowment Fund, stemmed from an identified need for improved training for first responders who deal regularly with acute behavioral conditions in the field. The program is led by WMed co-principal investigators William Fales, MD, professor of Emergency Medicine and chief of the Division of EMS and Disaster Medicine, and Stephen Crooks, PhD, professor in the Department of Medical Education. 
Since MI-CIS training exercises began in 2017, more than 450 emergency responders from 19 Michigan counties have taken part. The program has also led to collaboration on a national level with police agencies from Baltimore, Chicago, San Francisco and Charleston, South Carolina, Christensen said. Most recently, MI-CIS officials hosted an all-day, cross-disciplinary training exercise in Kalamazoo County that was attended by 23 emergency responders from seven agencies in Southwest Michigan.
"The need for MI-CIS right now is immense," Dr. Fales said. "Based on the increasing number of encounters with patients experiencing behavioral health problems that may often result in engagement with the law enforcement and EMS communities, the hope is that we can further improve the safety of responders and citizens, and divert those in need of mental health treatment from incarceration."
Christensen said he has heard firsthand from trainees about how the instruction they received has helped them in the field. Among those success stories: A Kalamazoo County sheriff's deputy who peacefully de-escalated an incident involving a suicidal teenager and a St. Joseph County deputy who used his training to communicate clearly and empathetically when delivering a death notification to a family.
"When people ask me, 'How do you know it works?', I answer them by listing off actual examples of success from the field where responders have used their MI-CIS training to peacefully mitigate a behavioral health crisis that might otherwise have ended tragically," Christensen said.
The MI-CIS program is built on a tiered approach that includes introductory awareness-level courses delivered through a distance learning system that allows for the cost-effective training of large numbers of emergency responders. Additionally, intermediate and advanced courses boast in-depth, hands-on scenarios through the use of video simulation and standardized patients.