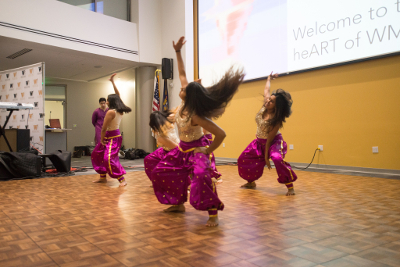 Updated February 21, 2019
During the monthly Kalamazoo Art Hop on Friday, March 1, 2019, from 6:00 to 8:00 p.m., the medical school's educational facility on the W.E. Upjohn M.D. Campus will be open to the public for the 3rd Annual HeART of WMed art showcase. This student-led event features the artistic talents of the medical school community with visual art on display and live performances by students, faculty, residents, and staff. Light refreshments will be available.
Doors will open at 6:00 p.m. for self-guided tours of the art displays on the first and second floors. At 6:30 p.m. there will be a brief dedication ceremony for a new body donor memorial tree that was created by local artists from Glass Art Kalamazoo. Each piece of glass used to construct the large tree is engraved with the name of a donor serving as a constant reminder of the individual's selfless gift to the Body Donation Program at the medical school. The brief program will include:
Welcome - Dean Hal B. Jenson, MD
Appreciation for Body Donors - Carolyn Isaac, PhD, Body Donation Program Director
About the Idea for a Body Donor Memorial - Daniel Ferman, Medical Student
Comments from the Artists - Joshua Davids and Ekin Aytac
At 7:00 p.m. the live performances will begin in the William D. Johnston and Ronda E. Stryker Auditorium. There will be 10 performances as well as a lively music set by the local band TYPO, with time and space to dance on the dance floor. TYPO's lead singer is Jeff Greene, PhD, a faculty member in the medical school's Department of Medical Education.
While the event is free and no RSVP or tickets are required, students will be accepting monetary cash donations. All proceeds will be donated to Mothers of Hope, a local Kalamazoo non-profit organization. For more information, contact events@med.wmich.edu.