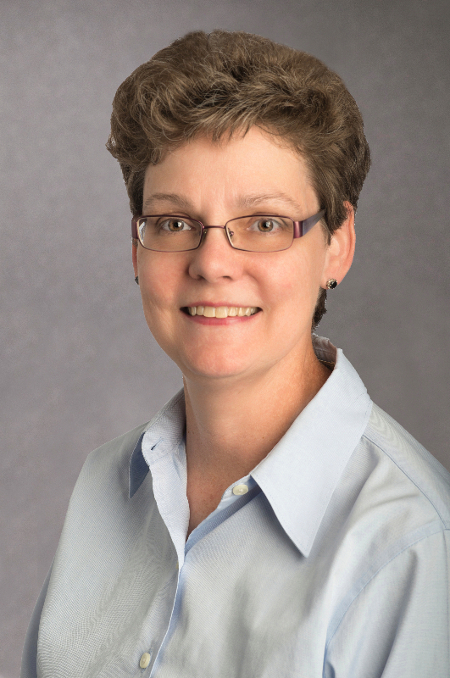 During a career in medicine that has spanned more than two decades, Dr. Jayne Barr says she has always been interested in quality improvement projects, examining ways to enhance patient care and the processes that allow for better delivery of that care.
It was that way for her during her time as a hospitalist at The Ohio State University's Nationwide Children's Hospital and when she completed a capstone project in 2016 for her master's degree in Public Health from Ohio State University that examined the opioid epidemic in Pickaway County, Ohio.
That work has continued since Dr. Barr came to WMed in the summer of 2016 to lead the medical school's Medicine-Pediatrics Residency Program.
So in 2017, when she learned about the new Program in Biomedical Informatics at WMed, Dr. Barr was eager to be a part of the first class of students to take part in the program. This past May, she became the program's first graduate, earning her graduate certificate in Applied Clinical Informatics.
"I thought the course would really help me in my career and help expand my interests in doing more quality improvement and really dive further into my interest in population health," Dr. Barr said.
The Program in Biomedical Informatics at WMed has two interdisciplinary graduate level, educational tracks focused on Clinical Informatics. The first, which Dr. Barr completed, is a two semester 15-credit program leading to the graduate Certificate in Applied Clinical Informatics. There also is a two-year, 30-credit program leading to a Masters in Clinical Informatics.
The graduate certificate in Applied Clinical Informatics is designed for students with a healthcare background and focuses on the challenges in the development and application of healthcare technology in a variety of clinical settings. The program provides a review of current topics in Clinical Informatics of concern to all who work with healthcare technology and its impact on the care of patients. The goal of the program is to provide participants with useful knowledge and applicable skills to make a positive impact on the delivery of healthcare through the use of appropriate technology implementation.
Students interested in more in-depth knowledge of Clinical Informatics can pursue the Masters in Clinical Informatics. The first year of the program mirrors the content of the graduate Certificate program. The second year furthers students' knowledge of advanced Clinical Informatics with a more in-depth experience with data analytics, healthcare technology security, interoperability topics, an evaluation of informatics research and culminating in an Applied Clinical Informatics capstone project in a healthcare setting.
The program utilizes a hybrid method of instructional delivery consisting of on-campus activities on alternate Saturdays to accommodate working students. The sessions are supplemented in the interval weeks with weekly online group discussions, pre-programmed online learning activities and class projects. 
Dr. Barr said she appreciated the opportunity to work closely with faculty in the Program in Biomedical Informatics, including Drs. Robert Brown and Jon Walsh. She said she also enjoyed that several sessions were taught by other experts, including Dr, Michelle Greiver from the University of Toronto, Dr. Ash Goel and Meghan Cole from Bronson Methodist Hospital, and Dr. Kuanchin Chen from Western Michigan University who were able to provide important insights on things like using electronic health records to analyze population health, the different aspects of patient flow at a hospital or how to use data-mining programs, among other topics.
"The course really teaches you how to ask the right questions of the electronic health record, how to get the information back and interpret it in a meaningful way such that it improves the health of patients and the population," Dr. Barr said.
Dr. Barr said she was able to take what she learned during the one-year graduate certificate program and use it to enhance quality improvement projects she was already working on in the WMed Clinics. Among those projects are initiatives to improve patient safety reporting, as well as decreasing patient wait times in the Cystic Fibrosis practice.
"We looked at how to improve clinic workflow and how to analyze different aspects of a clinic," Dr. Barr said. "I was able to take that information and apply it to what we're working on with our Cystic Fibrosis grant and really contribute to how we improve clinic workflows. We've cut patient wait times in half in a short period of time with the use of some of the tools I gained from the course and really mapping out the processes to improve the care that we're providing.
"I think we can apply that to even more of our clinics that we have," she added.
Dr. Barr said she believes her completion of the graduate certificate program will help enhance any quality improvement project she may decide to take on in the future, as well as projects examining population health both locally and nationally. 
As she looks ahead, she said she is leaving the door open to pursuing the master's degree in Clinical Informatics offered by WMed.
"It really was a commitment but I was dedicated because I felt like it was so important for me to learn this and that it would really benefit not only me, but also patients through my ability to pass along that knowledge to other faculty and residents, and medical students," Dr. Barr said.