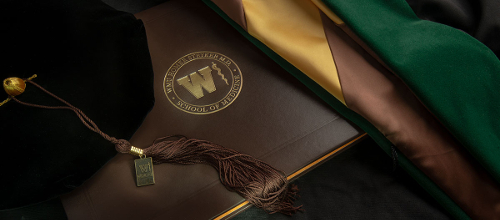 The MD Class of 2019 and students from two Master of Science degree programs at Western Michigan University Homer Stryker M.D. School of Medicine (WMed) will be honored in May during a commencement ceremony at Wings Event Center in Kalamazoo.
The ceremony is scheduled for 10:00 a.m. on Saturday, May 11, 2019. The community is welcome and no RSVP is required. Doors to the general public will open at 9:15 a.m.
The 57 students in the medical school's second class of future physicians, as well as graduates of the Master of Science in Biomedical Sciences and Master of Science in Clinical Informatics degree programs, will be honored during the event.
The ceremony will feature a special address from Dr. Darrell Kirch, president and CEO of the Association of American Medical Colleges. The slate of speakers for the event will also include the medical school's founding dean, Dr. Hal B. Jenson; Dr. Peter Ziemkowski, associate dean of Student Affairs, and fourth-year student Claire Cameron-Ruetz.
The commencement address will be delivered by Dr. Mark Loehrke, chair of the Department of Medicine.
Following the commencement ceremony, attendees are invited to a reception in the Wings Event Center atrium to cap off what will be a big day for the medical school, our students, their families, and the community.
If you are unable to attend the commencement ceremony, a livestream of the festivities will be available at http://med.wmich.edu/graduation.