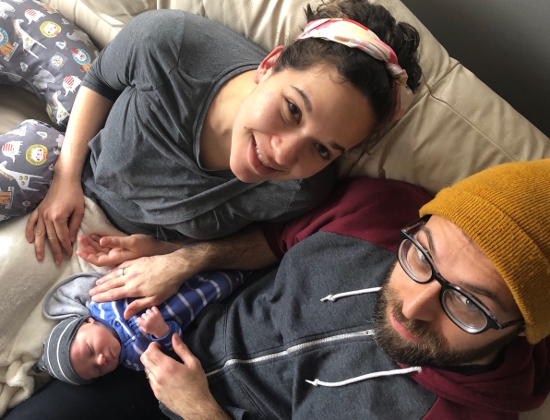 As she looks back on it now, Claire Cameron-Ruetz doubts she could have packed much more into five days than she did in March during Match Week.
All at once, as she and her classmates in WMed's Class of 2019 were anticipating Match Day, Cameron-Ruetz found herself in the hospital with her husband, Zach, by her side as they awaited the birth of their first child.
On the Tuesday of Match Week, the couple welcomed a new son, Ezra, and three days later, on Match Day the new family of three sat in their hospital room together as Claire opened her envelope to find out she had gotten her top choice for residency training – Obstetrics and Gynecology at the University of Toledo in the couple's hometown.
"We were like, 'Oh my God,' we were both so shocked," Cameron-Ruetz said. "We wanted to be home so badly, to be around our family and we were just so shocked that it all worked out. Even Ezra being born when he was, it was just this incredible timing.
"Everything just worked out and I think it was a lot of us looking at each other and saying, 'How did we do this?" she added. "We're ecstatic."
In the six weeks since Ezra's birth, Cameron-Ruetz said she is balancing the anticipation of graduation and residency with the excitement of being a mother and spending time with her husband and Ezra.
"For me, it's about reminding myself how lucky I am to have all of the things that I want," she said. "I wanted to have a family, I wanted to become an OB-GYN, I wanted to be in Toledo with my family. There are going to be sacrifices on both sides but it's worth it."
Cameron-Ruetz is among several students in the Class of 2019 who have balanced the rigors of medical school with parenthood during their time at WMed.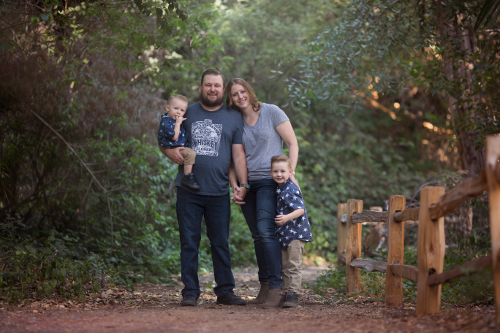 Jen Raae-Nielsen moved to Kalamazoo with her husband and 2-year-old son, Cavan, in 2015, and she welcomed a second son, Owen, during her second year at WMed. As their family grew, Raae-Nielsen said the support of her husband along with their clear communication as a couple provided a strong foundation to help her be successful in medical school and move toward realizing her dream of becoming an Emergency Medicine physician.
She said the life experience she brought with her as a 27-year-old when she arrived at WMed was also beneficial because she had established good time management skills in her prior work as a restaurant manager, EMT and researcher for the National Institutes of Health. While being a full-time student at the medical school, Raae-Nielsen also kept her EMT skills sharp working shifts with Kalamazoo's Life EMS. 
"This would not have worked if my husband wasn't a team player," said Raae-Nielsen, who met her husband when they both worked as EMTs in Orange County, California. Her husband became a stay-at-home father after Raae-Nielsen began her journey at WMed. 
"He was the whole reason we could successfully do this," Raae-Nielsen said.
After she graduates from WMed, Raae-Nielsen and her family will head back to California where she will begin her residency in Emergency Medicine at Loma Linda University.  She said they are excited to be closer to family as she makes the transition into residency. The Emergency Medicine residency program at Loma Linda was Raae-Nielsen's first choice on her Match list.
"Emergency medicine checks all of the boxes for me," she said. "It's shift work but still variable, they're all good people. I love the unpredictability."
As she looks back on the last four years at WMed, Raae-Nielsen said striking a proper balance between her studies and nurturing her relationship with her sons and husband was vitally important to her success.
"It was nice to have that support system," Raae-Nielsen said of her family. "They hold you accountable. I felt like I needed to do all of these things because my family was counting on me and we had made big sacrifices for us to be here."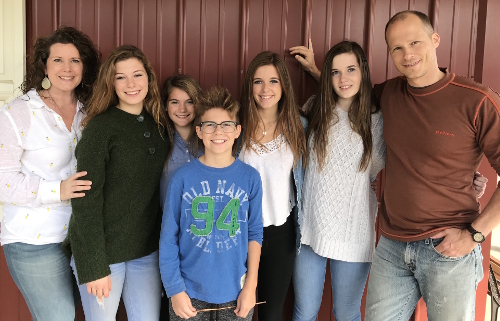 During his time at WMed, Nathan Whelham, who is the president of the Class of 2019, said he has always been mindful of the sacrifices his family –  his wife and five children – made when they decided together in 2015 to move from Washington state to Kalamazoo so that Whelham, then 45, could pursue his dream of becoming a doctor.
Now, at 48, just a few weeks from graduating and seeing his dream through, Whelham said taking on the challenges of medical school with his family by his side provided him the support, and emotional and mental clarity he needed to be successful.
From Day One, he said he treated his work as a medical student as his full-time job while also striving for quality time for his family. He said he studied regularly at home among his wife, his 12-year-old son and his daughters, ages 14, 16, 18, and 19. When he did well on a test, they celebrated together. When a big decision needed to be made, a family meeting would provide the answer.
"We really felt like this was a team sport," Whelham said. "Having my family there really helped balance me and I felt like there was something I was able to give my kids by way of example, that they were able to see the sacrifices that are required to achieve something important and that it could all be done."
After graduation, Whelham and his family will remain in Kalamazoo where he is set to begin his residency training in Emergency Medicine at WMed. When Whelham opened his envelope on Match Day with his fellow classmates, he and his wife and kids erupted with excitement at the news that the family would get to stay in the Kalamazoo area for at least three more years.
"When you invest a lot and sow a lot into an area, you reap a lot of good and I think our kids have found this has required them to give a lot of themselves but they've gotten a lot back," Whelham said. "This is a wonderful place and I think this feels like home." 
Cameron-Ruetz said the experience of medical school, in many ways, strengthened her marriage and being a wife and, now a mother, gives her the perspective she needs to navigate the challenges of medical school and, soon, the challenges of residency.
Cameron-Ruetz was married just before she began medical school in 2015. The couple also took a honeymoon, bought a house and her husband, a musician, was signed to a record deal before they arrived in Kalamazoo.
"It all happened at once," she said. "That's how we do things, apparently."
Looking back, though, Cameron-Ruetz said she would not have done anything differently, not then and not now. 
She recalled when her father, Dr. Donald Cameron, a pediatric neurologist, came to speak at WMed a few years ago and how, when talking about his accomplishments and career, he used the word "we" throughout his presentation, giving credit to not only himself but to his wife, as well.
"I found myself recently talking that way and I realized that is something you grow into," Cameron-Ruetz said. "There were lots of ups and downs but I cannot imagine having gone through medical school without Zach … Things have this amazing way in life of falling in place the right way. You just have to roll with the punches."
Cameron-Ruetz, Raae-Nielsen, and Whelham also said that their time at WMed was made all the better by the close bonds they had with their classmates. Students in the Class of 2019, they said, have referred to themselves as "The Fam" since they first stepped foot in Kalamazoo.
"I never felt like I was going through medical school alone," Whelham said. "I think our classmates did a good job supporting one another and being a family. I really benefited from that tremendously."
The Class of 2019 will graduate on Saturday, May 11, 2019, during a commencement ceremony at Wings Event Center in Kalamazoo. Cameron-Ruetz was chosen to give remarks from the class for the event.
"I really want to communicate to the audience what it is that we've been through as medical students," Cameron-Ruetz said. "But I also want to talk about how much the class means to me and impart that to the class. I also want to tell the audience what a great group of people my class is and how much they deserve what they've accomplished."