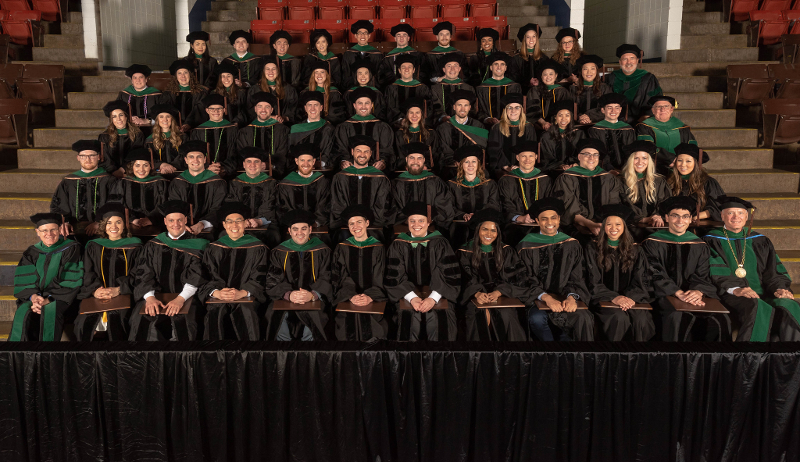 As he stood before the MD Class of 2019 and a large crowd comprised of their friends and families, Dr. Mark Loehrke was reminded of the words of wisdom he had shared with the students not too long ago when he was the keynote speaker at their White Coat Ceremony.
Being a physician is the best job in the world, he told them in 2015. It's also the hardest job in the world.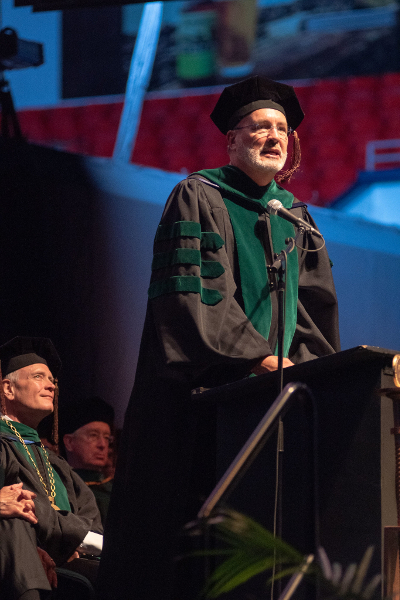 "After four years, I'm standing here and I'm still telling you that this is the best job in the world," Dr. Loehrke said from the stage at the Wings Event Center on Saturday, May 11, 2019, as the Class of 2019 and students from two of the medical school's Master of Science degree programs prepared to graduate from WMed. "It's also the hardest job in the world and yeah, yeah, yeah, I know some guy told you once it's the hard that makes it great and that's still true, but it's so hard."
It was that sentiment – that medical school is hard and life after medical school can prove even more difficult – that prompted Dr. Loehrke, chair of the medical school's Department of Medicine, to remind the students that as they take their next steps into residency training as newly minted physicians, they must not lose sight of the importance of self care as they seek to provide the best patient care possible and avoid burnout.
MORE: Check out more than 500 photos from graduation
"Systems awareness and systems of design are important for health professionals but they are not enough, they are enabling mechanisms only," Dr. Loehrke told the graduates. "Ultimately, the secret of quality is love. You have to love your patient, you have to love your profession, you have to love yourself.
"If you have love then you can work backwards to monitor and improve the system," Dr. Loehrke added. "So don't forget love."
The commencement ceremony for the Class of 2019 at Wings Event Center was a culmination of a journey that began in 2015 when the students were welcomed as the second class of medical students at WMed. The day was one of celebration as the graduates were joined by their families and friends, WMed leadership, faculty, and staff, and members of the Kalamazoo community.
Much like students in the Class of 2018 who graduated last May, students in the Class of 2019 were pioneers for the medical school.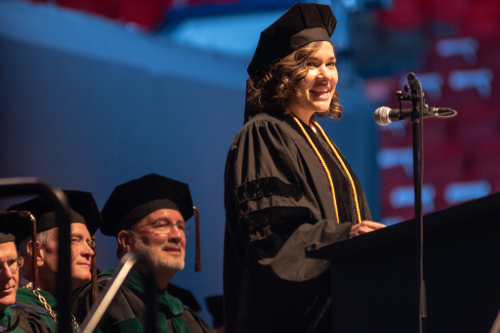 "It has been my distinct privilege to learn alongside the people sitting before you today," said Claire Cameron-Ruetz, who was chosen by her classmates as the Class of 2019 speaker for the commencement ceremony. "I walked into my first day at WMed with frizzy hair and a somehow-already-broken ID badge terrified I would be spending the next four years with all of the most intimidating, competitive people I have ever met while interviewing for medical school. Instead, I made 59 lifelong friends that day, what we call 'The Fam,' some of the kindest, most humble people I've ever met, diverse in their paths to medicine but strongly united by their love of science, healing, and completing work at the last minute.
"Through their actions, my classmates have reassured me over and over that the future of medicine is bright, innovative, and competent," Cameron-Ruetz added. "I don't want to downplay the hard work each of us has put toward getting this MD degree, but in some ways I feel that I share at least part of my degree with my classmates who were often responsible for hauling me across the finish line. You've never felt camaraderie like this. We've all taken care of each other here for four years, which has prepared us well to take care of our patients and maybe even our colleagues for the rest of our careers."
Indeed, Dr. Hal B. Jenson, the medical school's founding dean, said the work by students in the Class of 2019 has helped make WMed a better medical school. Among other things, the students formed student interest groups that helped shape the medical school's Early Introduction to Health Careers pipeline programs for elementary and high school students, and brought about a student-led counseling support group focused on helping students combat the stresses of medical school and provide mental health support.
Dr. Jenson said the commencement ceremony for the MD students, as well as the students from two Master of Science degree programs at WMed, marked what was "a momentous day" for them, their families and friends, and the medical school.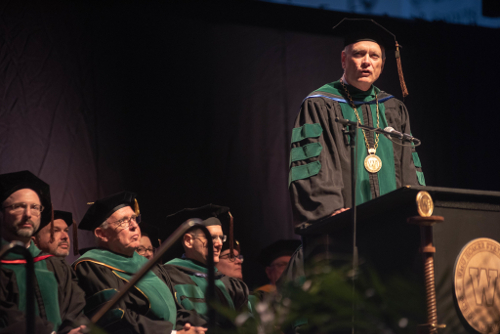 "Your success as students and as graduates is our success as a medical school," Dr. Jenson said. "As a newer medical school, each graduating class contributes to building the legacy and the rich history of excellence that we strive to have. We look forward to your continued success throughout your careers.
"Even though you are graduating today, you are always a member of our family and you are always welcome home," he added.
In addition to Dr. Jenson, the students also heard from Dr. Darrell G. Kirch, president and CEO of the Association of American Medical Colleges (AAMC), who visited Kalamazoo on May 11 to deliver a special address to the MD Class of 2019.
Dr. Kirch said that although WMed is a newer medical school, the institution was "excellent" and the students were well-prepared for what lies ahead for them in residency training. Dr. Kirch admitted to the students he was envious of them and their chance to enter the medical profession during what is "an incredibly exciting time."
"We have in America, without a doubt, the best science, we have the best-trained physicians, we have the best diagnostic tools, we have the best therapies," Dr. Kirch said. "But I also want to make a point because it's not all a rosy picture. This year, we're going to manage in this country to spend $11,500 for every man, woman, and child on healthcare. That's a lot of money, almost $4 trillion, but we don't have the best outcomes in the world in our health care. We have far too many newborns who don't make it to toddler stage, we have too many adults now in America dying prematurely of what some people are calling diseases of despair.
"There are still tens of millions of Americans who don't have health insurance or, even if you have insurance, you wonder whether it will be enough to keep you from bankruptcy if you become seriously ill," Dr. Kirch added. "We can do better than this as a nation but we haven't quite found the way yet."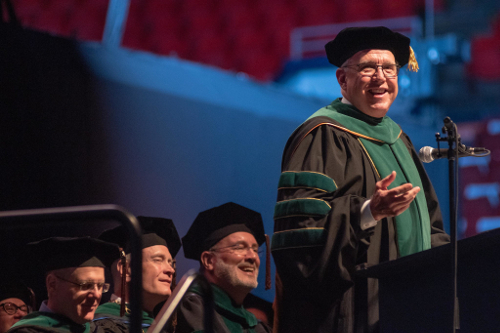 Despite his concerns, Dr. Kirch said he is confident that things will get better, especially with students in the Class of 2019 leading the way as new physicians who will take to heart the four key principles of being an ethical physician – doing good for their patients, avoiding harm, respecting their patients' autonomy, and social justice.
"That's where I think we stumble in our country," Dr. Kirch said. "I don't think we have a just health care system. There are too many people left out in the uninsured cold … We can do better than this and the reason I believe that is because as I learned about your class, as I learned about the initiatives you've taken on to engage with the community … I think you have what it takes to finally fulfill that fourth ethical principle of social justice.
"You may be only the second class (to graduate from WMed) but you're an incredible class," Dr. Kirch added. "I wish you all the best and I hope that together we can find the courage so that when you stand up here as AAMC president you don't have to talk about injustice in health care in America. Thank you and godspeed to you all."
After remarks from Cameron-Ruetz and Drs. Kirch, Jenson, and Loehrke, students from the MD Class of 2019 each crossed the stage at the Wings Event Center where they were hooded by their learning community adviser and guest hooder. As each student's hood was put in place, they heard their name with "Dr." at the beginning for the very first time.
MORE: Class of 2019 individual student portraits
Later, as the students stood at their seats in the event center, Dr. Phillip Pazderka, assistant professor in the Department of Emergency Medicine and chair of the Faculty Academic Council, made their graduation from WMed official.
In his remarks to the students, Dr. Loehrke reminded them to keep a balance in their lives between work and home as they begin their next journey as new physicians. He also told them to try – each day – to find one good thing and remember that "every day has a gift" as they navigate the incredible rigors of residency training.
That lesson – that every day has a gift – was one that Dr. Loehrke said he learned from his own daughter who, after graduating college in 2007, spent more than two years with the Peace Corps in a small west African country where poverty was prevalent and the climate was hot and humid. Despite the conditions, Dr. Loehrke said his daughter thrived thanks to her decision to "find one good thing every day."
"So, as you work through those long days of residency, remember my daughter and try to find that one good thing," Dr. Loehrke said. "It'll probably be a patient … or maybe it'll be a phone call from a family member or friend. You will find them."