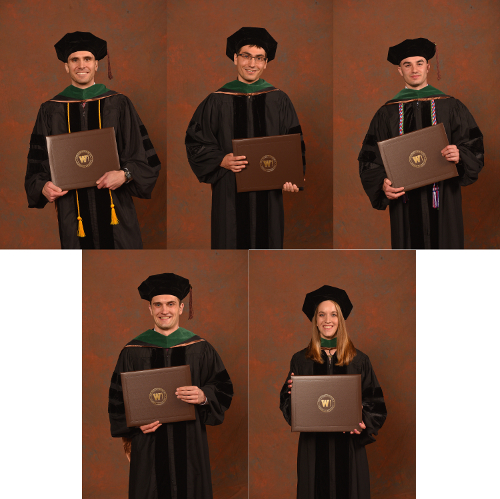 As they head off to residency programs across the U.S., students in the MD Class of 2019 who have called Kalamazoo home since at least their time as undergraduates look back on their time here with fond memories. 
Beau Prey, a Kalamazoo College alumnus, said he decided to attend WMed following his time at K because of the medical school's similarities to his alma mater, including its small program size and tight-knit student body.
"I moved a fair amount growing up," Prey said. "This is the longest I've been in one place. I would consider Kalamazoo my home."
Prey said he will be sad to move away from the sense of community he has felt in Kalamazoo, which included him being a member of Kalamazoo FC, a semi-professional soccer team. Prey is headed to the Madigan Army Medical Center in Tacoma, Washington to complete his residency training in general surgery. 
Prey was among seven K-College alumni who graduated from WMed during a commencement ceremony on Saturday, May 11, 2019, at Wings Event Center. Two alumni of Western Michigan University were also part of the graduating class.
As he takes that next step into residency, Prey is parting ways with two good friends and fellow classmates, Dagan Hammar and Nicholas Sweda. Prey and Hammar played soccer together at K-College and Sweda was Prey's boss for two years as a scribe at Bronson Methodist Hospital. The trio also lived together during their four years of medical school.
"Every exam, every quiz, we've all studied together," Prey said. "Without the help of each other we'd never get the grades that we did."
Prey said he feels the same pride for his former roommates as he feels for himself.
"It's been nice to go through this journey with them and some of the other college people I've known through undergrad, to see the progression of this journey," Prey said. "For this to end and us to go different ways, it's exciting but sad."
Sweda will complete his residency training in emergency medicine at Ascension St. John Hospital in Detroit. Swedasaid he is excited for residency but sad to leave his friends. Sweda has spent the past 10 years living, working and going to school in Kalamazoo, working as a scribe at Bronson for two years between his time at K and when he arrived at WMed in 2015. 
"The benefits were innumerable," Sweda said of living with his WMed classmates.. "We never had to leave the house for a study group. We always could bounce questions off of one another. Since we were all athletes at K there was a bit of a competitive nature to see who could do well on the tests, beat each other this week."
"It's a good feeling because throughout my education there have been so many stepping stones – graduating high school, graduating undergrad," said Duncan Polot, a member of the Class of 2019 and an alumnus of K-College. "Every time you feel like you've done this big accomplishment but there's always more to go. It's exciting and satisfying being done with medical school but also intimidating knowing that I'm going to the next level and will be starting residency soon."
Polot grew up in Ann Arbor but said he wanted to get out of the city to attend a smaller school. That desire brought him to Kalamazoo for his undergraduate studies and, eventually, to WMed.
"The medical school was being built while I was at Kalamazoo College," Polot said. "That opportunity arose and I knew that the school was reaching out to people who were local and I felt like I could easily fit in here and I wouldn't mind staying in Kalamazoo longer."
Polot said he chose WMed over two other Michigan medical schools he was accepted into because he liked WMed's curriculum and small class size which he felt he would lead to a more personalized education. 
With his medical school journey now complete, Polot is headed to the Cleveland Clinic for residency training in in anesthesiology.
"I like the field gives you the chance to work with your hands," Polot said. "There's good work-life balance. You really get to apply some to the physiology and pharmacology that you learn in medical school."
Meanwhile, Neil Hughes, a WMU alumnus, is staying in Kalamazoo where he will complete his residency training in internal medicine. Hughes is a Kalamazoo area native and graduated from Portage Northern High School before earning a bachelor's degree from WMU. Before he decided to apply to medical school, he worked in the medical school's Simulation Center for three years.
"With all the hard work I put into that I wanted to experience it myself from the other side," Hughes said.
Hughes said his decision to stay in Kalamazoo for his undergraduate studies and medical school was influenced by his family and his fiancé's family being here, but he said he also feels that Kalamazoo offers everything he needs.
"'Kalamazoo has a lot to offer," Hughes said. "You only have to know where to look for things. I think it's kind of the diamond in the rough. It's a smaller city right between Detroit and Chicago and it has so much to offer for the size that it is. I've been happy growing up here."
Grace Walter, a Kalamazoo College alumna, will complete her residency training in family medicine in the Washington D.C. area at MedStar Washington Hospital Center in Maryland. 
Walter said the thought of residency made her "a little nervous, and starting residency and having to care for your own patients but I think it's exciting and will give a lot of opportunities to be involved in a lot of different patient care instances."
Walter said she also is interested in health policy, which is part of the reason she chose Washington D.C. She said she hopes to do the health policy track within the family medicine program at MedStar.
Walter applied to WMed through the WMedStart Early Decision Program, an initiative designed for WMU and Kalamazoo College students, as well as graduates of Grand Valley State University and Bowie State University. Applicants in the program are selected based on their attributes, performance in academic studies and experiences, including volunteer service, community service, leadership roles or research. 
Walter said certain aspects of WMed drew her in, including the ability for students to care for patients right off the bat and the opportunity to complete her medical education in her hometown.
"I've been here forever and I thought it was really cool that they were opening a medical school in Kalamazoo," Walter said of her decision to apply to WMed. "I wanted to stay here and give back and be a part of the new school."
Walter is completing her residency through the National Health Service Corps, a program that provides annual scholarships to pay tuition, education-related expenses, and a monthly living stipend to full-time medical students who commit to providing primary health care services in underserved communities.
"I knew that I wanted to do primary care because I like doing the preventative care and helping people stay out of the hospital, but also the underserved part of it, being able to care for those who are vulnerable and do not have access to care," Walter said.