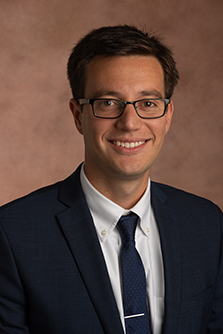 Since the day he arrived at the medical school in 2017 as an assistant professor in the Department of Pathology, Theodore T. Brown, MD, has set about laying the foundation for a new forensic pathology fellowship at WMed.
Now, almost two years later, the new fellowship has become a reality.
Dr. Brown and Joyce deJong, DO, chair of the Department of Pathology, submitted an extensive application to the Accreditation Council for Graduate Medical Education (ACGME) in January and were notified in April that the new one-year fellowship was approved, making it one of only 43 ACGME-approved forensic pathology fellowships in the country.
With that key step completed, Dr. Brown said recruiting will begin with the hope of welcoming the program's first fellow in July 2020. An office, he said, is waiting for them on the seventh floor of the medical school's W.E. Upjohn M.D. Campus.
"We believe we are providing pathologists an excellent option to pursue forensic pathology," said Dr. Brown, who serves as director of the new fellowship program. "We are extremely well-equipped to do that given our experienced and nationally renowned faculty who are dedicated to teaching, our top-notch team of medicolegal death investigators and autopsy assistants, the number of diverse counties we serve, and a state-of-the-art facility in which to train."
Dr. deJong said the new fellowship comes at a time when there is a critical shortage of forensic pathologists in the U.S. and worldwide. Currently, she said, there are approximately 500 practicing forensic pathologists in the U.S., six of which are employed at WMed.
Dr. deJong said she is hopeful that with the launch of the new fellowship program, her department and the medical school can play a role in curbing the shortage of forensic pathologists.
"I think this is going to be an exceptionally strong fellowship," Dr. deJong said. "I think we're going to provide an amazing educational opportunity for our trainees."
Dr. Brown said the decision to launch the new forensic pathology fellowship was a "no-brainer." He said the new program will provide a unique experience – both academically and professionally.
He said fellows will get the opportunity to delve into an array of different medicolegal death investigations as the Office of the Medical Examiner and Forensic Services, which is housed at the W.E. Upjohn M.D. Campus, serves 12 counties in western Michigan. The department and the medical examiner's office work closely with forensic anthropologists, toxicologists, and the Division of Neuropathology, which are all housed at the medical school, as well as a local odontologist and forensic cardiologist.
"A unique aspect of our program is that we are an integral part of a medical school as the Department of Pathology, and there will be opportunities for our fellows to teach and collaborate with WMed medical students, our department's faculty, and other faculty at WMed," Dr. Brown said. "In addition, we have an investigative and autopsy staff team that enjoy teaching and have valuable experience to share. It is important for our fellows to be leaders in medicolegal investigations, examinations and interpretations, and I am confident that we are well-positioned to create future forensic pathology leaders."
Dr. Brown said he is looking forward to the possibility of welcoming a new fellow next year. As fellows complete the program, he said it is his goal that they will leave WMed "having the skills to be excellent forensic pathologists so that they can go on to serve their community and also be actively involved in the forensic pathology community."
"The priority is the families that they will serve on an everyday basis," he said. "I hope our trainees will continue to emphasize the importance of the physician-family relationship throughout their careers."