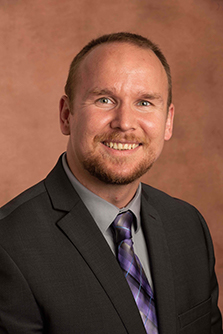 Dr. Peter D. Pioli is currently appointed as an Assistant Professor of Biomedical Sciences within the Center for Immunobiology at WMed. He received his PhD at the University of Utah while working in the laboratory of Dr. John H. Weis. During this time, Dr. Pioli studied the transcriptional regulation of lymphocyte development and function which included the seminal discovery that Zfp318 is required for the co-expression of IgM and IgD by B lymphocytes, a longstanding enigma of B cell biology. Subsequently, he completed his postdoctoral training at the University of California, Los Angeles under the stewardship of Dr. Kenneth Dorshkind. While in the Dorshkind lab, Dr. Pioli studied both intrinsic and extrinsic mechanisms of hematopoietic stem cell (HSC) aging. These studies led to his discovery that plasma cells (PCs) evolve over the course of aging and become key determinants of hematopoiesis in the aging bone marrow (BM).
In the Center for Immunobiology, we welcome postdoctoral fellows and research assistants/associates to be a part of our team and the exciting discoveries that are taking place in each of our research labs. More information about these opportunities can be found by contacting the Department of Investigative Medicine at 269.337.4351 or tom.rothstein@med.wmich.edu, or check out the medical school's latest job opportunities.  
Research Focus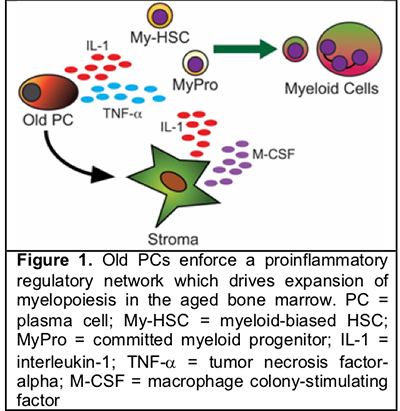 Hematopoiesis is the lifelong process of blood cell development in which cells of both innate (e.g. myeloid cells) and adaptive (e.g. lymphocytes) immune systems are generated. Over the course of aging, the relative production of these cell types changes and myelopoiesis becomes the dominate process. This is due in part to increased myeloid cell generation as well as the suppression of lymphopoiesis and ultimately contributes to the decreased vaccine responsiveness observed in the elderly. We have previously shown that old PCs, terminally differentiated B cells, acquire an inflammatory phenotype and that they are essential drivers of the enhanced myelopoiesis observed in the aged BM (Figure 1). These results as well as others have led to the realization that PCs are more than just "antibody factories". Our lab is interested in understanding the development of functionally diverse types of PCs not only in the context of aging, but also in regards to acute insults such as responses to vaccines or infections. Using both a combination of cellular and molecular techniques, we aim to elucidate not only the cell intrinsic regulators of PC diversity and function but also the external cues required to instill these intrinsic regulatory programs.
Research Interests

Plasma cells, Hematopoietic stem cells, Hematopoiesis, Lymphopoiesis, Inflammation, Transcriptional regulation.

Lab News

July 2019

Peter D. Pioli, PhD, has joined WMed as an assistant professor for Biomedical Sciences in the Center for Immunobiology.
KimAnh Pioli has joined WMed as lab manager for the Pioli Lab.
Our study showing the ability of plasma cells to regulate hematopoiesis in the aging bone marrow has been published in Immunity.


November 2019


January 2020

WMed students Michael Crone, Matthew Kornas and Patrick Renner have joined the Pioli Lab.
Lab Personnel
  Michael Crone
  WMed Student
  Matthew Kornas
  WMed Student
  Patrick Renner
  WMed Student

Recent Publications
Our laboratory group is committed to pursuing inquiry, disseminating knowledge, and fostering critical thinking that encourages lifelong learning. Take a look at a comprehensive listing of Dr. Pioli's most recent publications.