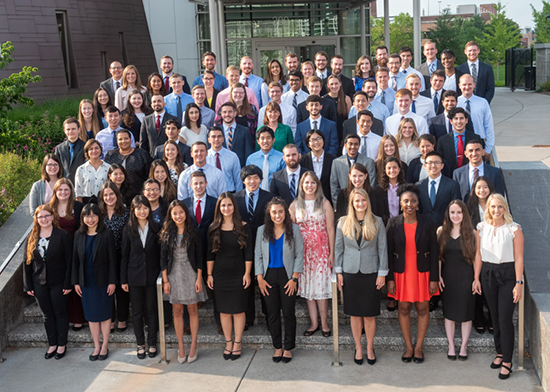 The medical school has welcomed its newest class of students.
The WMed community grew by 93 new students on Monday, July 29, 2019, with the addition of 84 members of the MD Class of 2023 -- WMed's sixth class of medical students -- and nine Bridge to MD students who are completing a one-year Master of Science in Biomedical Sciences degree.
Jean Shelton, assistant dean of Admissions and Student Life, echoes the excitement of the new students' arrival. 
"Welcoming new students is always a highlight of the year," Shelton said. "This is a strong group who has not only excelled academically, but more importantly, brings the personal attributes and variety of pre-medical experiences that make them strong future physicians." 
Our sixth class includes 41 women and 43 men from 21 states. They range in age from 21 to 38 years old with an overall average age of 24.74. Twenty-nine students are Michigan residents with California as the second highest represented state with 21 students. 
Students in the MD Class of 2023 were chosen from a pool of 4,143 applicants and make up a diverse group that boasts an average MCAT score of 514 with a range of 498 - 526. The group is coming to WMed by way of 51 undergraduate institutions where they pursued majors that include biology and chemistry, as well as psychology, sociology, engineering, public health, Spanish and neuroscience, among others. Approximately 14 percent hold advanced degrees.
For the fourth year in a row, the University of Michigan has the largest contingent of students – 10 – in the Class of 2023, followed by six from University of California-Los Angeles. Locally, four students in the Class of 2023 completed their undergraduate studies at Western Michigan University, two attended Kalamazoo College, and one is a graduate of Grand Valley State University. WMed has preferred relationships with WMU, K-College and GVSU.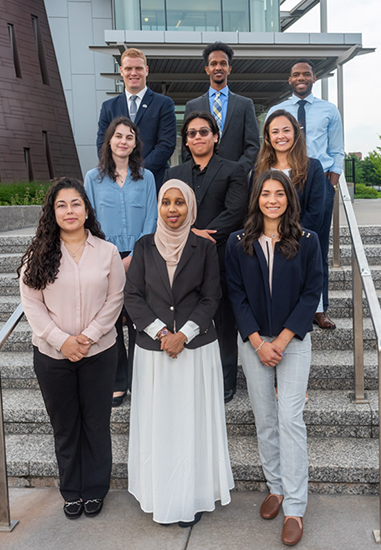 The admissions process at WMed recognizes the importance of diversity. We seek out students who bring strengths in academics, personal attributes, and pre-medical experiences. Institutionally, we seek students who will reflect the diversity of the patients we serve. In the class of 2023, 18 percent come from populations underrepresented in medicine which adds to the diverse community at WMed. 
"At WMed, our curriculum is built around the idea of a 'team' and our students spend a lot of time learning and working as part of a team," Shelton said. "A class with different ways of thinking, a variety of backgrounds, and diverse experiences help build strong teams who ready to learn from and alongside each other." 
The Class of 2023 is being joined at the medical school by a cohort of students pursuing the Master of Science in Biomedical Sciences degree as part of WMed's Bridge to MD Program. The program, now in its fourth year, is designed specifically for applicants to the medical school who have strong pre-medical experiences and attributes and would benefit from additional basic science preparation before beginning their quest to become a doctor.
The Bridge to MD Program has grown this year to a cohort of nine students from across the nation bringing a wide breadth of backgrounds and experiences to the learning environment at WMed. Each student also receives a full-tuition scholarship for the one-year program and has been offered admission to the MD Class of 2024. 
The Class of 2023 will receive their white coats on Saturday, September 21, 2019, during a White Coat Ceremony at WMU's Miller Auditorium.