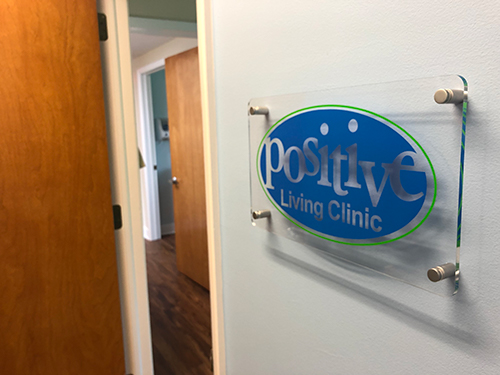 Since its inception more than 30 years ago, Community AIDS Resource and Education Services (CARES) in Kalamazoo has evolved into a service organization with a mission to help those living with HIV or AIDS through services that seek to treat the whole person.
Among other things, CARES provides HIV testing and education to more than 500 people and HIV case management to more than 400 clients in 10 counties in Southwest Michigan. The organization also has support groups, provides housing assistance and offers help with medication management, hypertension and obesity prevention, and smoking cessation, among other things.
Now, through a partnership with the medical school and a $231,000 HIV Care, Prevention and Support grant from the Michigan Department of Health and Human Services Division of HIV and STD Programs, CARES will soon unveil the new Positive Living Clinic on the lower level of its office at 629 Pioneer St. in Kalamazoo.
CARES Executive Director Kelly Doyle said the clinic, which is expected to open in August, will provide "comprehensive, all-around care" for CARES clients and their families, as well as community members seeking to lower their risk of contracting HIV and other sexually transmitted diseases.
"The clinic is supposed to be a one-stop shop," said Doyle, who joined CARES in 2003. "This is something that I've wanted to do for a long time because it was a gap in our community. People living with HIV want to see a doctor who understands their needs around what they're feeling and the stigma they may be dealing with."
When the clinic opens in August, patients will see a nurse practitioner and two medical assistants from WMed's Department of Family and Community Medicine. Dr. Lisa Graves, interim chair of the Department of Family and Community Medicine, will serve as the clinic's medical director.
For Doyle, the clinic is the realization of a vision she has had for more than two years to put in place a facility that would eliminate a health care gap in the region by increasing access to HIV care and STD treatment. She said the clinic is an outgrowth of CARES and its evolution into an organization that operates under a case management and social work model to connect clients with proper medical care and treatment, as well as insurance and the promotion of treatment adherence.
"The things that we measure here are making sure that there aren't gaps in our clients' medical visits, that folks are undetectable," Doyle said. "I think we're going to see an increase in the number of those clients who are undetectable through the better access to care and the help maintaining that care. The more quickly folks with HIV are connected with care the more likely they are to continue treatment."
Dr. Graves said the new clinic is a recognition that "HIV care for people living with HIV is really chronic-disease management." With that in mind, she said the medical staff in the clinic will seek to provide CARES clients with continuity of care and a patient-centered model of care.
"People who have appropriate continuity of care do better than those who do not," Dr. Graves said. "This is yet another model that I believe looks at figuring out what patients need. My goal is that all of the patients we will look after at CARES feel their needs are being met and that we are meeting them where they are at in their journey."
Dr. Graves said she is proud of the partnership between WMed and CARES and the work that has been done to make the new Positive Living Clinic a reality.
"This is one of many of what I consider the right things to be doing," Dr. Graves said. "We are building more connections within our community and continuing to reach out, and when we see health care gaps in our community that we think we can help fill, we have to figure out how to do that. I see this partnership with CARES as a model of how to do that."