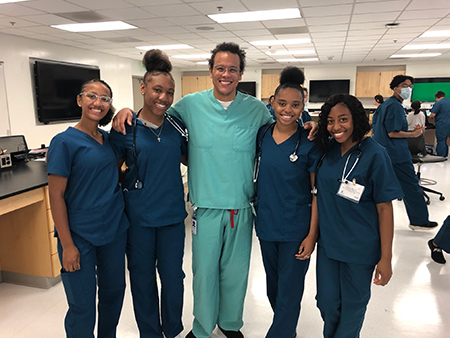 As she nears the beginning of her junior year at Kalamazoo Central High School, Morgan Brown says she has given thought to a career in the sciences, but wasn't completely sure of the pursuit.
Now, after having completed the two-week Early Introduction to Health Careers II (EIH) summer science camp at WMed, Morgan said she walked away with a renewed focus and a clear picture of what she wants to do with her future.
"I want to do something in the medical field that's helpful to other people and this has just opened my eyes because it has given me insight and hands-on experience," she said of the EIH II summer science camp.
Morgan was one of several high school students from Kalamazoo Public Schools and the Kalamazoo area who participated in the EIH II summer science camp in June after taking part in the EIH II Saturday Science Academy during the school year.
The pipeline programs at WMed are designed to champion the biomedical science and healthcare career aspirations of underrepresented youth. The programs also provide a platform for WMed students to design and teach interactive learning experiences to help elementary and high school students develop leadership, team-building, and problem-solving skills.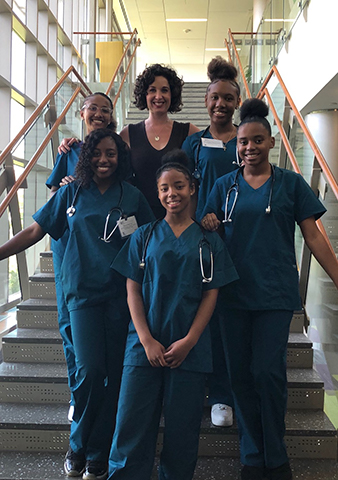 EIH was launched in 2014 and, since then, it has grown into a program that now serves more than 180 students, including 49 KPS sophomores in EIH 2 and 80 fourth and fifth graders from KPS in EIH 1. Additionally, the EIH model is being used to serve more than 50 eighth graders from three school districts in Calhoun County as part of efforts there to create programming and support for a health care career pipeline.
During this year's summer camp, students spent the first week in a lab at Kalamazoo College under the guidance of Chemistry Professor Dr. Regina Stevens-Truss. The students isolated caffeine from beverages and analyzed the samples. Later in the week, they worked with chemistry majors from K to create a poster of their findings.
"Working in the lab was really interesting," said Syann Hollins, 15, who will be a high school junior in the fall.
The second week of the summer camp was held at the medical school's W.E. Upjohn M.D. Campus. During their first day at WMed, the students were certified in Heartsaver CPR and then followed that up with two days in an anatomy lab learning about heart and lung anatomy with WMed Prosector Ian Mahone and first- and second-year medical students.
"I thought it was really fun because I got certified in CPR and being able to learn about anatomy and actually physically touch and play around with a sheep's heart and lungs, that was really cool, said Syann, who wants to be a heart surgeon when she is older.
Through a collaboration with Stryker, the students also spent a day at Stryker Instruments where they toured the facilities, met several Stryker employees and participated in hands-on learning activities led by Stryker engineers.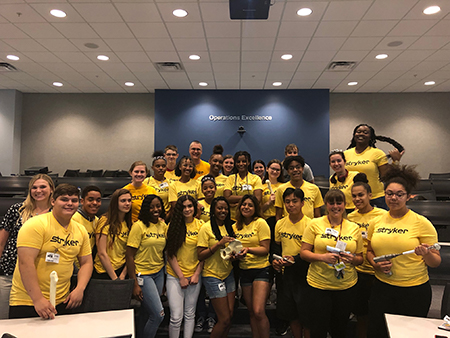 The students spent their final day of the summer camp learning about the career trajectory of three Stryker engineers who visited the W.E. Upjohn M.D. Campus. Additionally, Nancy Stefanick, Stryker's director of Learning and Development Delivery, gave a presentation to the students about how to best utilize their strengths to fuel their passion and drive them to success in both school and their future career. The students then had the opportunity to use creative thinking, problem solving and fundamental engineering principles to develop assistive devices using basic school supplies.
"Even if they don't end up pursuing an engineering path, the collaboration between engineers and medical professionals is so important to what we do and what they do," said Kaitlin Konopacz, a mechanical design engineer in New Product Development for Stryker. "That partnership that we have with our customers, with EMTS, with surgeons, with nurses, is something they're going to get to interface with if they do go into the medical professions, as well. So getting exposure early to people working in the medical technology field is what I hope they get from it."
Benny VanDyken, a mechanical engineer at Stryker said he appreciated the opportunity to meet with the students "and hopefully make a positive impact and help them learn a little bit from my experience."  
In addition to the summer camp, the students attended the very first High School Catalyst conference held at Miller Auditorium free of charge because of the generosity of a local donor. During the conference, students heard from local and national leaders, learned about financial literacy and about a number of local non-profits doing great work in the community. 
"I would say if you have a passion for anything science- or math-related, go ahead and step into this as a way of opening your mind and learning a new experience, and it will be really helpful because it might teach you something about yourself that you didn't really know," Morgan said of her experience in EIH II and the EIH summer camp.