After training at WMed, former resident physicians happy to call Southwest Michigan home, use their skills to give back to the community 
When Matt Kelly, MD, completed his Internal Medicine residency training at WMed, he knew he wanted to stay in Kalamazoo. He is among several resident alumni who decided after their time at the medical school to practice medicine locally and contribute to the communities that make up Southwest Michigan.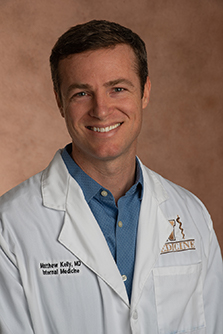 Dr. Kelly, who earned his MD degree at Michigan State University College of Human Medicine, joined Bronson Methodist Hospital as a hospitalist in August. For him, the decision meant the opportunity to work at the hospital where he was born. Dr. Kelly's wife, Sonya Datta-Sandhu, also a Kalamazoo native, also works at Bronson as a midwife. They are raising their young kids in Kalamazoo.
"We know from our experience in Kalamazoo that it's a great place to raise a family and having our family support here made us want to stay," Dr. Kelly said. "We're giving back to the community that helped raise us. Being involved with the people in this area was important to us."
"I really love the variety of things we see as a hospitalist," he added. "We work as primary doctors for hospitalized adults, so anyone who comes into the hospital and is admitted, we function as their primary doctor. As you can imagine, there is a wide variety of things people are hospitalized for, from stroke and pneumonia to less common things. It's a variety and not knowing on any given day the responsibilities I'll have to take care of, it gives me a lot of challenge and reward."
As a hospitalist, Dr. Kelly said he has the opportunity to meet interesting patients and establish a relationship built around trust, usually while the patients are enduring a challenge. Dr. Kelly said he had an advantage as a resident training at Bronson, since it gave him the opportunity to become familiar with the physicians in all the subspecialties before he was hired.
"It's a head start for the people who want to work there," Dr. Kelly said of his rotations at the hospital. "It's a friendly and supportive work environment with a strong medical community within the hospital and a strong leadership team that supports all the providers there as well."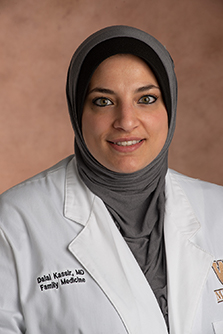 Dr. Kelly said internal medicine was a good fit for residency as someone who couldn't quite put a finger on what he wanted to do.
"I think it's a field a lot of people go into because they're broadly interested in medicine and learning about a lot of different things," he said. "Just as I had a hard time choosing a career, I had a hard time deciding what area of medicine to go into."
Dr. Kelly said his time as an Internal Medicine resident at WMed trained him well.
"There's a long history and tradition of training internal medicine doctors in the community," Dr. Kelly said. "My job has a lot of variety and I have to know a lot of different things. Residency helps you with that because we work at medium- to large-size hospitals and at a variety of clinics around town, with the wealthy and poor. Southwest Michigan is a cross section of humanity. We don't realize how lucky we are to have a strong medical community and all of the resources to be the size we are."
The great working relationship the medical school has with Bronson and Ascension Borgess makes the transition as a staff physician seamless, Dr. Kelly said.
"During residency we have all these opportunities to meet the people at different hospitals, rotate among different practices and specialty groups," he said. "We do that community building during residency. When you want to transition to being an independent health care provider, it's a really smooth transition. I think it was the perfect preparation for this job, honestly."
Residents who accept jobs at Kalamazoo's two teaching hospitals elevate the care provided to the local community, become a funnel for good teaching cases, and they become teachers for the residents and students who come after them, said Mark Loehrke, MD, chair of the medical school's Department of Medicine.
"The residents that we graduate are really great physicians and I want people in my community to receive really great care," Dr. Loehrke said. "When they graduate and stay in our community I can be assured our community members are receiving high quality care."
Local hires from the medical school provide an example of the high quality of physicians that come out of WMed's primary care residency programs, Dr. Loehrke said. WMed Internal Medicine residents have a 100 percent board pass rate over the last seven years, they have landed competitive subspecialty fellowships, and local practices find positions for them. They are wanted as a part of the local physician community, Dr. Loehrke said.
"A quality of our program is that there's no substitute for clinical excellence," Dr. Loehrke said. "You cannot cut corners with patient care. They are too vulnerable, too sick, too complicated, and that's something we emphasize over and over again."
About 20 of Bronson's current working hospitalists are graduates of WMed, Dr. Loehrke said, and of the 10 graduates each year from the Internal Medicine program, two to three stay to continue their careers in Southwest Michigan. Dr. Loehrke said it is a personal goal of his to see at least two residents per year hired within Southwest Michigan, therefore populating the local area with quality physicians.
In the medical school's Family Medicine residency program, many former residents who go on to jobs at Bronson and Ascension Borgess become community faculty members at the medical school and serve as mentors, role models, and sounding boards for the medical students who come after them, said Lisa Graves, MD, chair of the medical school's Department of Family and Community Medicine.
"When residents stay local, they get to know the community, the medical providers and the social aspects of the community," Dr. Graves said. "They develop relationships with other physicians and can refer patients to them."
Meanwhile, Dr. Graves said physicians' spouses and children also become engaged in the local community.
"When you recruit professionals to a community, they bring not just their skills, they bring other assets," Dr. Graves said. "They're going to hire someone to do the babysitting, the gardening, the childcare. There's an infusion of good things that happen when you bring a professional into the community."
That is the case with Dalal Kassir, MD, a 2020 graduate of the Family Medicine residency program in Kalamazoo. Dr. Kassir is now at Ascension Borgess and her husband, Mahmood Kassir, MD, plans to join Ascension Borgess later this year after finishing residency. The Kassirs, who are originally from the Metro Detroit area, have decided to raise their son, Ali, in Portage.
"It's a good place to have a family," said Dr. Kassir, who earned her MD degree from American University of the Caribbean School of Medicine and completed her undergraduate studies at the University of Michigan. "It's pretty close to home, we're about an hour and a half to two hours away from where our families live. It's close enough but far enough. We love the area. We just recently bought a house in Portage. We were just comfortable here.'
Dr. Kassir currently sees patients at Ascension Borgess Woodbridge Hills and she said her time as a Family Medicine resident at WMed prepared her well for what she sees each day as a physician.
"I feel like I was trained so well that nothing is a challenge essentially and it's a nice feeling as a new grad," she said. "I feel completely comfortable practicing here. I feel like I had such a strong background practicing with our residency clinic. I enjoy taking care of the patients we're taking care of. We are building really great relationships and I have the opportunity to take care of different members of the same family."