WMed residency programs celebrate after successful Fellowship Match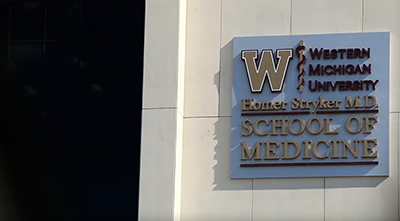 As the conclusion of their time at WMed draws closer, several resident physicians at the medical school will depart Kalamazoo this summer to continue their training in highly competitive fellowship programs.
The good news comes at a time when applications for fellowships increased this year by 7 percent nationwide. In addition, several residency programs at WMed – Family Medicine, Internal Medicine, and Orthopaedic Surgery – have tallied a 100 percent board pass rate for several consecutive years. Meanwhile, the General Surgery residency program has tallied a 100 percent pass rate on the Qualifying Board Exam for several consecutive years.
"These results are simply remarkable," said Mark Loehrke, MD, chair of the medical school's Department of Medicine and associate program director for the Internal Medicine Residency Program. "We are proud of all of our graduating residents, whether they are fulfilling their dreams with primary care medicine, inpatient or outpatient, or pursuing a fellowship."
Take a look at where our graduating residents will be headed for fellowship training:
Emergency Medicine
Andy Wenger (Hospice and Palliative Care at Mayo Clinic, Phoenix, AZ)
Family Medicine
Dr. Rohit Chopra (Hospitalist Fellowship, Sutter Medical Foundation, Sacramento, CA)
Dr. Megan Potilechio (Hospice and Palliative Care at Mayo Clinic, Phoenix, AZ)
General Surgery
Dr. Mohamed Arafeh (Surgical Critical Care at Brown University)
Dr. Jairo Espinosa (Cardiothoracic Surgery at Temple University)
Dr. Gulrez Mahmood (Vascular Surgery at Vanderbilt University)
Internal Medicine
Dr. Anandbir Bath (Cardiology at the University of Tennessee)
Dr. Vishal Deepak (Pulmonary/Critical Care at West Virginia University)
Dr. Mehdi Farishta (Pulmonary/Critical Care at Ascension Providence, Southfield)
Dr. Gabriel Kousourou (Rheumatology at Indiana University)
Dr. James Vaillant (Infectious Disease at Mayo Clinic, Rochester, MN)
Medicine-Pediatrics
Dr. Cayleigh Blumrick (Infectious Diseases, Little Rock, AK)
Dr. Zach Rich (Pulmonary/Critical Care at the University of Iowa)
Orthopaedic Surgery
Dr. Christine Bowman (Hand Surgery at Loyola University Medical Center)
Dr. Joshua Veenstra (Orthopaedic Surgery Sports Medicine at TRIA Orthopaedic Center, Bloomington, MN)
Pediatrics
Dr. Ahmed Elisa (Allergy and Clinical Immunology at Henry Ford Hospital, Detroit)
Dr. Anna Kegel (Pediatric Critical Care at Riley Hospital for Children, Indiana University School of Medicine, Indianapolis)
Dr. Alex Lake (Pediatric Hematology/Oncology at Spectrum Health Helen Devos Children's Hospital/Michigan State University College of Human Medicine, Grand Rapids)
Dr. Emily Niemyjski (Pediatric Neonatal-Perinatal Medicine, Texas Children's Hospital, Baylor College of Medicine, Houston)
Psychiatry
Dr. Arslan Ahmed (Forensic Psychiatry at Northwestern University)
Dr. Christine Larkin (Child and Adolescent Psychiatry at the Cleveland Clinic)