WMed students test their wilderness medicine skills during Midwest MedWAR Challenge
After his team from WMed finished the 19th Annual Midwest Medical Wilderness Adventure Race (MedWAR), M2 Kevin Stehlik took a seat on the ground, physically spent from the 18 miles he and two of his classmates had covered on foot during the event.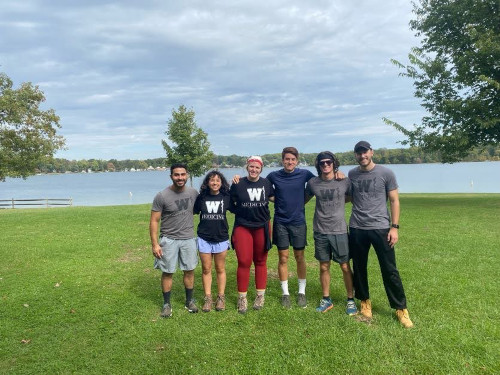 He could barely stand on his sore feet and he had pulled both of his quads, Stehlik recalled recently.
The state Stehlik found himself in that day – October 2 – came after the seven-hour MedWAR Challenge at the Pinckney Recreation Area in Pinckney, Michigan. The unique competition combines wilderness medical challenges with adventure racing and tests each three-person team's knowledge, skills, and techniques of wilderness medicine while promoting teamwork.
"It was a really fun experience and it was super cool to take part in," said Stehlik, who completed the race with M2s James Burton and Cruz Gutierrez. "It was also pretty exhausting physically."
A second team from WMed – M2 Peter Awad and M1s Noemi Mangiamele and Mallory Wright – also took part in the competition.
The event presented both teams with numerous challenges and scenarios meant to depict a post-apocalyptic atmosphere. They carried supply packs and equipment they were able to rent from the WMed Simulation Center.
They got the chance to use their orienteering skills to navigate their way through the vast Pinckney Recreation Area. Along the way, they treated a patient for a snake bite, triaged numerous patients injured in an airliner crash, intubated a patient, and splinted a patient's leg and then transported them from the scene via canoe. There was also a scenario involving an active shooter and a gunshot victim, as well as a dirty bomb.
In between the different scenarios, they were presented with clinical questions to test their medical knowledge. They also were challenged by inclement weather as they battled rainfall during the second half of the competition.
Wright, who recently completed her Medical First Responder course at WMed along with Mangiamele and their classmates in the MD Class of 2025, said she felt like the seven weeks of MFR training prior to the MedWAR Challenge prepared them to take on the tasks they faced with confidence even though they are only in their first year of medical school.
"I feel like, because of MFR, we were able to have answers to 90 percent of those difficult tasks we faced, whether it was intubating a patient in the field or triaging patients at a disaster site," Wright said. "MFR really instilled in me that teamwork and collaboration are essential, and during MedWAR we couldn't have succeeded without collaboration, knowing our limitations, and asking each other for help. … It was an amazing experience."
A total of 11 teams competed in this year's Midwest MedWAR Challenge, with a team of Emergency Medicine residents from Ohio taking first place. Both teams from WMed performed well at the event, with Stehlik, Burton, and Gutierrez finishing fourth and within the allotted seven-hour time frame to complete the course. Meanwhile, Wright, Mangiamele, and Awad came in sixth and just missed finishing within the seven-hour window.
"With us never having done the MedWAR Challenge before, I was super proud of our team," Stehlik said.
Meanwhile, Mangiamele said her experience at the MedWAR Challenge is one she won't soon forget. She said she enjoyed the opportunity to work as a team along with Wright and Awad.
"I'm definitely going to do it again next year," she said. "It's an experience I'll never forget, it was just a really fun competition."
Like Mangiamele, Wright and Stehlik said they also plan to take part in next year's MedWAR Challenge and hope to improve on this year's finishes.